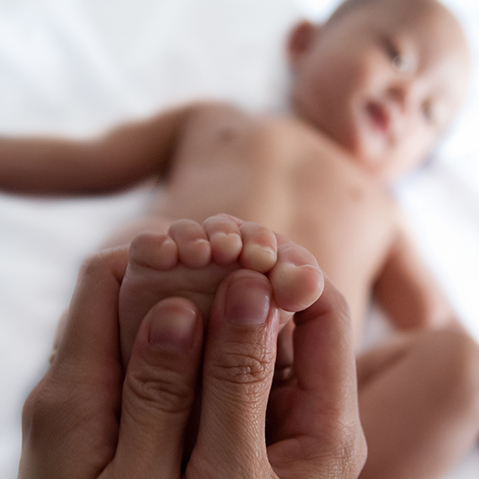 The meaning of touch
"Babies explore their new world through touch, becoming familiar with their environment and themselves through what they can feel. With a loving massage, you will help baby get to know his or her own body. Moreover, your touch will communicate love and build trust and safety. We would like to offer a few inspirational massage ideas to help you enjoy your moments of closeness. You can adapt or build on them according to what works best for you and your baby. Just follow your own instincts and you'll be doing everything right."

Midwife, nursing scientist and mother of three children, Christina Hinderlich has over 15 years experience in pregnancy care, childbirth and postnatal care. In 2008, she joined Weleda, bringing her broad experience in pregnancy and baby care. Her expertise has helped us to develop this brochure.


Get the environment right
Choose a warm, relaxed environment and get yourself into a comfortable position, with your arms and shoulders relaxed. You can spread a towel on your lap or lean over a bed or padded surface, as long as you are both comfortable. Prepare for the massage by taking off all jewellery and warming the baby oil in your hands. Leave the baby oil bottle in easy reach so that you don't have to take both hands off baby's skin when reaching for more oil. Focus completely on your baby – this is your time together.
Keep the connection
Start with gentle strokes, to allow baby to get used to what is happening, and talk softly and gently, with quiet phases of peace and calm during the massage. Use long firm strokes that don't tickle. If you reach for more oil, or a towel, keep one hand in contact with baby's skin.
Belly and chest massage
Changing time is a great opportunity for a relaxing tummy massage. Massage baby's tummy gently with one hand, using small circles. Cradling the side of baby's tummy with the other hand intensifies feelings of closeness and security.
If baby is happy and relaxed, you can continue to enjoy your time together by extending the gentle massage up to the chest area in the same small circles.
Tip in case of gas and wind
Colicky babies can be relieved from trapped gas and wind with a clockwise circular tummy massage around the navel. Let your hand slide down towards the left thigh at the end of the massage, to gently stimulate digestion.
Baby Tummy Oil
was specifically formulated to be used for relaxing tummy massages. A massage with the finely balanced composition of mild almond oil and delicate natural essential oils of marjoram, roman chamomile and cardamom helps to support your child's digestion.


Back massage
Massage baby's back in wide circular movements. Start with your fingertips building up gently to apply very light, comfortable pressure with the palms of your hands. Make sure not to press on baby's spine – a gentle stroking motion is ideal.


Arm massage
With baby lying safely close up next to you, start massaging from the shoulder, brushing in gently alternating movements, flowing downwards and lightly brushing over the hands and fingers.

Tip
During any massage, it's ideal if baby stays warmly covered up, so that skin is only exposed where your warm hands will touch.


Hand massage
Holding one little arm gently in your hand, it is particularly pleasant for baby if you use your thumb to gently rub around baby's palm in circular movements. To round off the massage, stroke gently outwards to the very tips of the fingers, one by one.


Leg and foot massage
With baby lying in your lap, you can massage the leg with light alternating hand strokes (downwards) from the thigh to the tiny foot.

Some babies also like having their feet stroked. You can gently massage with your thumb from heel to toe, giving the toes a gentle rub once you have finished.

Tip
Any of these massages can be used as often as you and your baby like. If baby is restless of shows interest in something else, then it might be enough. Time passes slower for your baby than it does for you, so be comfortable with following baby's lead.


Products to use