Weleda products are climate neutral through offsetting and reduction



As of October 2022, all products manufactured by Weleda have now been certified climate neutral* through offsetting and reduction


Avoid – Reduce – Offset: What does that mean?



1. Avoiding and reducing product-related emissions
Weleda follows a three-step climate action plan: avoid – reduce – offset. Offsetting is only beneficial for the climate if as many emissions as possible have already been avoided and reduced in the production phase.
Through numerous measures to avoid and lower carbon emissions, Weleda as an international business has consistently reduced its climate footprint worldwide in recent years. These measures are tailored to our various production and administrative sites. Examples include:
Worldwide: The share of recycled materials used in primary and secondary packaging for Weleda natural cosmetics was increased by 8 percent in the 2021 calendar year compared to the 2020 calendar year.
Netherlands: At its Dutch site, Weleda has already been climate neutral at Scope 1 and 2 levels since 2013. Measures include using 100 percent renewable electricity, installing solar panels and using electric cars.
Australia: The Australian site uses 100 percent electricity and energy from renewable sources.
Switzerland: 100 percent of the thermal energy procured at Weleda's Arlesheim site in the calendar year 2021 was produced by the combustion of forest wood chips.
Switzerland: The use of more environmentally-friendly biogas by Weleda at the Arlesheim site increased from 10 percent to 100 percent as of June 2021.
Germany: The use of biogas by Weleda at the Schwäbisch Gmünd site increased from 10 percent to 20 percent as of September 2021.
Switzerland: A new refrigeration system operated with the natural refrigerant R290 (propane) was installed at the Arlesheim site.
Germany: 100 percent renewable electricity is used at the Schwäbisch Gmünd site, which operates a photovoltaic system.
Switzerland: 100 percent renewable electricity is used at the Arlesheim site, which operates a photovoltaic system.
UK: All electricity used at Weleda's Derbyshire manufacturing site and offices is on a green energy tariff.
UK: Working in partnership with UK charity TreeSisters, Weleda UK has planted nearly 200,000 trees across 12 locations in the tropics, capturing approximately 47,803 tonnes of carbon.
Switzerland: Collection of fermentable raw material and product residues for fermentation and biogas production at the Arlesheim site.
South Korea: A new home office policy reduced employee commuting and lowered the consumption of energy and business supplies.
Spain: A new home office policy reduced employee commuting and lowered the consumption of energy and business supplies.
Germany, Switzerland and Austria: A new mobility office policy reduced employee commuting and lowered the consumption of energy and business supplies.
UK: A new hybrid-working policy reduced the need for commuting.
France: Company cars with combustion engines have all been replaced with electric cars. A new, more efficient cooling system was installed.
But these achievements are still not enough for us. In the coming years, Weleda will continue to improve its direct and indirect climate footprint through further avoidance and reduction measures and investments:
In Germany, Weleda is building a logistics campus where operations will be climate neutral. It has already received the Platinum pre-certificate from the German Sustainable Building Council.
By 2025, Weleda aims to increase its share of biodynamic raw materials to 40 percent. Biodynamic growing is a form of regenerative agriculture that binds carbon in the soil by consistently building up humus.
Weleda also supports climate protection in its supply chain. One example is working with farming partners at Sekem in Egypt, a long-standing partnership that has transformed 680 hectares in the Egyptian desert into fertile farmland.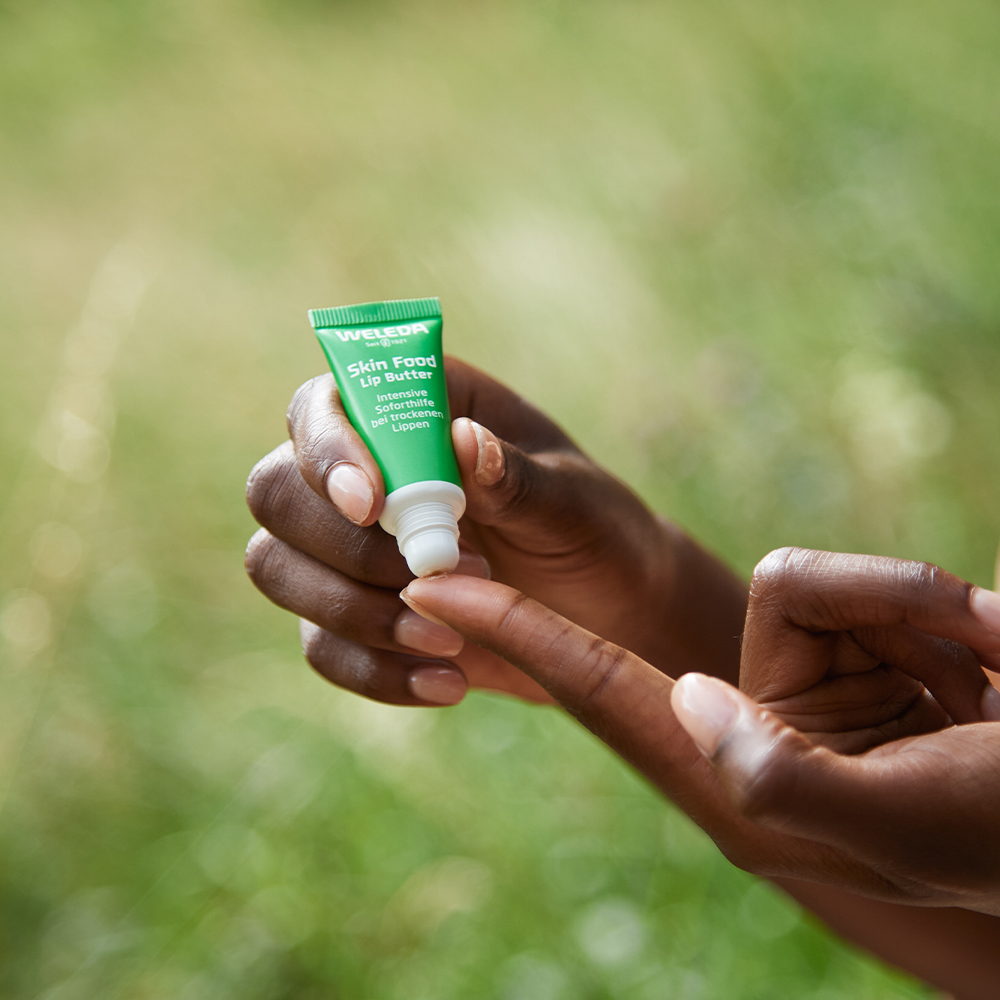 Around the world, Weleda works with several NGOs and initiatives such as the Bio-Stiftung Schweiz (Swiss Organic Foundation), which promotes healthy and climate-friendly agriculture through its Soil Fertility Fund
680
hectares of land have been transformed into fertile farmland by Weleda's farming partnership at Sekem in the Egyptian desert
40
percent is Weleda's target for the biodynamic share of its organic raw materials by 2025







2. CO2 footprint calculation and certification of Weleda products worldwide
Weleda calculates the remaining CO2 footprint of its products in collaboration with external experts according to globally recognised scientific standards. To verify the calculation and certify the CO2 balance Weleda looked to TÜV Nord, an experienced and internationally recognised certification body
(its TÜV NORD CERT standard TN-CC 020 is based on the international ISO standard 14064-3
).
This standard defines requirements for the verification of greenhouse gas statements and carbon neutrality (net zero emissions) for a variety of entities by TÜV NORD CERT GmbH. TÜV Nord based its audit on the 2021 Weleda climate balance (1 January 2021–31 December 2021). Support in calculating the Weleda 2021 carbon footprint was provided by
Factor X
.
The assessment was based on the cradle-to-gate scope. The cradle-to-gate assessment evaluates products from product formulation with the raw materials to the point when the finished products leave Weleda's factory gate and reach their first destination (for example, the retailer).
3. Offsetting remaining CO2 emissions
To make products climate neutral, Weleda offsets the remaining CO2 emissions after avoidance and reduction that fall within Weleda's area of responsibility (cradle-to-gate). This is done by investing in climate protection projects. Their offsetting impact is initially forecast for the verified period. Then the forecast is reviewed as part of the next verification period and adjusted if necessary. Meanwhile, Weleda is working to further reduce its carbon footprint.
Weleda only supports climate projects certified according to international standards, such as VCS or the Gold Standard and which are audited regularly. The company also attaches great importance to whether these achieve real, measurable and lasting positive effects on the climate. To find these projects, Weleda works with external independent organisations and has decided to invest mainly in
conservation projects in the Brazilian rainforest
. In doing so, we not only support climate protection in the narrower sense, but also biodiversity and soil health.
Learn more about Jari/Amapá REDD+ >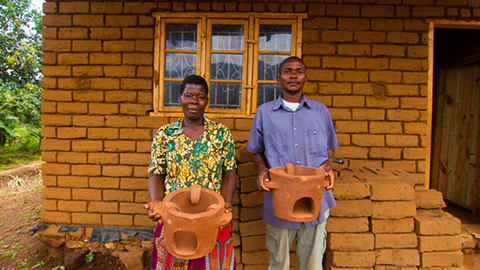 Another project Weleda supports is
Efficient Cookstoves in Africa
. In addition to helping the climate, this project promotes people's health and wellbeing by investing in the local manufacture, distribution and sale of clean, cost-effective cookstoves. These projects meet the internationally recognized Gold Standard.
Find out more about Efficient Cookstoves in Uganda >
Overall, the projects in Brazil and Africa make valuable contributions to the
Sustainable Development Goals
(SDGs) for sustainable development.
In addition, Weleda supports climate protection initiatives that do not generate climate protection certificates for Weleda. These projects are described in detail in the Weleda's Annual & Sustainability Report 2021. Weleda support continues, such as the Soil Fertility Fund by Bio-Stiftung Schweiz (Swiss Organic Foundation).
View the Weleda Annual Sustainability Report 2021
---
*The term 'climate neutrality' "contains the declaration that the product advertised with it has a balanced CO2 balance." (Regional Court (OLG) of Schleswig, ruling of 30 June 2022 – 6 U 46/21).