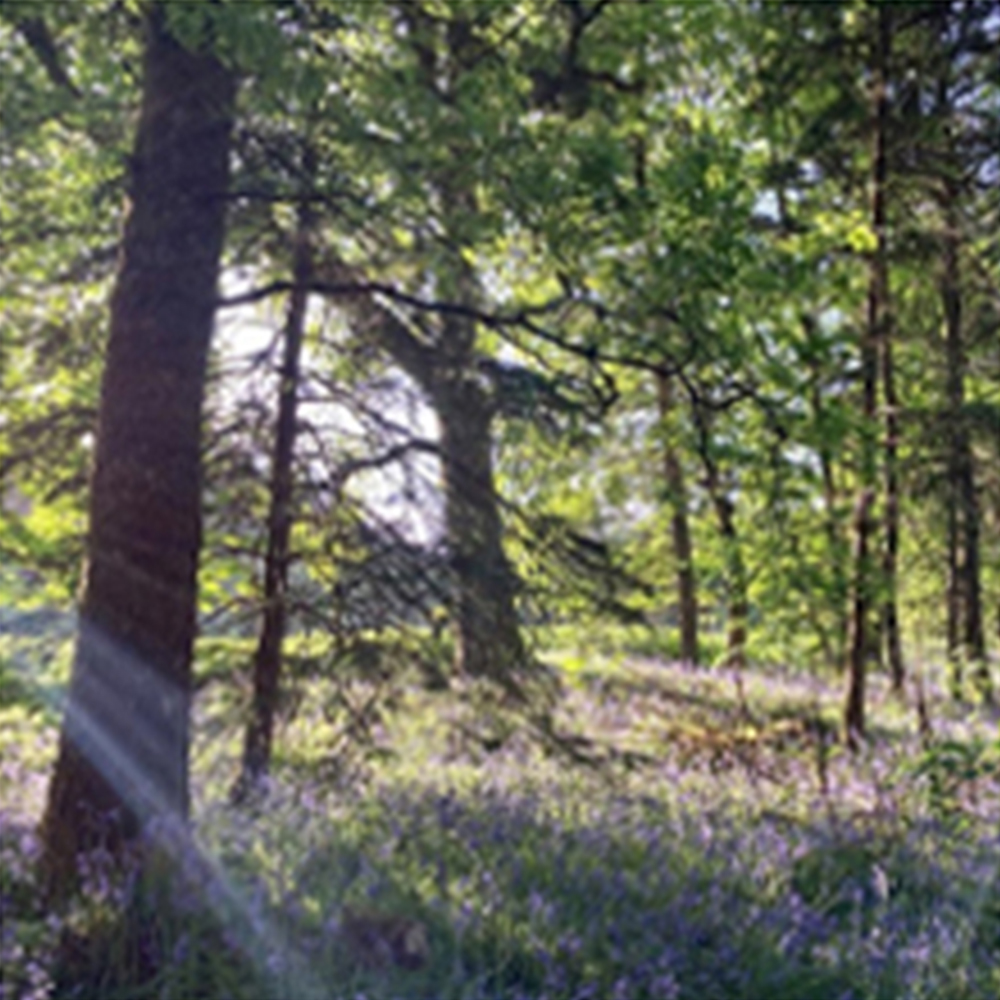 100 Places in Nature
We discover the country's top 100 green spaces.
Get into nature
New research shows time spent in nature is helping us through lockdown and we discover the country's top 100 favourite green spaces
•Spending time in nature hailed as one of most positive outcomes of lockdown life
•62% of Brits more positive on days when they've spent time outdoors
•Access to a garden or communal green space has become a priority
•New Weleda #100PlacesInNature gives people inspiration on where to visit locally, with
contributions from nature lovers Joss Stone, Erin O'Connor, Lisa Snowden and The Wildlife Trusts
A new study of 2,000 Brits reveals connecting with nature is among the top three benefits to come out of lockdown (24%), after spending more time with family (31%) and having more free time (26%).
The research and list of beautiful and biodiverse green spaces, created as part of our centenary celebrations from suggestions made by the public, experts and Weleda's nature loving community, reveals the vital role of nature in keeping the nation's spirits lifted throughout the Coronavirus pandemic.
We have been committed to working in harmony with nature since our first seeds were sown in 1921 and our purpose remains to help people to connect with nature. We created #100PlacesInNature in our 100th year to inspire more people to explore the great outdoors and discover new local areas of natural beauty during lockdown and beyond, to increase our connection with nature.
If you would like to add to the list and nomination your favourite local walking spot, simply drop us a message on Facebook, Twitter or Instagram, along with a photograph or tag us by using the hashtag #100PlacesInNature.The importance of nature during lockdown
A third (34%) say going out for walks helps them cope with lockdown restrictions and 28% find the great outdoors relieves the stress of the pandemic. Almost three-quarters (62%) notice a positive uplift in their mood on days they have spent time in nature.
Over half of Brits (58%) who worked from home spent more time outside during lockdown, compared to pre-pandemic. Almost half (46%) now get out into nature at least 4 times a week. Once lockdown is lifted, two thirds (66%) say they want to spend even more time outdoors.

Top 100 Places In Nature



1.Mewslade Bay beach on Gower, Wales
2.Rousay, Orkney Islands, Scotland
3.The Lake District, Cumbria, England
4.The Caledonian Pine Woods, Glen Affric, Scotland
5.Cadair Idris, Wales
6.Arnside Knott, South Cumbria, England
7.Bempton Cliffs, North Yorkshire, England
8.Morecambe Bay, Lancashire, England
9.Mawddach Estuary, Barmouth, Wales
10.Scampston Hall & Walled Garden, York, England
11.Isle of Wight, England
12.Attenborough Nature Reserve, Nottingham, England
13.Falkland Estate, Fife, Scotland
14.Clent Hills, Clent, England
15.Chatsworth Estate, Derbyshire, England
16.Gylly Beach, Falmouth, Cornwall, England
17.The Weleda Gardens, Derbyshire, England
18.Siccaridge Wood, Gloucestershire, England
19.Puzzlewood, Coleford, Forest of Dean, Gloucestershire, England
20.Aspley Woods, Milton Keynes, England
21.Launde Abbey, East Norton, Leicestershire, England
22.Beth Chatto Gardens, Colchester, England
23.Brecon Beacons, Crickhowell, Wales
24.Rydal Water, The Lakes, Cumbria, England
25.Birnam Oak, Birnam, Perthshire, England
26.Sand Point, Kewstoke, England
27.Conham River Park, Bristol, England
28.Magpie Bottom, Bristol, England
29.Windrush Valley, Cotswolds, England
30.Hawkwood National Trust, Chislehurst, England
31.Bedgebury Park, Goudhurst, England
32.The Quiraing, The Isle of Skye, Scotland
33.Brockwell Park (specifically the walled rose garden), London, England
34.Morden Hall Park, London, England
35.Hambledon Hill, Dorset, England
36.One Tree Hill, Kent, England
37.Isabella Plantation, Richmond Park, London, England
38.Petersham Nurseries, Richmond, London, England
39.Hampstead Heath, London, England
40.Zennor, Cornwall, England
41.The Isles of Scilly, England
42.Dunstable Downs, Chiltern Hills, Bedfordshire, England
43.Blow's Downs Nature Reserve, Bedfordshire, England
44.Beckenham Place Park, Kent, England
45.Brighton, East Sussex, England
46.Ashdown Forest, East Sussex, England
47.Cuckmere Haven, East Sussex, England
48.Newick Park, East Sussex, England
49.Lister Park, Bradford, England
50.Epping Forest, Essex, England






51.Lambert's Castle, Dorset, England
52.Bushy Park, Teddington, England
53.Withial Combe, Somerset, England
54.Golden Cap, Dorset, England
55.Sissinghurst Castle, Kent, England
56.Applecross, Highland, Scotland
57.Grimspound, Devon, England
58.Ballycastle, Northern Ireland
59.Blackborough Woods, Devon, England
60.Waun Las, National Botanic Gardens of Wales, Wales
61.Embsay Crag, Yorkshire Dales, England
62.St Boniface Down, Isle of Wight, England
63.Dovedale, Peak District, England
64.Gamston Canal, Nottinghamshire, England
65.Sherwood Pines, Edwinstowe, Mansfield, England
66.British Camp, Malvern Hills, England
67.Turn Mill, Ombersley, Worcestershire, England
68.Abberley Hill, Abberley, Worcestershire, England
69.Barton Springs, Bedfordshire, England
70.Bradgate Park, Leicestershire, England
71.Steppingley Lake, Bedfordshire, England
72.Wollaton Park, Nottinghamshire, England
73.Bestwood Country Park, Nottinghamshire, England
74.Elvaston Castle Country Park, Derbyshire, England
75.Salmon's Leap, the Hermitage, Dunkeld, Perthshire, Scotland
76.Vale of Belvoir, Nottinghamshire, England
77.Graves Park, Sheffield, England
78.Hever Castle, Kent, England
79.Kinver Edge, Staffordshire, England
80.Standish Woods, Cotswolds, England
81.Cathkin Braes, Glasgow, Scotland
82.Fairbrook Gorge, Peak District, England
83.Arthur's Seat, Edinburgh, Scotland
84.Peak District National Park, England
85.Cannock Chase, Staffordshire, England
86.Swansea Bay Beach, Wales
87.Straidkilly, Northern Ireland
88.Slievenacloy, Northern Ireland
89.Balloo Woodland, Northern Ireland
90.Balloo Wetland, Northern Ireland
91.Annstead Dunes, Northumberland, England
92.Briarwood, Northumberland, England
93.East Chevington, Northumberland, England
94.Whitelee, Northumberland, England
95.Roseberry Topping & Captain Cook's Monument, Great Ayton, England
96.Lickey Hills Country Park, Birmingham, England
97.Rushmere Country Park, Leighton Buzzard, England
98.Ingleton Waterfalls Trail, Yorkshire Dales National Park, England
99.The Cleveland Way, North Yorkshire Moors, England
100.Durham Heritage Coast, Peterlee, England


Pandemic sparks consumer interest in environmental issues
Over a third (37%) of Brits have become more interested in environmental issues both on a local and global level since the pandemic, rising to half (50%) of those aged 18-34.
Over half (53%) say they connected with nature in new ways such as noticing the seasons changing (21%), spotting wildlife (18%) and plants (17%) they hadn't noticed before. Some even took the opportunity to bring nature into their homes, growing their own herbs and vegetables (14%) or building nature boxes in their garden (6%).
"Despite the hardships of the pandemic, we have seen a positive shift in attitudes towards nature and the environment. The restrictions have helped us slow down and reconnect with the outside world. Weleda's purpose, established 100 years ago, has never been more relevant than in today's world - our products are made entirely from sustainable ingredients sourced responsibly to support both people and planet. We hope that our Top 100 list inspires more people to get into nature, because the positive impact on our minds and bodies is undeniable. Everything we are has its complement in nature, because we are nature."
Jayn Sterland, Managing Director, Weleda UK & Ireland
For people craving more than their daily exercise in nature, or those unable to get outside, our new digital
Open Garden
means you can take a virtual stroll and experience unlimited nature, without leaving your home. The app offers 360° views of Weleda Gardens from around the world. Surround yourself with bird song from Brazil, or journey through fields of lavender in Moldova.
Through our inextricable connection with nature, we are nourished and healed. We need nature, and nature needs us – today more than ever.