Feed Your Skin with Weleda Skin Food


Our Skin Food range intensively nourishes dry skin with the power of nature. Natural oils and extracts from certified organic plants protect and nourish dry skin, leaving your body and face naturally soothed.
Since its introduction in 1926, Weleda Skin Food has evolved from a cult secret into a firm favourite with everyone looking to soothe and comfort dry skin, and today the range is a go-to for beauty insiders. A tube of our best-selling Skin Food Original sells every
10 seconds*
, whilst one product from the Skin Food range sells every
4 seconds
.
What's more, Skin Food has over
18,000 5-star reviews
on Amazon, and is kept in the kits of over
400
British makeup artists.
The Skin Food range is microbiome-friendly, since it helps to restore the skin's protective barrier, with organic rosemary, calendula and chamomile extracts.
Weleda is the original green beauty brand and world's No.1 producer of certified natural skincare and holistic healthcare products, organically growing plants and creating natural health and beauty products in harmony with nature and human beings since 1921. Weleda has set the standard for ethical business, and its commitment to sustainability is recognised in
B Corp certification
and
UEBT certification
for sourcing with respect.
Shop the Skin Food range


Immerse yourself in Skin Food


Have you spotted our little green hero on your TV screen? If not, watch our commercial below and see our certified natural ingredients come to life in front of your eyes!
Try our exclusive new Instagram filter and sprinkle Skin Food magic on yourself!



Our magical new Instagram filter conjures up Skin Food's powerful botanical ingredients like potent pixie dust, so influencers, makeup artists and Skin Food superfans can sprinkle a little Skin Food magic on their social media profiles whenever the mood strikes.
Find our Weleda Skin Food filter on our Weleda UK Instagram profile by tapping the stars icon beneath our saved Stories, or search 'Weleda Skin Food' in the filter gallery when posting a Story or a Reel and watch the magic unfold!




Learn more about your little green heroes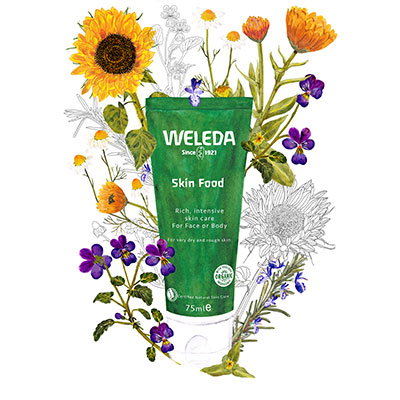 The original formulation remains unchanged - a time-honoured combination of pure plant oils, protective waxes and therapeutic plant extracts of biodynamic calendula from Weleda's own medicinal herb gardens. Organic ingredients such as chamomile from Weleda's farming partners in Kosovo, rosemary from Portugal and the finest organic sunflower seed oil from Hungary provide precious oil extractions. Skin Food is a much-loved multi-tasking and multi-award-winning product to care intensively for hands, face or body.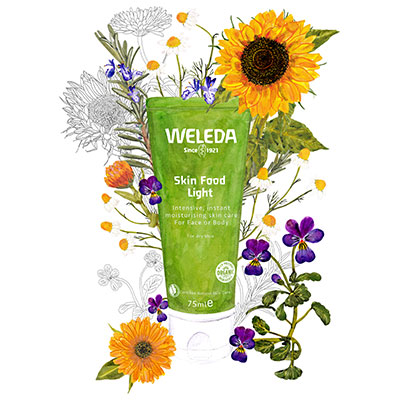 Made with key ingredients used in the original, Skin Food Light has a lighter texture, leaving skin feeling soft, smooth and instantly hydrated. Ideal for oily or combination skin, it includes skin-healing calendula, soothing chamomile, smoothing viola tricolor and revitalising rosemary. The addition of organic cocoa seed butter from farming partners in Peru together with organic shea butter from Burkina Faso, means this silky skin saviour glides on beautifully. Suitable for everyday use on the face and body, and a lighter option in warmer weather.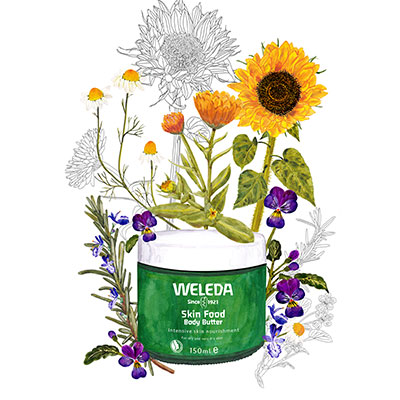 For dry skin in need of some extra pampering, Skin Food Body Butter is formulated with a host of skin-caring ingredients to provide intensive moisturisation and nourishment. Cocoa butter and shea butter are combined to create a luxurious whipped texture that melts into the skin, while essential oil from the aromatic resin of the benzoin tree adds a mellow warmth to the original fragrance.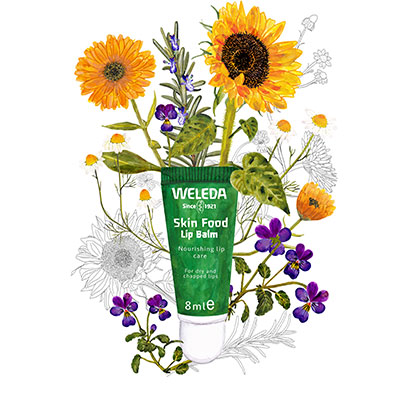 Lightly perfumed with natural essential oils, Skin Food Lip Balm has a rich texture to comfort dry or chapped lips and protect against the elements. Restorative rosemary, soothing viola tricolor, chamomile and calendula, combined with natural waxes in a nourishing transparent balm, create the perfect combination to provide long-lasting moisturisation.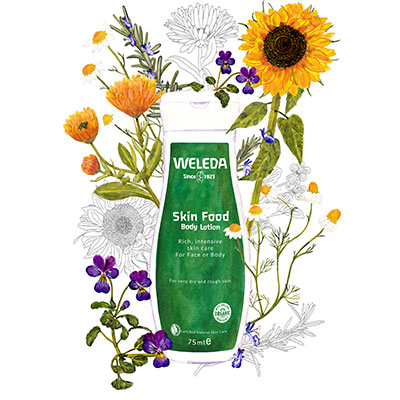 The deceptively light Skin Food Body Lotion packs a hydration punch, with a weightless texture for ultra-quick absorption – making it perfect for daily use. Offering intensive, long-lasting moisture and immediate comfort to dry or stressed-out skin, Skin Food Body Lotion leaves a subtle sheen on skin with no stickiness so you can get dressed right away.
1. Face and body moisturiser - nourish dry skin with our indulgent, natural formula

2. Make-up primer - creates a smooth base for a gorgeous, dewy make-up look

3. Hand and cuticle cream - keeps nails looking their best

4. Highlighter - dab a little onto cheekbones for a natural glow

5. Face mask - pamper yourself with a rich, luxurious treatment

6. Eyebrow-fixer - apply using a spoolie to keep eyebrows in place

7. Frizz-tamer - run a little through hair to control fly-aways
---
*Source: Weleda Sell-in, units sold, worldwide, 2022