Six new wins for Weleda
Beauty Shortlist Awards 2018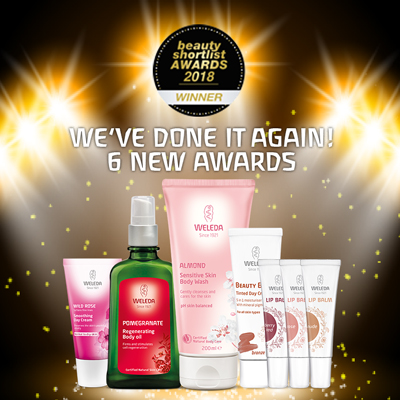 After 6 months of testing entries from 40 countries, The Beauty Shortlist announced its new International Beauty Awards on 2 March 2018 with Weleda receiving a stupendous six awards!
This year The Beauty Shortlist assembled an international team of judges from the UK, USA and Australia to put beauty products through their paces - championing in particular natural, organic and eco-luxury cosmetics.
Weleda scooped awards in the following categories:
Founder of The Beauty Shortlist, Fiona Klonarides, commented:
"These Awards are not easy to win. Over 600 brands entered for 2018 and judging took place over a 6-month period, from early September through to February. These awards are completely independent – there's no public vote, no ads, no sponsors. There are well over a hundred winners, lots of beautiful, results-driven, feel-good, effective products to discover and fall in love with, across beauty, health and grooming. All tried, tested, loved and recommended by our judging panels".
Fiona continued:
"British, Scandinavian, Australian and US brands have emerged as this year's biggest Beauty Shortlist Awards winners. Australia is ahead of us on the clean beauty front from an international perspective, while New York and California have been pioneering that trend in the US, and Scandinavia in Europe".
Weleda's managing director, Jayn Sterland, was especially thrilled the company had been recognised again for Best Fair Trade/ Sustainable Brand, commenting:
"We are so honoured to win the Sustainable Award for a fifth consecutive year! Sustainably sourced, fairly traded ingredients are the heart and soul of our business. Weleda was the first European beauty brand to become a member of the Union for Ethical BioTrade (UEBT) and sustainability remains a primary focus for Weleda."