Q&A interview with designer Ricky Harriott - September 2018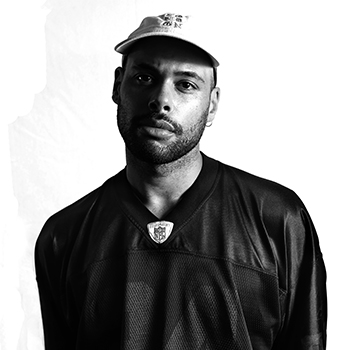 Designer Ricky Harriott , who won the ASOS Fashion Discovery Prize earlier this year, has been flagged as one to watch amongst Britain's emerging talent. The first Wesley Harriott British Fashion Council scheduled show for London Fashion Week will take place on Monday 17 September 2018.
Firstly can you tell us where the name of your label, Wesley Harriott, comes from and when did you launch it? Has it been a long haul or a whirlwind success?
My name is actually Ricky, but my full name is Ricky Wesley Harriott. I decided to use my middle name just because I felt it sounded better, I get called Wesley a lot in the industry and it makes me laugh, because my first name is now some kind of secret identity, I'm quite into it! I actually started making pieces under the Wesley Harriott name in 2011. I stopped for a little bit because I wanted to learn more, and develop my skills. I came back to it in 2015 and have been working on it solidly ever since. There is definitely no whirlwind success here. I have worked and will continue to work extremely hard to progress, it's not easy to come up in fashion when you're from a regular working class background, but that shouldn't limit you in any aspiration.
Where did you train, and what have been your early influences?
I grew up watching a lot of anime and manga, and also reading comic books, I found a lot of love and inspiration in the female heroines portrayed in those media. For me they really mirrored the women that raised me and that I grew up around. I started sketching garments when I was about 11 and it began with a lot of those characters I loved. I went to study at London College of Fashion and the University of Hertfordshire. Both institutions gave me such a great education. I interned for multiple brands: Richard Nicoll, Emilio De La Morena and Kenzo. I couldn't afford to do the internships for as long as I wanted, living in London I needed to work full time so I worked a lot in luxury sales, which truly is an education in itself. I learnt an incredible about women and luxury products in those jobs, but also on the side continued to design and create bespoke costumes for musicians.
What do you think inspires you to create such 'deconstructed' designs?
I think my designs appear deconstructed but it's really multi function, I like garments that do things. I love that some of my garments change shape and length and also have a lot of utility. Women's clothing for the most part skates over function. I think my personal interest in super heroines always prompts me to design for women as if they may just need to save the world, and that requires the garments to work for multiple situations hence their adaptability and function.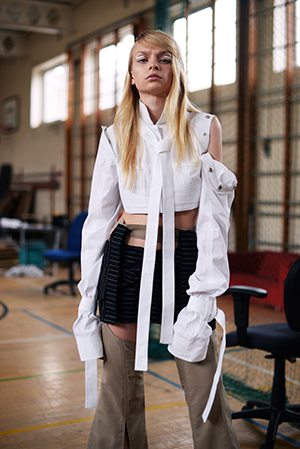 What is the inspiration behind your latest SS19 collection, which you're going to show at LFW this September?
This collection is really rooted in the women I speak to and spend time with. It began with a lot of conversations. I wanted to know what women consider when they get dressed in the morning. The answers were staggering. It was also sad to me because few women just responded with 'feel comfortable, or 'be myself', it was all very much to make sure they were not judged. I began to ask how does a women dress to appease all of the judgments of others.
The collection looks at creating garments that evoke different moods and silhouettes in a contradictory manor. Masculine/feminine. Sexualised/modest. My message always has been and will be 'be exactly who you are at all times' but I wanted portray that from the viewpoint of the Wesley Harriott woman.
Does the new collection have any key colours, fabrics, shaping or details that define it, or that take your work in a new direction? Do you have a favourite piece?
I used more colour than I ever have in the past. I love cut and silhouette so much I get a little frightened by colour. The palette is quite icy, and the shapes are fresh but still very much in my way of thinking. I love all the pieces but for different reasons.
You seem drawn to strong sassy superhero women when designing – is this the new sexy?
I think people get power and strength confused with sexy. I find strength so much sexier than what we have come to regard sexy. I like to paint women as if they cannot be messed with. It's important that I enhance more than just sex because women are way more than their bodies.
Who is the Wesley Harriott woman in your mind's eye when you are designing?
She is a women that blurs the lines between civilian and superhero.
Your ready-to-wear collections are not most women's 'everyday' wear – how would you describe your designs?
I hate having to categorise when my designs should or could be worn, I like the idea of a woman just wearing it because she feels like it. Nothing wrong about a pair of chaps in the supermarket, I think it's more exciting than keeping clothing 'occasional'.
Would you ever consider designing more classic evening wear?
If someone wants to wear my pieces in the evening, then I guess I already do evening wear. My personal wardrobe is the same for all occasions, so I think I just see clothing that way.
You have described yourself as a storyteller, what is the narrative for your forthcoming SS19 collection?
It's the story of women who try to be everything but really can only ever be themselves; I consider it a part of the Wesley Harriott woman's continuing narrative.
Do you have any particularly high profile clients you have been excited to dress?
I have been really lucky to have some amazing figures wear my pieces. Kylie Jenner, Lady Gaga and Sza have all worn some of my work, I love seeing how they interpret what I do in their own way. It's really exciting.
When you are designing, sourcing and producing your collections, do you consider sustainability and is there anything in particular that matters to you?
I am very conscious about sustainability. I source fabric and trims locally and have it all made in the UK also. I work closely with my production team who are a small London based company. I am also big on not wasting, so I try to make sure materials are used or do not go to waste or find a home where they will be used.
Weleda is very excited to be supporting your show this September, with Weleda skincare being used to prep models backstage. What do you value about the Weleda ethos that compliments the Wesley Harriott brand?
Weleda I find really champions looking after what you yourself are rather than trying to change it or cover it up. I think that sits comfortably with how I view people. I like to enhance rather than change, so I am so excited to be working with a brand that respects people from the inside out rather than the other way.
Do you have a favourite Weleda product, and why?
I love Skin Food, it always makes me look way more awake than I am. I also really enjoy the Men's moisturiser. It's really lightweight, which I love.