LFW Collaboration with Kat McSwein
for Johnstons of Elgin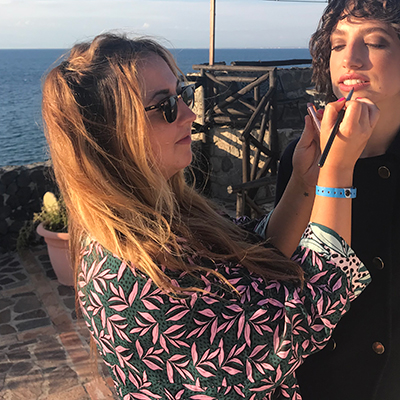 We chat with makeup artist Kat McSwein about the Johnstons of Elgin AW20 show for London Fashion Week
What inspired you to go into make-up artistry?
I've always had an interest in fashion and initially I started out as a stylist in the industry. However the more shoots I was involved in, it became clear to me that my heart lay creatively in the beautiful transformations that could happen in the make up room. I made it my mission to make a career in make up and that was over 15 years ago and I haven't look back!
Do you work mainly in fashion with studio work?
Most of my work is based in the world of fashion. I adore working with brands and being part of evolving their campaign year after year. It's a privilege to work alongside a designer and tailor the make up to fit in with their beautiful creations.
I'm quite a varied make up artist though, and I'm lucky to work within other sectors such as the music industry. Last year I was delighted to work with singer-songwriter Lewis Capaldi and it's moments like these that make me really relish working in this job. I adore working with up and coming artists and helping them to discover their new looks.
Bridal has always been a passion of mine as well as I love to help make women feel really special on their big day, but nowadays it's a struggle as brides want to book you two years in advance and I'm always the optimist that's hoping I'll be working on a campaign in an exotic location that far in advance!
What are the differences/pressures working on a live show for LFW?
When you're working on a big campaign you tend to get a few hours to create the look that you've all discussed and you spend time tweaking it and ensuring everything is perfect. However when it's a live show scenario like LFW, time is always your nemesis. Sometimes you have models coming from the show before yours and they are running late so you can have as little as 10 minutes to create a full look whilst having three hair stylists working on the hair at the same time! You have to learn to work well under pressure and to work as a team. There is absolutely no place for egos backstage as there simply isn't time!
Have you built a reputation for creating any particular kind of look or working in a certain way?
I tend to be known for creating glowing, healthy skin. I adore working with products that give the skin an effortless natural shine for a look that is luxurious, youthful and full of vitality. A must-have product in my kit is Weleda Skin Food! I use it as the base for most of my looks!
What has influenced the AW20 Johnstons of Elgin collection and how will your makeup look compliment the collection?
The designs have been inspired by the South American skylines of Peru, the ice capped Mongolian Mountains and the magnificent Scottish Highlands - all the places they source their luxury fibres from. The collection features rich textures, bold patterns and a variety of opulent, vibrant colours.
Because of the heady mix of textures and colours in the garments, the makeup will be kept clean with an emphasis on healthy, glowing skin. I want to ensure the skin shines and the cheeks have a real pop of colour on them that will work a warm stain of colour on the lips.
As always with LFW shows it's important that the makeup and hair looks compliment the clothes but don't distract from them.
Which Weleda products will you be using to achieve the look?
It's important that the skin has a healthy outdoorsy shine to it, so I will be prepping the skin with a mix of the
Almond Soothing Facial Oil
and the original
Skin Food
. This mix ensures the makeup stays sheer but with a really surreal fashion gloss to it. I will also apply the
Skin Food Body Butter
across any areas of exposed skin on the models to ensure they have an all-over glow heading down the catwalk under the lights.
For matching hues of colour across the cheeks and lips I will be using my kit favourites of the Weleda lip tints in Rose and Berry Red. I love the natural pops of colour they provide and the fact that they are really versatile across the whole face.
When it comes to beauty products, what is most important to you – product quality, natural ingredients or cruelty-free products?
When it comes to picking out products for me or my kit, the most important thing is always quality over quantity.
I need a small amount of beautiful products that I can easily travel with and that will do the job I need them to efficiently, with natural ingredients that won't irritate my clients' skin.
When someone comes into my make up chair I need them to feel pampered and to fully trust that I will take care of their skin with my products.
My client list is so varied that I need to ensure that my kit is suitable for everyone, so making it cruelty free where possible is of paramount importance to me. It's a requirement with a lot of celebrities when working with them that make up is cruelty free and it's something that all brands should be a bit more aware of and trying to change towards.
Have your views on this changed over the years? Has your kit changed over the years?
When I first started out I was a product junkie and if someone recommended a product just once I'd rush out and buy it for my own kit. Over time I've realised how personal products are to you as an artist and it's often about how you use a product opposed to the product itself. I always try to have a play with products before I add them into my kit to ensure they work for me as opposed to just being a cult favourite.
I've gained confidence over the years to explore products that might have multiple uses... such as using lipsticks as blushers and eyeshadows, or mixing oils with pigments to create deep metallic shades for an editorial wet look.
What is your personal ethos about beauty and your approach to makeup?
When I'm working with a model my main approach is to enhance them. To make them look like the very best version of themselves opposed to trying to transform them into someone else.
I love the power of make up and the fact that it can make someone feel strong even when they are going through a vulnerable time in their lives. I've worked with women going through cancer treatment who feel alien in their own skin and it feels good to be able to help them overcome this with some simple skin care and new make up tips. The Weleda products are always a favourite for this as they are natural and can be used on the skin even when it's being exposed to harsh treatment.
Weleda Skin Food
will deeply nourish tired and fragile skin to give it some vitality and love.
I try not to follow trends when working on beauty and red carpet looks, and instead look at every client as an individual and see what make up style will suit their personal skin type/eye shape/face shape.
It's worked for me for 15 years so I'm happy to keep going with it!
Do you have any particular Weleda favourites, and why?
My absolute favourite Weleda product has to be
Skin Food
! I discovered it many years ago whilst working backstage at London Fashion Week. When the lead artist demonstrated it within her look I've never looked back! I couldn't believe that such a simple little tube of moisturiser could enhance the skin so quickly. I start most of my campaign looks using skin food as a dreamy base.
I'm delighted that other formulas have been added to the range such as the Skin Food Light and the Skin Food Body Butter, making the range so much more versatile.
As a new mum I'm also a huge fan of
Weleda's baby ranges
! I'm extremely conscious of what I put on my little boy's sensitive skin. Young skin is so soft and needs light nourishing products that won't strip it or overload it. My absolute must-have is the gorgeous
calendula range
. The smell is fresh and the product feels beautiful on my boy Caleb's skin. The creams sink in with no residue and leave his skin smooth and nourished. I adore using the
Calendula Baby Oil
for baby massage and judging by Caleb's dreamy reaction he loves it too! My midwife ended up taking a note of it to recommend to other mums, as she was so impressed with it!
About Johnstons of Elgin
Johnstons of Elgin are known the world over as experts in cashmere and fine woollens, whether the softest tweed for country pursuits or eyecatching colours for the catwalk.
Alexander Johnston established the Elgin Mill in Scotland in 1797, founding a legacy of fine craft and exquisite fabric, using the highest quality natural fibres - just as Weleda uses the finest natural ingredients for its cosmetics.
The experience and tradition rooted in the company's history have been passed down through generations to ensure they are preserved in beautifully crafted timeless pieces that are made to last.
"Being custodians of our family-run business puts ethics and integrity at our heart, honouring our past while nurturing our future. For us, heritage is not about nostalgia, it is the heartbeat that drives us into the future, harnessing the wisdom gained from over 200 years of textile manufacturing".