The inspiration behind the Weleda Butterfly collection, Christmas 2019
Weleda's 2019 Christmas gift collection features beautiful drawings by British designer Lisa Jane Dhar, of Studio Noodles, and includes illustrations of a range of plants used in Weleda's botanical formulations being visited by British butterflies.

This year Weleda has been working closely with East Midlands Butterfly Conservation, taking part in a butterfly transect over a six-month period from April 2019 when butterflies are most evident. This study involves a weekly butterfly count at Weleda's organic herb gardens in Derbyshire.

Eight members of Weleda staff were trained in order to carry out the butterfly transect, in order to identify different varieties that we can usually expect to see in Derbyshire during a typical year. Weleda supported the staff in allowing them to do the training and the weekly butterfly counts within office hours.

A total of 32 species were recorded in East Midlands last year, with over 300 volunteers taking part in the local area and 143 transects completed. It was noted in 2018 that 20 species increased in numbers but 12 species declined. It has been noted that the number of butterflies in the past 40 years has halved, and the top 10 of butterflies in decline include White Letter Hairstreak, Wood White, Essex Skipper, Heath Fritillary, Wall Brown, Lulworth Skipper, Small Skipper, Small Tortoiseshell, Pearl-Bordered Fritillary and High Brown Fritillary. Some species such as the White Letter Hairstreak have been affected by the continuing ravages of Dutch Elm Disease.

Some days at the Weleda gardens as many as 77 butterflies have been counted during the hour-long transect. Species include a combination of Meadow Brown, Speckled Wood, Large White, Orange Tip, Painted Lady, Small Tortoiseshell and Peacock.

"At the start of April, 8 of us split into two teams of 2 to begin our Butterfly Transect up at The Field. Once a week we take it in turns for a team to go up to The Field to count in all of the 9 sections that have been mapped out to record the number and type of butterflies that are seen. We carry out these transects between 10am and 4pm and try to ensure that the weather is at least 60% sun and above 11 degrees to optimise results. East Midlands Butterfly Conservation then collate our results to compile a report and identify trends and decreasing/increasing populations. We shall be carrying out these transects until September."
Laura Crossland, Brand Manager, Weleda UK


Butterflies featured on the Christmas gifts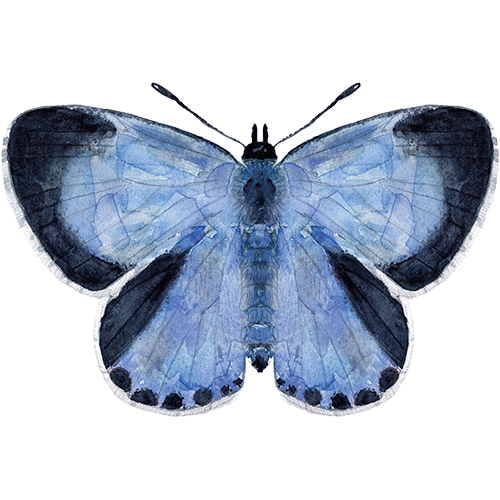 Holly Blue Butterfly
(featured on the Arnica Muscle Soak)

The Holly Blue is a bright blue butterfly with females having black wing edges. It is the first blue butterfly to emerge in spring, with a second-generation appearing in summer. The caterpillars are fond of holly and ivy. This is the blue butterfly most likely to be found in your garden, as well as in woodlands and parks. It flies high around bushes and trees, whereas other grassland blue butterflies fly low to the ground. To attract the Holly Blue into your garden, plant nectar-rich borders for them to feed along and climbing ivy and shrubs for them to lay their eggs.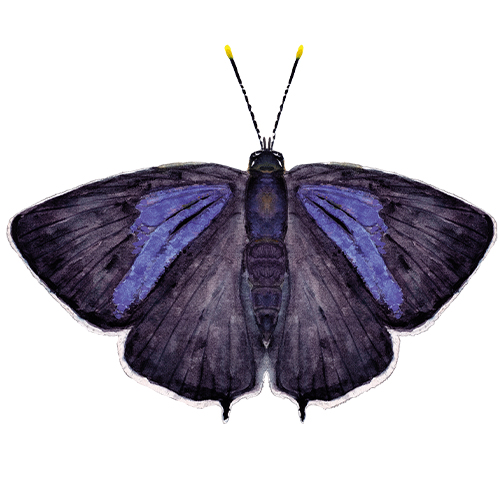 Purple Hairstreak Butterfly
(featured on the Treat Your Feet gift set)

The Purple Hairstreak is a true woodland species, as it lives in the tops of oak trees and is rarely seen at lower levels. The females with the smaller purple markings are seen more often than males as they sometimes sunbathe on lower branches in July and August. They are extremely feisty butterflies even attacking wasps straying into their territory. They rarely visit flowers for nectar, instead preferring to feed on honeydew made by aphids on aspen and ash trees.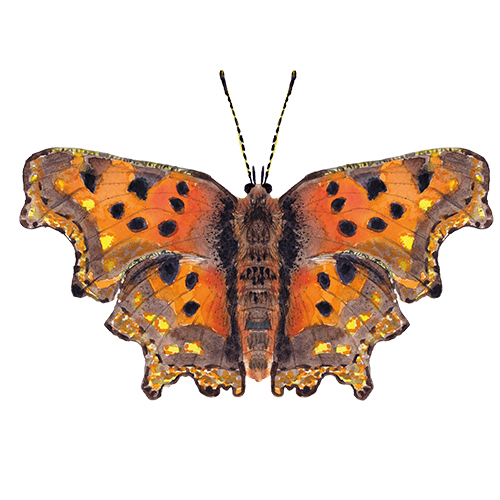 Comma Butterfly
(featured on the Lavender Bath Milk)

The ragged outline of the Comma Butterfly's wings looks as though they may have been torn by brambles, but this is, in fact, part of their successful camouflage. Also part of their expert disguise is a caterpillar which resembles a bird dropping. This butterfly loves the sunshine and will sunbathe for long periods with spread wings. It favours nectar-rich plants such as thistle, knapweed and hemp agrimony, along with garden favourites like asters and Michaelmas daisies.
The Comma is most often seen from the Midlands south and can be locally common in countryside and gardens.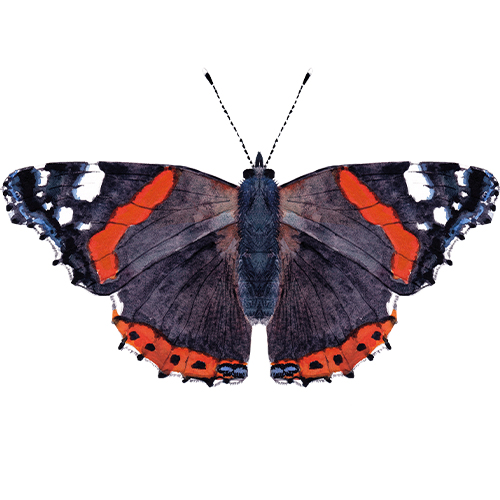 Red Admiral Butterfly
(featured on the Rosemary Bath Milk)

The Red Admiral is found almost everywhere in the British Isles, and in our warming climate now over-winters here, especially in the South. These butterflies are fast, strong flyers and are unusual in sometimes flying at night. The Red Admiral is a common autumn visitor to gardens favouring windfalls in orchards, but out in the countryside it feeds on Ivy flowers, scabious and clover.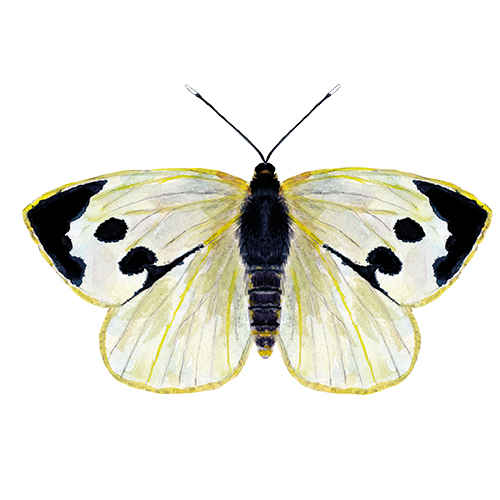 Large White Butterfly
(featured on the Heaven for Hands gift set)

Early last century cabbage fields were usually covered by multitudes of large white butterflies, but the widespread use of insecticides after the Second World War caused their rapid decline. They have never regained their previous numbers and some we see today are part of a migration from Europe. These butterflies lay their eggs on cabbage plants and you may see the caterpillars on the cabbage leaves or on nasturtiums in the garden. There are two generations each year, with the second generation having bolder markings.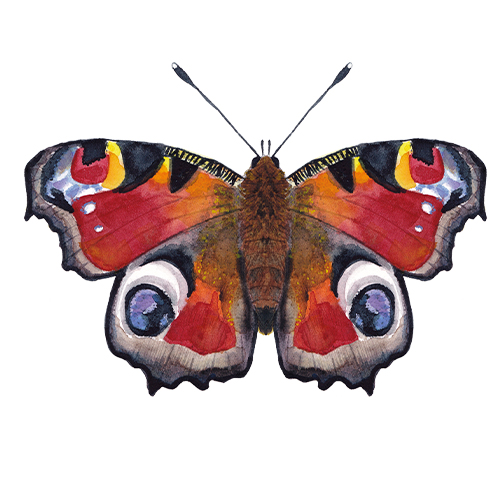 Peacock Butterfly
(featured on the My Natural Beauty Kit)

The Peacock is a familiar sight in gardens across Britain and is unmistakable, with quite spectacular 'eyes' on the upper side of the hindwings. The underside is almost black, providing perfect camouflage when the butterfly is at rest on a tree trunk. In addition to camouflage and large eyes, the butterfly is able to make a hissing sound by rubbing its wings together, audible even to human ears. This butterfly must appear quite threatening to any predator that might come across it.
About the artist
Lisa Jane Dhar is a Welsh fine artist and surface pattern designer, living and working in London. Lisa works in a variety of media with a wide range of applications, from wall art to textile design, packaging and more. With a large selection of playful art prints for children, to abstract pattern designs and striking florals, Lisa's designs are always full of mellow colour and warmth.
"Even though they are quite small it's impossible not to notice one of those spectacularly patterned beauties flying by. An encounter with a butterfly may be brief and fleeting, but their passing beauty never fails to capture the heart."
Lisa Jane Dhar, Studio Noodles
Read our interview with Lisa
The Positive Luxury Butterfly Mark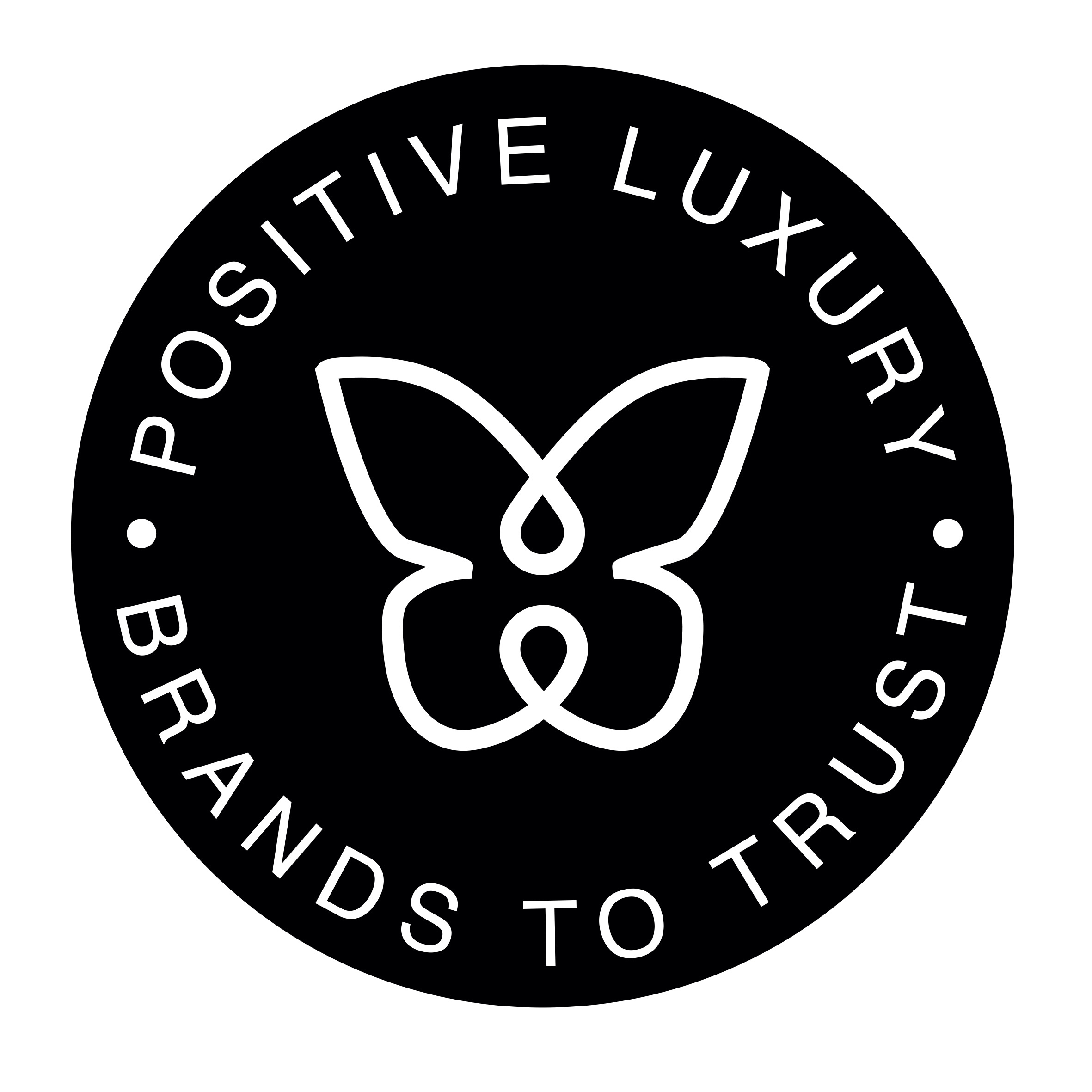 You will also see featured on Weleda's butterfly gift collection the Positive Luxury logo. Positive Luxury awards the Butterfly Mark to brands only when they meet the highest standards of verified innovation, social and environmental performance.
The Butterfly Mark equips people to make more informed purchasing decisions offering transparency at the point of purchase. A brand with the Butterfly Mark is a Brant to Trust.
The Positive Luxury logo was inspired by the story of the Large British Blue butterfly, which was brought back from near extinction in the United Kingdom, becoming the most successful insect reintroduction in the world. The story was told to Positive Luxury's founder, Diana Verde Nieto, by Sir David Attenborough in 2010, when she presented him with his Lifetime Achievement Award. It exemplifies how we can create a united force and reverse the negative impact we are having on our planet.
"Weleda was awarded the Butterfly Mark in 2013 for their company-wide commitment to sustainability. As a brand that was ahead of its time in organic principle, respect for people and the environment, we are proud to have Weleda as a brand within the Positive Luxury community."
Diana Verde Nieto, Founder & CEO, Positive Luxury.