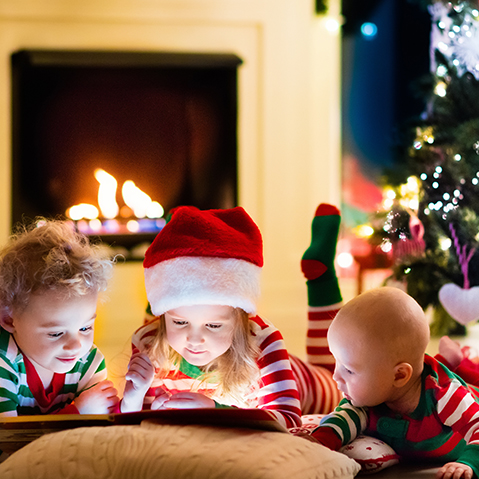 Make Christmas Eve magical for you
Perhaps because of the magical feelings of anticipation, creating traditions on Christmas Eve comes naturally to most families. If you live in a couple or alone, then you, too would benefit from traditions, although they will be your own and vastly different from those with children.
01 December 2017
When you think about your Christmas growing up what do you remember the most? The memories that seem to last the longest for most of us are those great family Christmas traditions.
Traditions make Christmas for most people. Doing the same things year after year, eating the same food, singing the same songs. Traditions bind us together. For some, they are a necessary comfort. It is as it always was, as it always will be. For others, they can be a straitjacket, binding you to doing a thing 'just because'.
Traditions are very hygge because they provide a sense of security, but that doesn't mean you are eternally tied to them, nor that you must always do what has been done before. Sometimes a change is needed, and you shouldn't be scared to make that change. It would, however, seem silly to throw everything out.
Look at your traditions with a clear head. Look at them in the context of who you are and what your circumstances are at the moment. Then think through them, and decide which you want, which you need and which ones you need to change.
For families with children, great Christmas Eve traditions are:
Keep the afternoon free for unexpected visitors or events.
You can arrange an afternoon of baking and cookie decorating, which children adore.
Wrap up new pyjamas for every child. These are the first presents of Christmas. Slip a new book into each one as well.
In Iceland, people exchange books on Christmas Eve and then spend the rest of the evening reading them. It's a relaxing hygge way to start the celebrations.
You could put together a Family Christmas Eve box, with a selection of things in such as chocolate treats, hot chocolate sachets, new socks, new pyjamas, a film to share as a family, a board game or a small toy to play with. The idea is to take the edge of Christmas Eve and spread out the opening. Boxes can cost as little or as much as you like, but I would feel awkward spending a lot on a box for use once a year. Use your ingenuity and a more individual, frugal version will be possible.
Don't forget to have a special box just for you
You could slip in some
Weleda bath milk
, a Weleda hand cream , a small box of chocolates or your favourite savoury treat, a small bottle of something fizzy, a book or a DVD of your favourite Christmas movie. Add a new pair of slouchy socks and perhaps a new pair of pyjamas and you're good to go.
Once the children are in bed, and the list of preparations for Christmas is complete, then open your box, use your presents to hygge yourself, enjoy a short period of relaxation and then slide into bed with a smile.