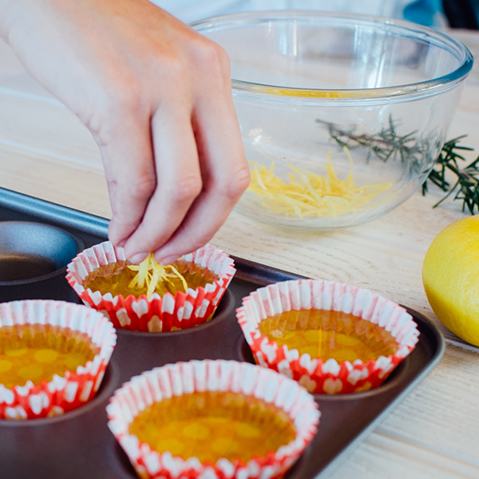 Get crafty this Christmas
Taking time for ourselves doesn't always happen at Christmas, so making gifts that promote some "me time" is a great way to give your loved ones a little piece of hygge.
Handmade gifts are different, unique and provide a perfect way to personalise the gift you are giving. Giving a gift that you made yourself can truly be rewarding, especially when it's made with love and will pamper your recipient.
How to make bath creamers
To make your own bath creamers, you just need a few basic ingredients.
This recipe makes about six or seven creamers, depending on how deeply you fill the cases.
100g cocoa butter – purchased from The Soapery
50g shea butter – purchased from The Soapery
2-4ml essential oil (We made two different varieties here at Weleda – 1 batch with lemon and rosemary oil and 1 batch with lavender and rosemary oil)
small paper cake cases
lemon peel or rosemary for decoration (You can also use dried petals or leaves depending on the essential oils used
Cocoa butter and shea butter melt really easily but to avoid ruining them, melt the cocoa butter in a jug in the microwave first (about 20 seconds on high should do it) before you add the shea butter and heat until that's melted too.
Stir in the almond oil and the fragrances you're using and then leave the mixture to cool for about five minutes.
Put the paper cases either on a baking tray or in those patty tins and pour the mixture in nice and evenly.
The mixture will cool and become cloudy but to hurry it along, carefully put them in the fridge. They won't need long to start to harden so keep an eye on them or you won't be able to decorate them as easily.
When they've started to harden, gently press the lemon peel/rosemary etc onto the top and leave to harden up for 24 hours.