Weleda Comfort Zone
Weleda sponsors The Model Zone for LFW 16-20 February 2018
Weleda is delighted to again be anchoring the activity in The Model Zone for London Fashion Week this February. Weleda has sponsored this wellbeing project for many years - the official LFW zone where models rest and recharge their batteries between castings, fittings, photo-shoots and shows.
Weleda's experienced team of beauty therapists Nisha Jani, Amanda Bucher, Rachael Leffman, Megan Edwards, Suzi Brown and Gabriele Haynes will offer revitalising treatments and massages. Such is the success of this collaboration with the British Fashion Council that an additional Weleda treatment area is to be added this season, at The Model Zone's bright and airy new Soho location, to look after the growing number of models that visit. Weleda pharmacist Evelyn Liddell and Weleda homeopath Jo Permaul will be on hand for holistic health consultations.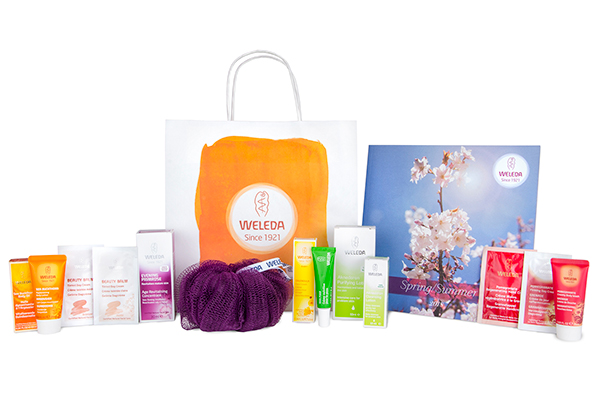 Models can book themselves in for a complimentary body massage, using Weleda's aromatic range of body oils, or experience a Skin Food Facial – a 30-minute miracle worker. The facial skincare routine is designed to restore radiance using Skin Food as a moisture-boosting face mask, together with a selection of other organic Weleda facial care products to provide a pampering pick-me-up.
Tucked away from the media glare, this relaxing retreat provides models with a private haven where they can unwind, relax with their peer group, eat healthily, drink plenty of fluids, take off their make-up and enjoy a little spoiling with organic skincare from Weleda.
Models take home an exclusive goody bag containing not only the iconic Weleda Skin Food but other treats including a luxurious Evening Primrose Revitalising Concentrate, and ever popular Aknedoron Purifying Lotion and Cleansing Lotion to calm oily outbreaks. Plus a fabulous rainbow selection of handy travel sizes including Calendula Face Cream, Sea Buckthorn Body Oil, Sea Buckthorn Body Lotion, Pomegranate Body Wash, and samples of Weleda's new Beauty Balms.
Multi-tasking Weleda Skin Food will also be coming to the rescue at several LFW shows including the AW18 presentation of fashion designer Paula Knorr on Monday 19 September, with make-up artist Martina Lattanzi using Weleda skincare backstage, as she explains:
"I am very excited to be introducing the beautiful Evening Primrose Concentrate into the skin-prep for Paula's show this season – this serum is a skincare must-have to add in to your beauty regime in the coldest months of the year. After freshening the face with the One-Step Cleanser & Toner, I gently massage the serum into the skin followed by a little Evening Primrose Day Cream. I'll be working with Weleda's new mineral pigment Beauty Balms rather than foundation – these are the lightest of products that even out minor blemishes but the skin remains luminous, letting the model's individuality shine through. To add an extra dewy finish, I am going to use one of my favourite products Weleda Skin Food. I use it as a natural highlighter to illuminate cheekbones and brows to enhance the features that make each woman unique, and to create a shimmer that echoes the metallics in Paula's AW18 collection".