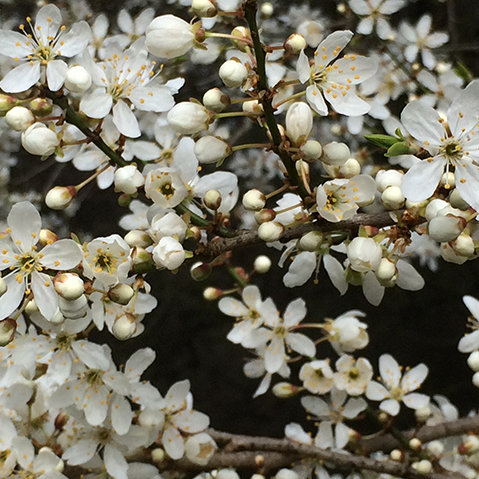 Spring is in the air!
Spring is in the air; brightly coloured spring flowers are out in bloom and the Weleda gardeners are getting ready to spring into action!
01 March 2018
Now is the time to start thinking about our first harvests of the year. Most plant roots and tree bark are now at their optimum time to make medicine, as they are active but 'held back' before sprouting their new green shoots.
Each year we harvest roots from a wide number of plants. This spring we are harvesting the roots of Angelica archangelica (Angelica), Chelidonium majus (Greater Celandine) and Symphytum officinale (Comfrey). We try our best to dig up the roots on a 'root day' in accordance with our Biodynamic calendar. They are washed and dried before they are ready to be finely cut up and start the medicine making process.
For roots, we often use a short, intense extraction method called a decoction. The extract (or Mother Tincture) is made by heating the plant material and liquid in a sealed glass vessel and maintained at boiling point for 30 minutes.
March is a good month to get an early start on seed sowing. On a flower day before the full moon, we start our first sowings of Calendula. We've found that using these natural rhythms gives us a good strong germination rate. These plants need a bit of heat at this time of year so we place them in our heated greenhouse. Once they've grown into small sturdy plants, we will gradually expose them to the cooler outside temperatures and plant them out into one of our bigger crop fields come May time.
We have just finished making a beautiful new rustic barrier around our plantation of Rhus toxicodendron (Poison Ivy). This is to help visitors to the field keep a safe distance away from this plant as it can cause severe irritation if touched. Thanks to Al's new chainsaw skills, we have been able to use only wood from our own land, which is very satisfying.
At the end of last summer, we put up a new polytunnel ready to house a fresh new stock of passionflower plants. This month we've been continuing this job by digging the new beds over, adding plentiful amounts of compost and applying a biodynamic treatment called the Barrel Preparation. This is to help the soil digest and assimilate the newly added organic matter, ensuring it's healthy and full of nutrients that the plants need for strong growth. Young passionflower plants will be put in next month and will be ready for harvest next year.
Passionflower (Passiflora incanarta) is an important medicinal plant. Its main attributes are as a natural aid to restful sleep, reducing nervous tension and promoting relaxation. We combine it with other herbal plants such as fresh flowering oats (Avena sativa), hop flowers (Humulus lupulus), valerian root (Valeriana officinalis) and a homeopathic potency of coffee. This is a very popular Weleda remedy and is made at our UK site.
Many of the beds in the more cultivated area of the field we call 'The Compound' were sown with green manures last autumn. They've persevered well through the winter months, helping to protect the soil from winter damage. Each autumn we sow grazing rye; a grass that develops very long roots enabling long aeration channels and helps bring up nutrients from deep in the soil, and vetch; a legume which helps to fix nitrogen in the soil through its relationship with certain bacteria on the plants roots and the soil. Once these are dug into the soil and chopped up, we will apply the 'Barrel Prep' to help break down the inverted tops of these plants, turning them into available nutrients for this years' crops.