Weleda wins prestigious Marie Claire Prix d'Excellence de la Beauté 2021
Now in its 35th year, the
Marie Claire Prix d'Excellence de la Beauté
annual awards honour the most innovative and effective international beauty products of the year, and pay tribute to brands that are giving back or putting sustainability at the top of their agenda.
Senior Beauty Editor, Katie Thomas, explained: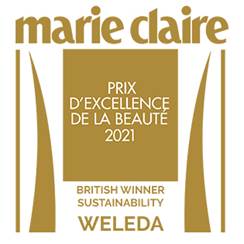 "A panel of beauty experts and beauty directors from across the world has been testing and trialling products that launched over the past year. The products are judged on everything from the science, the formulas, the packaging and, most importantly, the efficacy. Past years have seen us find some of the industry's most iconic products".
Weleda was delighted to be named the British winner for sustainable beauty.
Each year the judging panel, which included Marie Claire beauty directors from 25 countries, test-drives a dizzying number of new launches to find the best in skincare, haircare, fragrance and makeup, debating in depth which should be named as the best in their class. The result is just 15 awards recognising the most remarkable beauty brands.
Marie Claire attracts a huge audience every month with a digital reach of around 2 million via their website and social media in the UK, and 6.8 million globally. The Awards event was live streamed to hundreds of beauty industry professionals and influencers on 19 May 2021. Sarah Vaughan, Chief Sustainability Advisor for Marie Claire International, presented the award, commenting:
"Few brands can claim that they've had an eye on reducing their impact on the planet for over 100 years. This brand can, and they've really put it at the heart of everything they do, and have rightly earned themselves the status of world authority on sustainable, organic and effective products. Congratulations to the pioneering Weleda!"
Jayn Sterland, Managing Director of Weleda UK, responded:
"I am delighted to accept the 2021 Marie Claire Prix award for the Best Sustainable Brand - thank you so much on behalf of Weleda, my co-workers, our farmers, our partnerships, our suppliers, our customers and consumers. It's really wonderful for us to win this award. In 1921, 100 years ago, we were founded by a medical doctor - Dr Ita Wegman - and an Austrian philosopher - Rudolf Steiner - with one simple vision: to use nature to help support health and beauty whilst working sustainably. And I do hope that Weleda can show that it is possible to have a successful long-lasting business that respects nature, that works in harmony with nature, sustainably and ethically. And that we can make the world a better place whilst supporting health and beauty."
The full list of Marie Claire Prix d'Excellence 2021 winners can be found
here
: