Pomegranate Firming Facial Care
Nourish and protect skin with
Weleda's Pomegranate Firming Facial Care
. Using the power of antioxidants from organically grown pomegranate, the collection is formulated to encourage cell renewal, leaving the skin firmer and smoother, and fine lines and wrinkles become less apparent over time.
The range is made with cold-pressed pomegranate seed oil and argan oil – both exceptionally high in anti-oxidants and fatty acids omega 5, 6 and 9 to strengthen and nourish maturing skin.
It's wonderful what richness and beauty we can find in nature. At Weleda we have been harnessing nature's super powers in our products for nearly a century. We select the most potent active ingredients: pure plant oils cold-pressed from seeds and fruits. Working with oils is our particular area of expertise.
As we approach our 40s our skin's appearance will start to show whether we have taken care at an early age, and how life has treated us. Some of the fine lines from our 30s may have formed deeper wrinkles and our personal life-story is more clearly etched on our face. We can turn to superfruits such as pomegranate that contain an exceptionally high level of nutrients, and the skin needs extra nourishment, protection and stimulation at this time.Pomegranate is a very dynamic and potent medicinal plant, packed with antioxidants to provide effective anti-ageing protection from free radicals. Along with high levels of important fatty acids and vitamins, pomegranate seed oil stimulates cell renewal to help keep skin firm and radiantly beautiful.
Weleda's organic pomegranate comes from the fertile valleys in the coastal region of Icel in Turkey. This thriving fair trade farming partnership ensures Weleda has a top quality supply of organic pomegranate, and guarantees the farmers a reliable income. Harvesting begins just after dawn; the crop is hand picked, carefully and laboriously, to ensure the best quality fruit. The seeds are then dried before they are cold pressed to extract the valuable oil. To produce just 1kg of the precious oil requires 500kg of pomegranates.
The delicate fragrance for this collection is provided by pure essential oils, with a fruity top note of orange balanced by the warmth of davana and vanilla, to inspire the senses.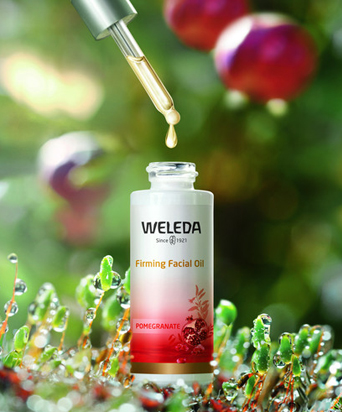 Give your skin a beauty boost with
Weleda's new Pomegranate Firming Facial Oil
. Using the power of antioxidants from organically grown pomegranate, this top quality oil encourages cell renewal, leaving the skin firmer, smoother and more radiant. Eight organic oils are combined with the finest botanicals, skilfully balanced so that each and every ingredient is able to work its magic on the skin. Resulting in a light, quickly absorbed and highly effective facial oil, that leaves skin noticeably supple with a natural silky glow and no unpleasant feeling of greasiness. Apply just a few drops of this precious liquid to freshly cleansed skin, as an intensive treatment.
Or mix a droplet with the Pomegranate Day or Night Cream as an extra nourishing boost for a more radiant complexion.

Begin with cleansed skin. Cleansing thoroughly but gently will support and strengthen your skin's naturally protective layer.
Step One: Eye Cream to tone and protect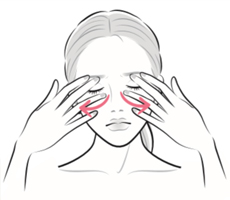 1.
Using the soft finger pads of your ring fingers, gently press on the cream, always working from the inner corners of your eyes outwards. As this is truly natural eyecare, it is safe to include your lids.
2.
Beginning just above the nose between the eyebrows, do gentle eyebrow squeezes, using a gentle, rhythmical action along the eyebrow using forefinger and thumb.
3.
Tip: do this facial exercise to increase skin tone and prevent sagging lids. Open your eyes as wide as possible without using your brow muscles. Hold this position for five seconds then relax. Repeat three times, blinking between each repetition.
4.
Make gentle circular movements beneath the eyes using ring and middle fingers. Beginning at the inside corners and working outwards towards the temples.
Step Two: Pomegranate Serum to replenish and hydrate
Spread one pump of serum over both palms and apply to face with a sweeping movement. Stroke from the midline to the sides. Include neck and décolletage. Tip: Hands should be relaxed, consciously moulding and caressing your skin.
Step Three: Pomegranate Firming Facial Oil to nourish and re-energise
Place a full dropper (6-9 drops) of oil in the heart of your palm and spread evenly over both palms. Apply to the face, neck and décolletage, as you did with the Serum.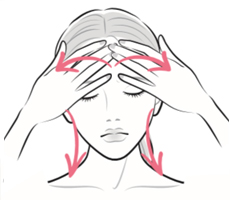 Smoothing the forehead
Place both hands flat on your forehead and sweep with steady but purposeful movements outwards. Repeat three times. At the end of the third movement, stroke down along the sides of your face, down the sides of your neck, to just above your collarbone.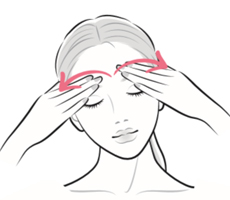 Easing the frown line
Using your middle and ring fingers, begin at the midline, just above your eyebrows, where a frown often sits. Smooth your brow muscle by moving your fingers outwards towards your temples. Repeat three times. Tip: do this facial exercise. Repeat, this time stopping about two-thirds of the way along the eyebrow and create a resistance, by slightly pulling your fingers towards your temples. Now try to frown and hold for five seconds. Repeat.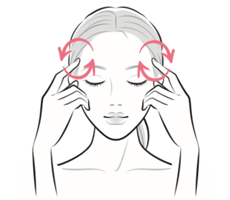 Relieving the tension
Make gentle circles over the temples using relaxed fingers. Repeat three times.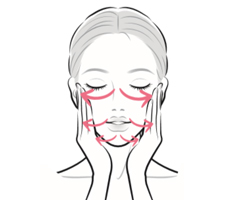 Rolling waves over cheeks (and mouth)
Using flat, relaxed hands, begin with hands parallel on either side of face and make gentle, wave-like movements outwards. Repeat three times, each time beginning a little further down the face, including your mouth area, and ending with a soothing rolling movement over your ears. At the end of the third movement, purposefully stroke down the sides of your neck, ending at your collarbone.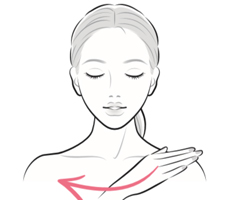 Alternate strokes across your décolletage
With your right hand on your left shoulder, gently glide across to your right shoulder. Then, with your left hand on your right shoulder, gently glide across to your left shoulder.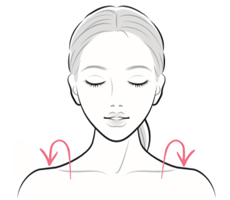 Final shoulder waves
Close your eyes and, with your arms hanging down relaxed at your sides, make slow, circular movements backwards with your shoulders. Lift them up over the front and let them come down over the back. Imagine they are being picked up and lowered down by a little wave as you let the water flow down gently behind you.