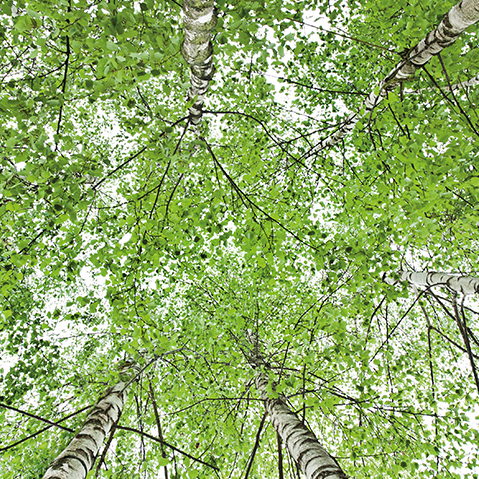 The Power of Birch Leaves
In spring, the birch tree draws up large quantities of water through its roots to its leaves. This is when young birch leaves contain especially high amounts of valuable nutrients.
The birch (genus: Betula) is a tree native to the northern hemisphere. No other deciduous tree is as hardy and resilient in winter. It is one of the first trees to unfurl new leaves in the new year. During this time, it is at peak performance: the birch transports about 70 litres of liquid every day, up through its roots to the top of the tree. The birch has a strong connection to water – an element that is also of great importance for the human body.
Youthful vigour and new beginnings
The birch tree's amazing flexibility contributes to its strength. Its branches and leaves start to dance at the slightest breeze. With its pliant branches, broad, flat leaves and white bark, the birch embodies spring and new beginnings. Its fine, bright green foliage radiate light, youthfulness and freshness.



Active in spring
After the winter months, many of us want to start the new year by strengthening our body or improving our complexion.
For the ancient Celts, the birch was a holy tree and its juice a beauty drink. It embodied new beginnings and the start of a blossoming future. Its white, silvery bark made it a tree of light. This reference to purity can still be found today. Both the Finnish sauna and the Russian steam bath (banya) include the practice of gently slapping the skin with a bundle of leafy birch twigs. This promotes blood circulation and massages the skin. The birch also symbolically supports the cleansing and revitalisation of the body that occurs during the hot bath.



Birch extracts
Birch leaves contain flavonoids, saponins and tannins. In spring, young birch leaves contain especially high amounts of these valuable nutrients.

The use of birch bark in natural remedies dates back to the Middle Ages. Birch bark contains high amounts of betulin, a substance that gives the trunk its typical white colour. A recent scientific study investigating the effects of birch bark extracts determined that betulin helps to accelerate wound healing.


Tip: Birch leaf tea is easy to prepare at home. In spring, collect young leaf buds and then dry them outdoors in the sun or in the oven at a low temperature. To prepare the tea, pour boiling water over 2 teaspoons of dried leaves per cup and steep for 10 minutes.