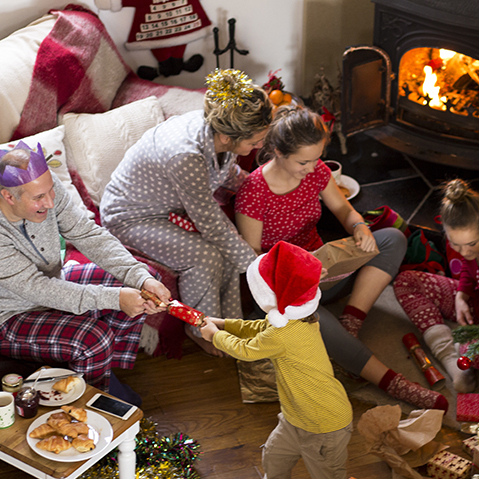 Quality time is the essence of Hygge
Spending time with friends and family is a great way to relax and rejuvenate after the stresses of everyday life. That's why quality time plays such an important role in hygge.
01 December 2017
While you can hygge by yourself, hygge mostly happens in small groups of close friends or family.
Time spent with others creates an atmosphere that is warm, relaxed, friendly, down-to-earth, close, comfortable, snug and welcoming. In many ways, it is like a good hug – but without the physical contact. It is in this situation that you can be completely relaxed and yourself. The art of hygge is therefore also the art of expanding your comfort zone to include other people.
At some point over the Christmas season the chances are that you will meet up with your extended family. Whether that's a one-day thing, or a few days staying over in one home or another, the pressures of Christmas, over-expectation, having more people in one house than it can reasonably hold, over-eating, alcohol and tiredness can all add up to a dangerous powder keg of emotion.
Entertaining the extended family and surviving it with grace and humour has to be about accepting them for what they are and releasing any expectations. If you get through the time without a major bust up or anybody storming off in a huff, then you've done well.
Top ten tips on quality time with your family in a hectic house:
1. Always have a meal together – preferably once a day, at a very minimum once a week.
2. Spend one to one time with each child on a regular basis – while it is easy to let the children entertain each other (or fight, squabble and bicker), making the effort to spend some time with each child is a must. Even if it is just washing up with them or watching tv
3. Hold weekly family meetings – this is a time when everyone gets an opportunity to share their plans for the week and to co-ordinate diaries.
4. Mummy/daddy time – even if it's just in the bath. Some time where it is just you and no one else. Also sitting down at the beginning of the week and diarizing what needs to be done and accomplished.
5. Couple time – spend time with your partner as a couple just to refresh batteries.
6. Plan rewards and holidays together – ask the children to set jobs and what rewards they would like when they are completed.
7. Turn off all screens – have a self-imposed time when there are no screens. Get the board games out or cards and have a couple of hours, that is not just on Christmas Day, when you play the 'old fashioned games'.
8. Communicate with the children at their level – use texting, facebooking, whatsapp, snapchat or whichever social media platform to good use. Often teenagers will say things to you via a messaging service that they wouldn't face to face.
9. Cooking together – this can be a great way to teach children how to cook.
10. Have boundaries and stick to them – children will break boundaries but they also understand them. It makes them feel secure. This includes bedtimes.
Engage with friends in small groups rather than large parties

Forget having a large party, socialise in a smaller groupand have a better time. Asking just one family or group of friends around means you don't have to worry about big catering or expense, but can just plan an ordinary meal, only larger. And there's no need to go all Heston Blumenthal on the catering front, either. A large pot of chilli, a slow-roast piece of pork to make pulled pork baguettes or pizzas freshly delivered as the party starts work well. If you must cook to impress, concentrate on making a really gorgeous dessert and serving it with a good wine or beer.

Having a small group around leaves you time to concentrate on setting the atmosphere. I'm expecting your home is hyggely most of the time, with candles, throws and a comfortable, relaxed air. Christmas needs very little more, apart from a tree and some more candles and fairy lights.