Skin Food 75ml
The ultimate natural moisturiser for dry, rough skin everywhere.
Our best beauty secret – we've shared it with our customers since 1926. Now it's your turn to discover the secret to soft skin.
Description
If there's just one thing you need to take with you to a desert island, it's this little green tube of magic. Skin Food is a universal saviour of dry, rough skin on faces, elbows, hands and feet – wherever you take a lot out of your skin, let Skin Food put it back in. With extracts of gentle viola tricolor, calendula and chamomile, in a rich, thick base of pure plant oils and beeswax, Skin Food loves your skin back to its best.

Suitable for vegetarians.

Ingredients:
Water (Aqua), Helianthus Annuus (Sunflower) Seed Oil, Lanolin, Prunus Amygdalus Dulcis (Sweet Almond) Oil, Beeswax (Cera Alba), Alcohol, Polyglyceryl-3 Polyricinoleate, Glycerin, Limonene*, Viola Tricolor Extract, Fragrance (Parfum)*, Hydrolyzed Beeswax, Sobitan Olivate, Rosmarinus Officinalis (Rosemary) Leaf Extract, Chamomilla Recutita (Matricaria) Flower Extract, Calendula Officinalis Flower Extract, Arginine, Zinc Sulfate, Linalool*, Geraniol*, Citral*, Coumarin*.
* from natural essential oils.

How to use:
Apply generously several times a day, wherever your skin needs extra help – especially on rough, dry areas like hands, feet and elbows.

17.1% increased skin moisture Tested after 28 days.

18.5% smoother skin Tested after 28 days


Reviews (17)
Amazing

I suffer from very bad psoriasis on my both my knees and elbows and this has cleared it up beautifully (even better than the plethora of medicated creams and ointments I have had on prescription). It is also fantastic as a daily moisturiser when you are feeling dry and dull. Although the tubes aren't the largest and cost a fair bit, you only need the tiniest bit to go a long way. I will definitely be continuing to purchase this item

Amazing

I never ever write reviews, but I have to for this product. For months I've had dry scaly skin round my nose, cheeks and forehead. I tried so many different things and nothing would make any difference whatsoever. Happened across weleda skin food in Morrisons on Tuesday and honestly in only 2 days my skin is back to normal. I'm amazed and so happy. Will definitely be buying this for ever more, it's worth every penny

Simply marvellous

I suffer from extremely dry hands in the winter and they get deep cracks and become very sore and painful. I have tried many things without success. I used Skin Food (original)this winter, and I am delighted to say I have had no problems at all with my hands. Not a single crack and no dryness. It feels lovely! It's just marvelous. Natural beauty is the way forward 💚

The best

Hands down this is the best moisturiser I've ever tried. I use it every night before bed on my face & neck. I have suffered with perioral dermatitis for years and using this product has helped clear it up. My skin is very sensitive and gets irritated by lots of ingredients not at all with Skin Food. The texture is so rich and thick in texture so you don't need much, as such it is really good value. I've used moisturiser 5 times the price and not found then as good as Skin Food. I use it on my daughters eczema also and it heals any irritation really well.

Life changing

I really can't thank you guys enough, I have suffered for over 10 years with eczema on my face, in and out of doctors with no luck with bay product what so ever. This completely soothes and has cleared my face. Absolutely life changing and that is no exaggeration!

Brilliant after Shaving

I love to use this after a shave when i rub a very small amount between my fingers then gently pat on my face and it keeps my skin soft all day long. My only gripe is the new plastic packaging which i really don't like as the old metal tubes were so much better .

Best ever

Absolutely amazing! Saved my skin and I suffer from Chronic eczema! Been in and out of hospitals and this works and clears my skin on a daily! Thank you so so so so much for helping people work skin conditions.

EXCELLENT

I have very dry skin especially on my hands, and this skin food really helps to moisturise them. Because it is quite a thick cream I use it at night. It soaks in really quickly and smells nice. One of my favourie hand creams. So glad I tried it. Will be ordering again shortly.

My go to product

I have been in love with Skin Food since I discovered just over a year ago. I have very dry skin and this is the only product that makes my skin feel and look amazing. It's so versatile, I use it in all my skincare routines day and night. It mixes very well with serums, sometimes I leave it in as night face mask when my skin needs extra hydration. It has definitely improved my skin texture and dullness, my skin looks plumped, it's super soft and it just glows! I get so many compliments. It works great with make up and without, it just gives you a natural glow. Plus you can use it on your hands and feet and anywhere that needs a little love.

Wish it were more affordable

I tried a sample of this product and absolutely loved it. My skin looked so good. However, I realised it's not vegan and find the vegan weleda alternatives too expensive. Wish there was an affordable vegan alternative!

Great product, shame about the change in packaging

I've been using skin food for years and love the product, but I am sorely disappointed in the change to packaging. Like many, I am trying to avoid using plastic and the switch is really disappointing. Additionally, the metal tube meant you could squeeze every last drop out. Now, you have to cut the tube in half or throw some of it away, then having to buy it more frequently (which I'm sure wasn't part of the thinking behind the switch at all...).

Sad about the new plastic packaging.

I LOVE this cream, it smells delicious, and is rich and luxurious. But why have Weleda changed the packaging to a plastic tube? The metal one was great. Even though this is my fave moisturising cream ever, I don't know if I will continue buying it because of the packaging.

Shame you raised the price

great product, it started getting very popular and reviewed by ¨mainstream¨ sources then the package size decreased and the price increased which I find greedy. Surely if you're selling more the price could stay or even drop. I won't buy it as I used to, only occasionally.

Excellent

This is excellent for very dry hands. However, I am very disappointed to see that the packaging has changed to plastic bottles. They used to be in a metal one which you could roll and squeeze as much cream out as possible. The new plastic bottle does not squeeze well and I had to cut in half to get the remaining cream out. In our plastic conscious age this was not in my opinion a smart move.

Amazing

I have been working in a cafe and doing alot of hand washing which has completely dried out and destroyed my hands. I've started using skin food and I cannot believe the difference it's made to my hands. They are smooth and soft and I am definitely going to buy my next tube to stock up. So impressed with this product

Perfect Face Cream

I have been looking for a perfect face cream for a while, changing natural brands for over 5 months. I was advised to buy this product at a local natural store and the results have been impeccable: clear and hydrated skin! I truly love it! My skin routine is pretty minimal: clean, tone, and hydrate, and since I have been using this cream its never looked better! It does have a pretty thick consistency, but it absorbs perfectly into the skin and it's also great for your hands.

Skin Food

Have recently used this on aging, damaged skin on my hands and arms -from gardening and am delighted with it. Easily the best condition my hands have been in for a while! I put it on at night and wake with soft hands.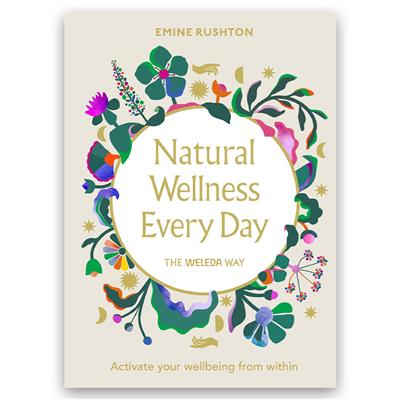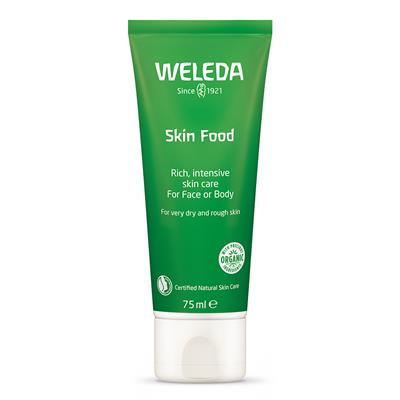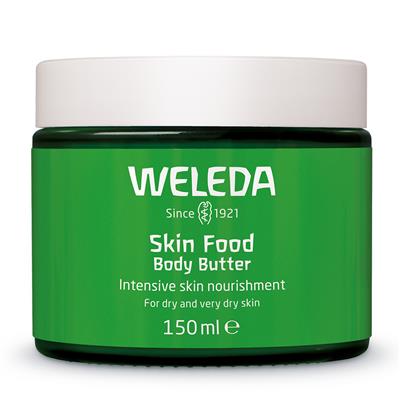 True Health Awards 2019 (published 1 February 2020)
Best Personal / Body Care – Skin Food collection - Silver
Organic & Natural Business Awards 2019 (published January 2020)
Best Skin & Body Care – Skin Food Collection – Highly Commended

The Beauty Shortlist Beauty & Wellbeing Awards 2020
Best Balm for Extra Dry Skin – Skin Food Original – Editor's Choice Award

Bible Awards 2020
Skin Food original – Gold, Beauty Steal and Best Natural Awards

Bible Awards 2020
Skin Food original – Gold, Beauty Steal and Best Natural Awards

Bible Awards 2020
Skin Food original – Gold, Beauty Steal and Best Natural Awards

Green Parent Natural beauty Awards 2020
Men's Products – Best Beard Oil – Gold – Skin Food Original

Global Green Beauty Awards
Gold winner - Best Clean Beauty Product - Toxic Free
WELEDA Skin Food Original