Where it all began...
The British Weleda Company (est. 1925)
Shortly after Weleda was first founded in Switzerland in 1921, The British Weleda Co. Ltd (as it was then known) was established on 19 January 1925 at 21 Bloomsbury Square in London - an area known for its literary and artistic 'Bloomsbury Group' that included intellectuals, philosophers, art critics and painters including EM Forster, Duncan Grant, Vanessa Bell, Roger Fry and Virginia Woolf.
Apart from the bespoke pharmaceuticals traditionally made up for customers in the pharmacy to prescription, Weleda's original range of 'ready made' bodycare products included a hair oil, hair tonic, toothpaste, mouthwash, cold cream moisturiser, cleansing milk and a cream for chilblains, all of which were initially marketed as Weleda's 'Everon' range.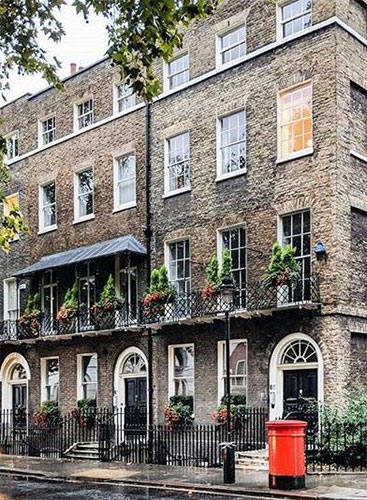 For some years the British business failed to flourish, with annual sales in 1931 amounting to only £1,153. In the years leading up to the second World War trading became increasingly difficult, and the business relocated to a retail space at 24 Crawford Street in London's Mayfair. Initially Weleda had been mainly importing products and raw materials such as medicinal tinctures produced by the parent business in Switzerland but the outbreak of war and importing near impossible, it became necessary to switch production to this country.
Communication during the war years with Weleda's head quarters in Switzerland was also increasingly difficult, resulting in some discrepancies in product formulation, such as the differences between the original Arnica Massage Oil and the British Arnica Massage Balm for example. Both hugely popular products today, they continue to co-exist - one as a non-medicinal bodycare product and the other as a licensed medicinal product with a high level of plant actives, favoured by remedial massage therapists.
The business evacuated in 1939 to an old priory with its own organic gardens, in the village of Fladbury in Worcestershire, where Weleda remained for the duration of the war. Many felt the house was haunted and had a ghostly atmosphere, and it was eventually exorcised!
After the war ended, it once again became possible for Weleda to open a London shop in Bloomsbury Street in 1949, to provide prescription medicines needed rapidly for patients, as deliveries from rural Fladbury were not sufficiently speedy. In 1952 the shop moved to larger premises at 4 Glentworth Street, just off London's Baker Street, which remained until 1960.
In 1957 a move from Fladbury to Littlehurst in East Sussex enabled Weleda to start growing the medicinal herbs necessary to expand its UK manufacturing capability. By 1962 the modest business was now seeing sales of £25,000. Profits grew and by 1967 the building needed to be extended. By 1972 the company was already considering the possibility of relocation, as the existing premises at Littlehurst would need significant change to comply with new UK medicine legislation. In 1973 the business became Weleda (UK) Ltd when Britain joined the European Common Market. At this time medicines legislation became increasingly stringent and there was clearer distinction between non-medicinal cosmetic products and medicinal products, with strict medicines licensing requirements.
By 1977 the company employed 30 people and Weleda moved from Sussex to Derbyshire on 25 September 1978, to allow for further expansion of both the manufacturing business and the medicinal herb gardens. The building was originally a Steiner school and kindergarten – Michael House School.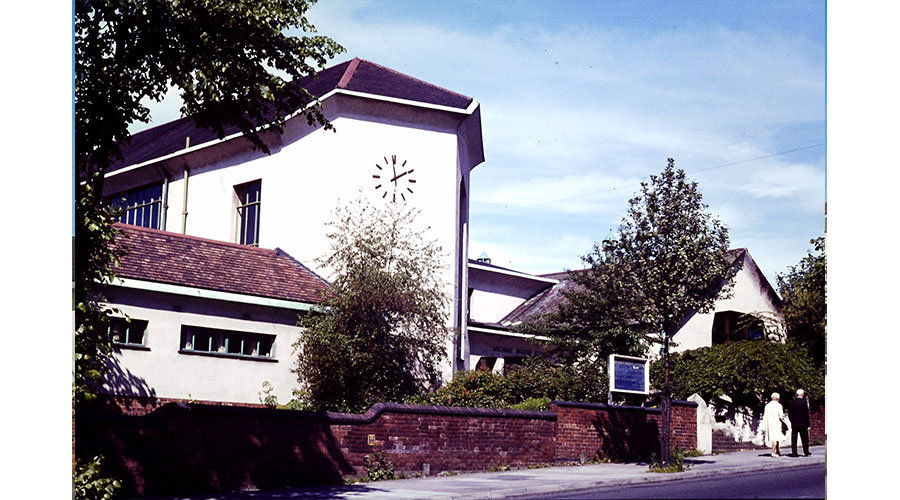 Weleda building c1976 - Photo courtesy of the Ilkeston & District Local History Society
By the early 1980s sales had grown to over £1million, and Weleda expanded its garden production. By the early 1990s the number of employees had nearly trebled. Weleda has since enjoyed over four decades at its Derbyshire premises at Ilkeston and its growing site just up the road at Shipley, which have both since undergone extensive expansion and change.
The size of the Derbyshire business has grown from a turnover of £245,775 in 1978 to £10.8million in 2020. Today Weleda UK is part of a thriving international group employing over 2,550 people and operating in over 50 countries across 5 continents. It remains privately owned by its founders and true to its original ethos of working 'in harmony with nature and the human being'.
Weleda is in many respects a business of women, having been significantly influenced by one of its founders – the pioneering and inspirational women's doctor Dr Ita Wegman. The company takes its very name from the revered female healers and wise women known as Weledas, who looked after the health and wellbeing of their Ancient Celtic tribes.
With a British customer base that is over 94% female it is perhaps not surprising that 77% of the staff at Weleda's Derbyshire offices is also female. But what is nevertheless remarkable is that Weleda's team includes approximately 73% female managers, right across the business from managing director to sales director, and technical director to head of marketing.
Weleda UK grows many of its own plants organically, to ensure the very best quality and purity. The original half-acre gardens at Ilkeston have expanded to become 13 acres of Demeter-certified medicinal herb gardens up the road at Shipley, where Weleda grows over 50 species which make a very short journey to the manufacturing site to be used at their freshest for Weleda's potent plant extracts. The original small garden is now a beautiful ornamental herb garden outside Weleda's Garden Room, part of Weleda's training centre, which welcomes several hundred visitors each year, all eager to know more about this unique company. The main growing site at Shipley opens its gates to thousands of visitors each year on special open days, raising funds for the Derbyshire Wildlife Trust or local charities.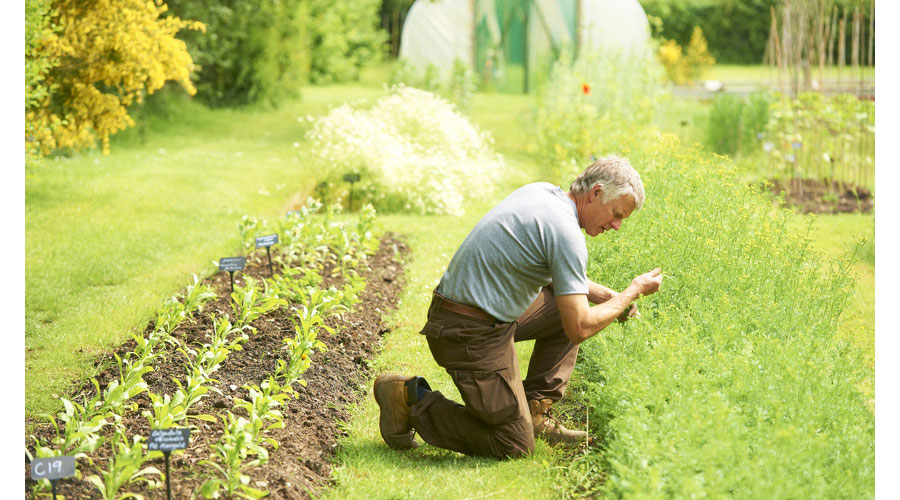 People are at the heart of the business in all sorts of ways, from customer experience through to loyal staff who have stayed with the company for many years. Nearly a third (30.6%) of employees has worked for the company for more than 15 years, and over 20% of the workforce has in excess of 20 years' service - with two members of staff working with Weleda for over 35 years, which is highly unusual in today's FMCG industry!
There are also many relatives and family groups working within the business both today and down through the decades, including several mothers and daughters, and lots of siblings and sisters-in-law or brothers-in-law. Currently Weleda has four sisters all working in various departments within the business (sales, marketing, customer care and production). The business certainly feels like family in many ways.
Former Managing Director Penny Viner, who oversaw the move to Derbyshire in 1978, commented:
"The move was a really challenging time. We were moving an established pharmaceutical business into an old school. There were about twelve of us who not only relocated the business but also ourselves up to Derbyshire and we had the help of a wonderful architect called Roy Warren who was central to the move in that he made the buildings work for us. Looking back it was an incredible leap of faith on behalf of Weleda to move from Sussex to Derbyshire but we managed it, and maintained our supply of medicines to our customers. We were a new entity in this small, closely-knit community but we were soon accepted and many people wanted to come and work for us. The business settled and started to grow, we recruited young people – some of whom still work for the company today!"
DID YOU KNOW …
Weleda was first founded in Switzerland in 1921 but established a British Weleda Company as early as 1925, originally in Bloomsbury Square in London.
Over 16,000 products a day are dispatched by Weleda in Derbyshire to health and beauty retailers nationwide, hospitals and clinics, complementary health practitioners, beauty therapists and consumers shopping at Weleda's online store.
Weleda UK sells over 120 natural and organic cosmetics, around 70 over-the-counter medicines, and nearly 300 further remedies produced specifically for prescription by doctors in hospitals, clinics and general practice.
Weleda's original small half-acre herb gardens have, over the past 40 years, bloomed into 13 acres where we grow over 50 species biodynamically for Weleda's plant tinctures. The gardens have been Demeter-certified since 1996.
Weleda's original building was once a Steiner school, and today houses Weleda's shop with admin offices above. The footprint of operational business space on the head office site has more than trebled over the past 40 years.
Edith Lewis Hall, once a kindergarten established by Miss Lewis who founded the original Ilkeston Steiner School in 1934, is today part of Weleda's training centre, used as a presentation space or meeting room.
Today 77% of the staff at Weleda's Derbyshire offices is female, with approximately 73% female managers.
Over 30% of full time employees have worked for the company for more than 15 years, and over 20% of the workforce has in excess of 20 years' service.
In 1978 Weleda's top selling product in the UK was Arnica Massage Balm. Interestingly it remains Weleda's best-selling medicinal product (both value and volume) and has fathered an entire family of arnica products. Today Arnica is an ingredient that features in over 15 Weleda lines, with products containing arnica accounting for approximately 10% of Weleda's turnover in the UK.