Women's Environmental Network - The Big Stink!
We are excited to announce that Weleda is supporting the next WUM Forum - The Big Stink!
Wednesday 18th October 6pm-9pm - The Big Stink - Harmful chemicals in everyday products and what you can do about it! @ Amnesty International UK Human Rights Action Centre 17-25 New Inn Yard London EC2A 3EA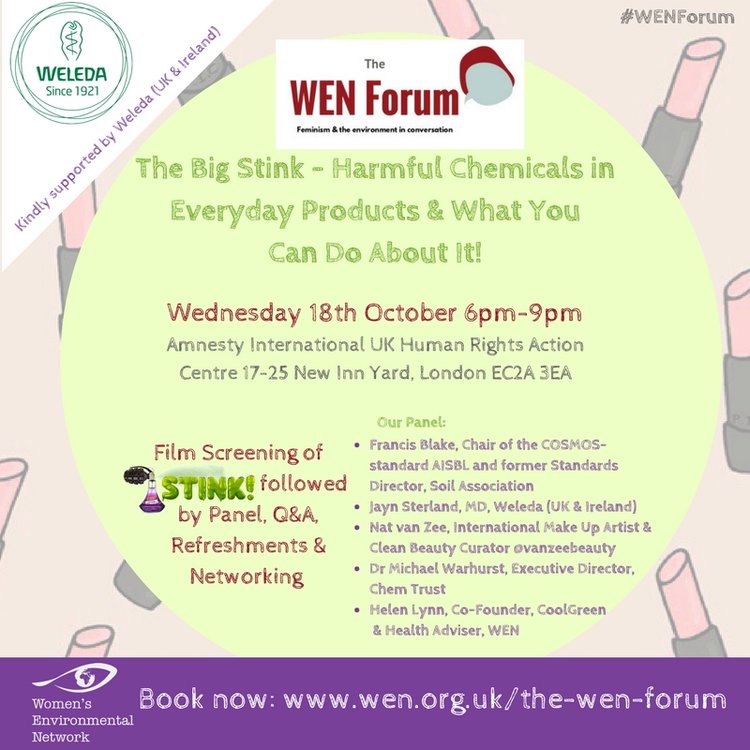 We will be exploring the following questions:
What do the terms natural and organic really mean?
Why are these chemicals used in the first place?
What are the health impacts of harmful chemicals on our bodies
How can we protect ourselves from harmful chemicals?
Is gender an issue?
What is the environmental impact of these chemicals?
What does Brexit mean to this debate?
The Panel:
Francis Blake, Chair of the COSMOS-standard AISBL and former Standards Director, Soil Association
Jayn Sterland, Managing Director, Weleda (UK & Ireland)
Helen Lynn, Co-founder, CoolGreen and Health Adviser, WEN
Nat van Zee, International Make-Up Artist & Clean Beauty Curator @vanzeebeauty
A. Michael Warhurst, Executive Director, CHEM Trust
Book now »