Weleda supports Wesley Harriott Show
London Fashion Week 17 September 2018
Weleda is excited to be collaborating with Wesley Harriott at London Fashion Week this season (Monday 17 September 2018). Designer Ricky Harriott, who won the ASOS Fashion Discovery Prize earlier this year, has been flagged as one to watch amongst Britain's emerging talent. Harriott will be presenting his SS19 collection You Can (Not) Be Everything – the story of empowered women who can be everything but are at their most directional when just being themselves.
"Weleda I find really champions looking after what you yourself are rather than trying to change it or cover it up. I think that sits comfortably with how I view people. I like to enhance rather than change, so I am so excited to be working with a brand that respects people from the inside out rather than the other way", commented Harriott.
"I grew up watching a lot of anime and manga and also reading comic books, and I found a lot of inspiration in the female heroines portrayed in those media. For me, they really mirrored the women that raised me and that I grew up around. I started sketching garments when I was about 11 and it began with a lot of those characters I loved. I think my interest in super heroines always prompts me to design for women as if they may just need to save the world."
His designs have been worn by many high-profile women including Lady Gaga, Kylie Jenner and American singer Sza, all of whom epitomise Harriott's vision of powerful beauty, ready for action.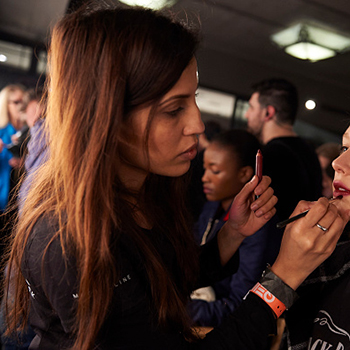 Backstage, make-up designer Famida Pathan and her team will be working exclusively with Weleda skincare to prep a dozen models, creating luminous, ultra dewy skin that is pampered and polished.
To compliment Harriott's collection, Famida has designed a futuristic look inspired by the strong, dominant city heroine. As projected in the designs for the Wesley Harriott woman – confident and capable, she looks fresh, sharp and poised but never over produced.
Famida will be cleansing with Weleda's One Step Cleanser & Toner which is such a useful product backstage at London Fashion Week where space and time are so restricted. Then blending a little Almond Soothing Facial Oil with the Almond Soothing Facial Cream to pamper and hydrate skin for a polished finish, before applying Weleda's BB Creams.
"I'm not after pristine insta-perfect beauty, but I'll be contouring with the BB Creams to create a confident, quite chiselled look for these city heroines. We'll also use the Weleda Tinted Lip Balms to highlight cheekbones and eyelids, providing both colour and sheen on the skin. Smudgy black eyeliner will add streetwise 'don't care' attitude.
"The best part about using Weleda is knowing all the ingredients are natural and organic ... this gives me confidence when using their products on my clients and myself".
Ricky Harriott is also a fan of Weleda skincare, commenting: "I love Skin Food, it always makes me look way more awake than I am. I also really enjoy the Men's moisturiser. It's really lightweight, which I love."
Weleda's NATRUE-certified body care will feature in exclusive VIP gift bags for those attending the show, including the revitalising Evening Primrose Concentrate, femininely fragrant Wild Rose Creamy Body Wash, plus superhero Skin Food to restore radiance to lacklustre complexions.