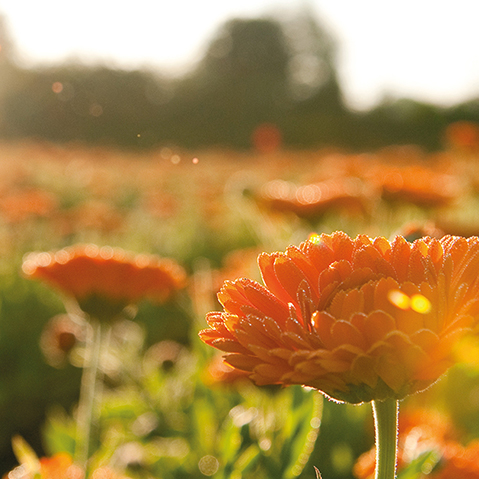 Why parents and midwives have relied on Calendula Baby Oil for generations
30 August 2019
For generations, parents and midwives have been able to rely on Weleda Calendula Baby Oil fragrance-free, formulated with organic sesame oil and an extract of calendula. The year 2019 marks its 60th birthday.
Newborns need warmth and security when they come into the world. Upon birth, a baby's delicate skin is not yet fully developed. Despite being five times thinner than adult skin, a baby's skin has an important task from day one: to protect the newborn organism that it surrounds. The skin also serves as a barrier between the inner and outer world. Good skin care is therefore important for the proper development of a baby's skin.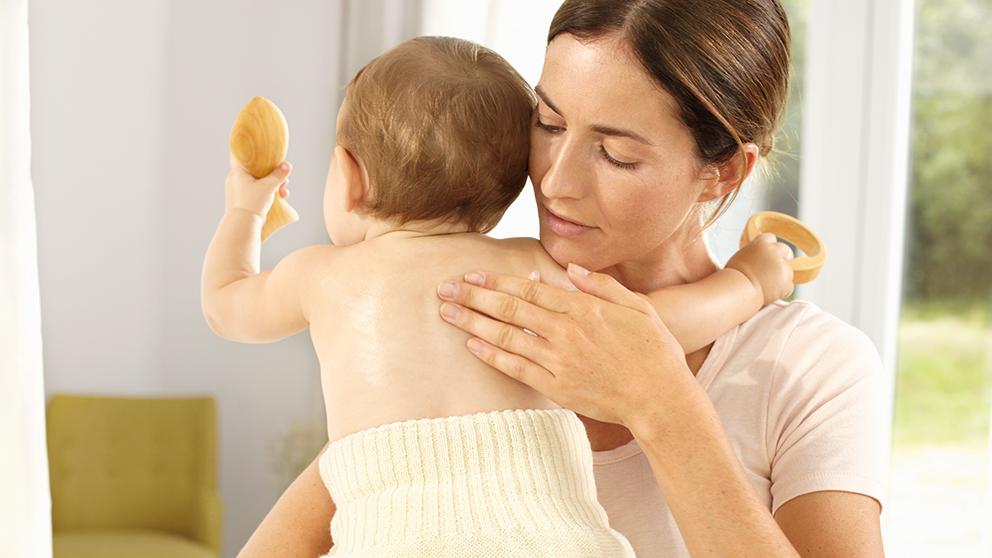 Upon birth, a baby's delicate skin is not yet fully developed
Welcoming the newborn with plant oil
According to the anthroposophic view of life, babies gradually grow into their bodies during their first years of life. They perceive their surroundings with their senses and learn to differentiate themselves from the rest of the world. Baby skin is not as mature as adult skin. For this reason, the ingredients in baby skincare products should be geared to the special needs of babies' skin. Gently oiling your baby's skin or giving your baby a loving massage will support the development of your baby's skin and help your child gain a better sense of her own body. Massages also strengthen bonding between parent and child. This gives babies a sense of security and stability – so they can literally feel comfortable in their own skin.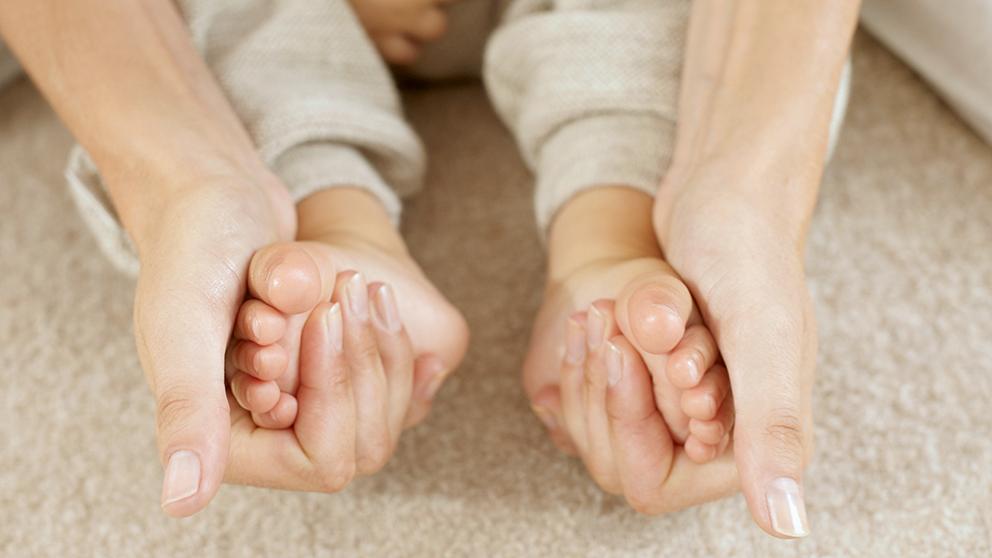 Newborns need warmth and security when they come into the world
What makes plant oils so special
Through photosynthesis, plants convert energy from sunlight into matter such as sugars, which are then converted into lipids and stored in the seeds. In other words, plants absorb sunlight. Plant seeds and kernels are pressed in order to obtain their oil for use. Weleda has always used sesame seed oil for its Calendula Baby Oil fragrance free formulation. Sesame seed oil contains natural antioxidants such as vitamin E. It is easily absorbed by the skin and supports the formation of a healthy skin barrier.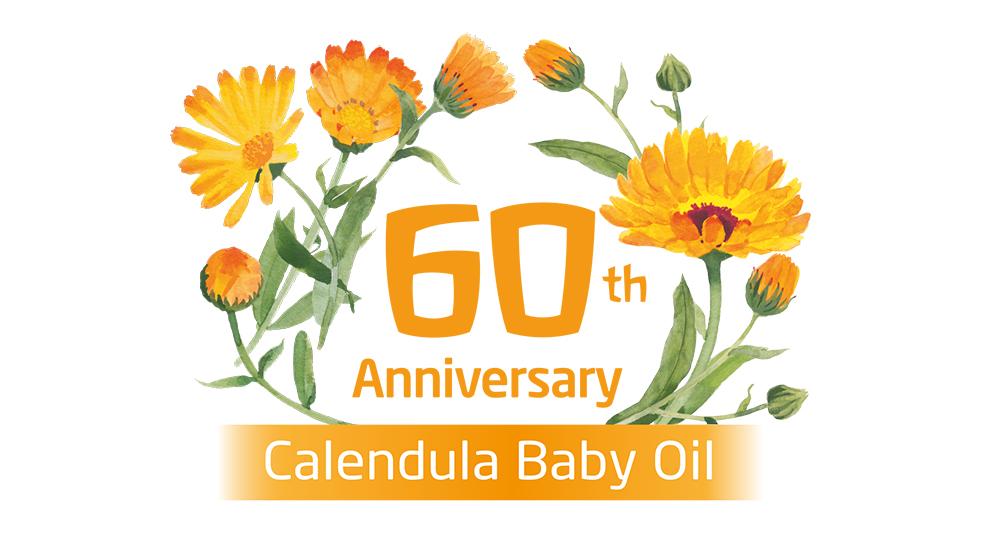 Weleda Calendula Baby Oil fragrance free, since 1959
Tried and trusted duo in baby care for 60 years: Calendula and sesame oil
With its yellow to dark orange blossoms, the calendula plant (also known as pot marigold, gold bloom, mary pot) is a real sun trap. From June to late autumn its radiant flowers reach towards the sun. During this long flowering period, the plant's vigorous growth continues uninterrupted – a sign of the calendula's enormous vitality. It absorbs the sun's light and warmth, transforming them into structuring, protective and restorative powers which are particularly beneficial in treating delicate, chafed or irritated skin.
Calendula protects a baby's delicate skin, and its vital forces relieve the first signs of redness. It's much better to use a gentle, nourishing oil to cleanse the skin instead of foaming agents that can aggravate irritated skin.
Calendula Baby Oil Then & Now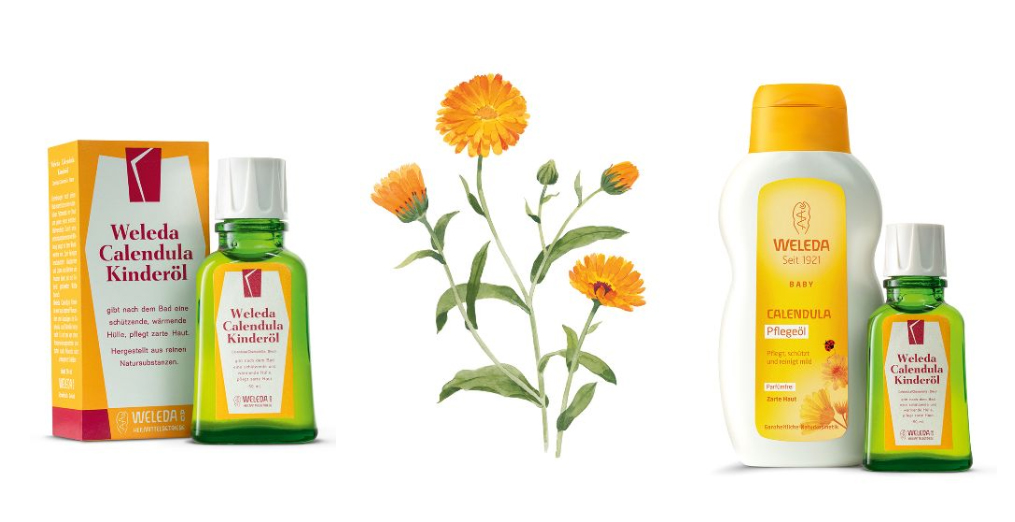 For generations, midwives, mothers and fathers have appreciated Calendula Baby Oil for being wonderfully simple and effective:
"I'm a big fan! My two daughters are already older and we used the oil with both of them. What I like is that it has multiple functions – it's perfect for baby massage, nappy care and cleansing the skin. I gave birth to both my daughters as an outpatient and came home after a few hours. That also meant we had to deal with their first sticky stools (meconium) – without oil it's nearly impossible to remove it from the skin. Later, throughout the entire nappy phase, it was perfect for both cleansing and nourishing the skin. So for me it's a 3-in-1 product: for wellness, care and cleansing."
Sonja Kraus
Customer Service and Sales, Weleda AG
The Baby Calendula range