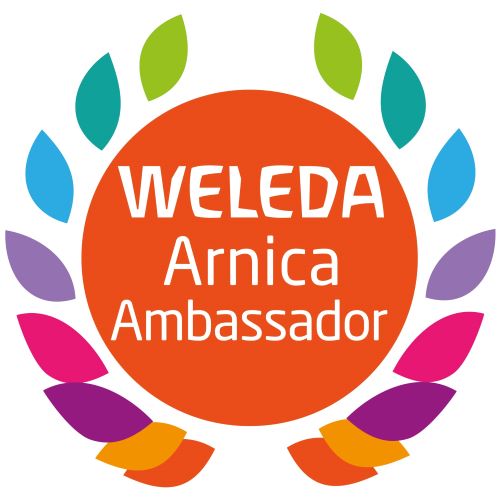 Introducing adventure athlete and Weleda Arnica Ambassador, Laura Kennington
Laura Kennington is an adventure athlete from London with a passion for endurance sports and for exploring the capability of the human body. Laura embarked on her Park2Park Challenge in July 2021 cycling right across the UK through all 15 National Parks in just 15 days. Weleda was delighted to sponsor Laura on her journey, as she covered over 1,700 miles, in all weathers. She also cycled uphill for over 28,000 metres of the journey – that's over three times the ascent of Everest!
Laura, can you tell us a little bit about yourself, how you became an endurance athlete and why cycling is such a passion?
My early childhood was largely spent outdoors (we lived on a farm) and I think this definitely helped me develop a sense of adventure! Fast forward to my 20s, I found myself living in London and in a rut. In an attempt to be more financially independent, I decided to work full time for an insurance company in the City. However, my very sensible and well-paid job actually made me deeply miserable. I reached a point where I had lined up everything I thought I was meant to, in order to be a successful adult, and it just didn't fit.
I qualified as a Personal Trainer alongside my full time office job thinking that it might be a more fulfilling career, and it escalated from there! Learning more about how the human body worked, and how brilliant it was at adapting, gave me a fresh perspective on what my own body might be capable of…. a few years later, here we are!
I love cycling especially because you can cover enough distance to feel like you're making a satisfying amount of progress but you also go slowly enough to really absorb your surroundings. I also love how it caters to so many different ages and abilities. It's such a great way to go exploring and there's something immensely satisfying about arriving somewhere under your own steam!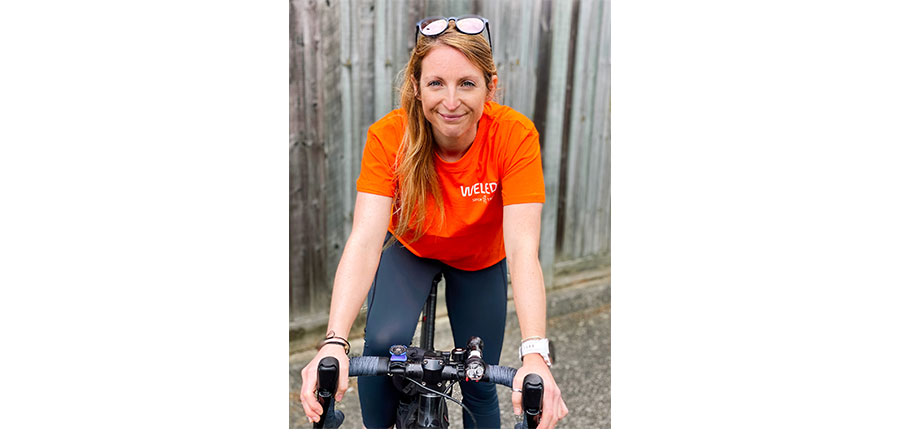 Which National Parks will you be cycling through during your 1,700 Park2Park challenge?
The UK has 15 National Parks in total - I'll be cycling through each one! In the order that I'll be passing through them, I'll be visiting Dartmoor, Exmoor, New Forest, South Downs, Norfolk Broads, Brecon Beacons, Pembrokeshire Coast, Snowdon, Peak District, North York Moors, Yorkshire Dales, Lake District, Northumberland, Loch Lomond and then lastly, Cairngorms.
At what age did your love of nature develop and what is the appeal of the outdoors for you?
I grew up on a farm so my early childhood is a happy blur of being outside as much as possible, usually with the family dog (Hobo, a white Alsatian). Spending loads of time in nature felt completely normal and it was only in later years, living and working in London, that I realised just how disconnected we often become from nature - and how important it is to make the effort to get outside.
We are surrounded by screens and constant demands on our attention these days - it disrupts our sleep, it causes stress and I really don't think we're designed to be so cooped up and insulated from our natural environment. Spending time outside is a chance to switch off from all the noise and recalibrate. I have a rule to never make an important decision when I'm anywhere with a ceiling!
What inspired your Park2Park Challenge?
This challenge feels a bit like a love letter to the UK. Instead of lamenting all the places I couldn't go and all the events that had been cancelled in the wake of the pandemic, I wanted to channel my energy in a more productive direction. I thought I'd start by appreciating and exploring my own backyard a bit more!
I also think we protect what we love and I'm hoping that through this challenge I help many more people fall in love with our National Parks, too. Our green spaces are so very precious.
What does it take to commit to an extreme sport and how do you cope when the going gets tough?
I think it's important to know why you're beginning in the first place. If you know why something matters to you, you can draw on that when the struggle kicks in.
I'm motivated by wanting to explore my own potential - for me, it's all about running my own race and through that, encouraging others to do the same. So many of us have this inner narrative about the things we can or can't do - it's so embedded that we never really stop to check if it's true, and those beliefs ripple out into everything we do.
One thing I find helpful when things get tough is to know that it will pass and to break it down into smaller chunks - daily/hourly targets when needed - and get a good playlist going to help. I also try to remember that emotions are not necessarily the best barometer for decisions - I refuse to ever quit when tired, hungry or crying.
What do you expect will be the highlight of the challenge, and where will you struggle most?
After this past year, I feel like being able to go exploring again is a highlight in its own right! I'm really looking forward to discovering some more of the UK and I can't wait to visit so many beautiful places. It's a really simple thing but I absolutely love sunrises and sunsets so I'll definitely be smiling when I catch some of those, too.
I'm predicting the elevation to be a struggle as it's been a bit tricky to train for that as much as I might have liked. I'm expecting to be on the road for over 12 hours on most days so I expect those will feel especially long if there's a headwind.
How do you avoid injury, and are there any Weleda products that help you stay fit and well?
Regular body maintenance is definitely my top priority here. For me, this means doing 1-2 kettlebell sessions a week and also daily yoga - a habit I formed in the first lockdown and now wonder how I survived without. Even if it's only for 20 minutes to stretch out, finally implementing regular yoga has been amazing for injury prevention.
I also can't imagine life without Weleda's
Arnica Massage Oil
- I've been using that every single night with a massage gun and a muscle scraper for the past couple of years. If things are starting to feel especially tight, I'll also use the arnica oil with a foam roller/a lacrosse ball/a "knobble" massager tool to dig into muscles as well. The
Arnica Muscle Soak
is absolute bliss and I use that every week, too!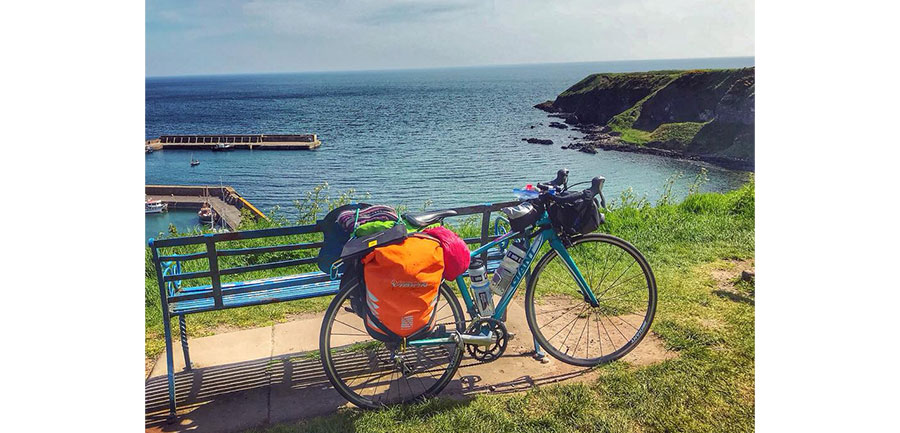 Being a vegan, how do you ensure you get all the nutrition you need to be an endurance athlete?
I've personally found that a vegan diet is actually innately beneficial for endurance or athletic performance in general: it's naturally less inflammatory, I find my energy levels are better and my recovery times are much quicker too.
Most of my nutritional needs are met by just following a well balanced diet, focussing on whole foods and avoiding too many processed foods - sensible whatever your dietary choices. The supplements I regularly take specifically to address any 'gaps' in my diet are Omega 3 (super important!) and also Vitamin D3 (this has more to do with lack of British sunshine than being vegan though).
I do also regularly use a vegan protein powder (usually mixed in my porridge for breakfast) and I sometimes include a daily green shake as and when needed (the latter is more relevant when I'm travelling a lot and my diet might not be ideal). I implemented both of these into my diet when I started training more intensely a few years ago (including times when my diet was less strictly vegan than it is now).
How will you wind down at the end of each stage of Park2Park?
I'm not actually expecting to have much free time at the end of most days so evenings will be for body maintenance, washing out my kit & refuelling with as many calories as I can before sleep!
The first thing I'll do will be to have a recovery shake (with things like ginger and pineapple and sour cherry juice in - all anti-inflammatory) and then I'll work through some yoga stretches, before rubbing in
Arnica Massage Oil
to my legs and using a muscle scraper or massage gun.
It's going to be an intense couple of weeks but I'm looking forward to the satisfying type of tiredness that accompanies trips like this. There's a lot to be said for how much you appreciate the simple things (like a cup of tea and a hot shower - bliss!) after a day of physical exertion.
What do you like about the Weleda brand, and what products will you be taking with you?
I really admire that nature is at the heart of everything you do. The products themselves really reflect that and they just feel wonderful to use - it feels like a real treat and a lovely way to start and end each day!
I usually have to pack really light for my adventures but because I have a motorhome with me for this one, I'm making very good use of it! To show my muscles some TLC, I'm unsurprisingly taking most of
the arnica range
- the
Massage Oil
,
Massage Balm
,
Cooling Gel
and
Bumps & Bruises Spray
. I'm also taking the
Muscular Pain Relief Spray
and
Calendula Cuts & Grazes Spray
, just in case. All bases covered!
On a more general note, I'm also taking the
Gentle Cleansing Milk
, the
Prickly Pear Cactus 24 hour Hydrating Facial Cream
and the
Skin Food Body Butter
.
"It's all about mindset: independent spirit and a desire to reconnect with nature on an everyday level"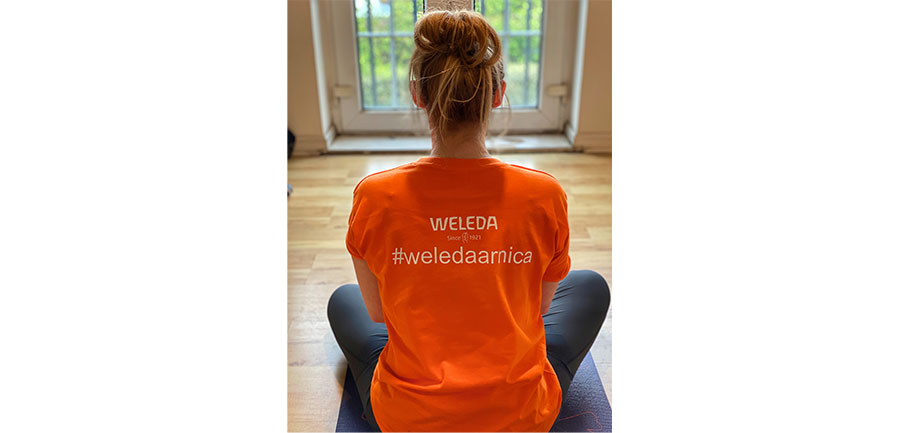 Watch Laura's Park2ParkUK video tour
Quick Fire QuizFavourite colour?
Ocean blue (any and all variations!).
Current book you're reading?
I usually have one non-fiction and one fiction on the go.
The Four Agreements
by Don Miguel Ruiz, which I've almost finished, is my non-fiction and
Anansi Boys
by Neil Gaiman, which I've just started, is my fiction.
Top tracks you listen to?
My playlist really varies but some firm favourites are Jimmy Eat World, Bruce Springsteen, Taylor Swift, Beastie Boys and Disney/musical soundtracks - Hamilton and Moana especially!
Food craving?
Ice cream! Closely followed by pad thai or sweet potato fries.
Spectator sport?
I don't actually watch much sport. If I had to pick one though it would be rugby.
Particular hobbies?
Surfing - I love it and it's a very neglected hobby but I'm working on doing more of it and moving somewhere that makes this more accessible.
Birthday treat?
Ice cream features again here. Preferably combined with a day spent by the sea.
Best holiday ever?
Last year, my 3 brothers and I went to Dalyan to celebrate my Dad turning 70 (he lives in Turkey). If 2020 had worked out the way I'd originally planned, I don't think I'd have made the holiday but it was so wonderful to spend quality time in such a beautiful location with everyone - including my 4 nieces and 2 nephews, who I utterly adore! It was all the more special amidst all the restrictions/lockdowns.
Guilty pleasure?
90s rap music (90s music in general).
All-time Weleda favourite?
Don't make me choose! I will say
Arnica Massage Oil
because it was the first Weleda product I ever tried and I still use it every day.