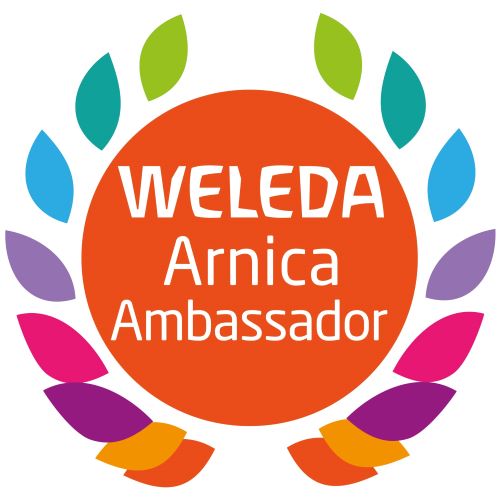 Introducing climber and Weleda Arnica Ambassador Jessie Leong



Weleda Arnica Ambassador Jessie Leong is a gritstone climber and adventure photographer based near the Peak District, who enjoys a range of different outdoor sports including trad climbing, mountaineering, wild swimming and cycling, and capturing that connection with the natural world.
Weleda is delighted to be sponsoring Jessie on her next climbing challenge – in the Swiss Alps where she'll be climbing in the footsteps of pioneer Lucy Walker who in 1871 made the first female ascents of a number of iconic European peaks including the Matterhorn (4,478m). Lucy Walker was a British climber from Liverpool who became one of the foremost mountaineers of the 19
th
Century, inspiring generations of women.
The Alpine Club
will bring together a diverse group of women to mark this incredible 150
th
anniversary.
Growing up in the South of England with no mountains, how did you first discover climbing?

Growing up in the south, it wasn't until my teenage years that I discovered hillwalking through the Duke of Edinburgh Award scheme which I accessed through air cadets. Carrying a heavy pack, my first memories of the Peak District were the steep sided peaks, the endless gates and trying not to fall over in the mud! I got into climbing after being part of a university hiking group for a few years and there were excited whispers about going to the Alps. There was a mountaineering course, set up by the charity the Jonathan Conville Memorial Trust, to encourage young people aged between 18-30 years old to try their first taste of Alpine mountaineering through heavily subsidised tuition that took place in Chamonix over three days. Prior experience of trad climbing and being able to move quickly in the mountains was key.
After a few sessions at the climbing wall, a mutual friend in the hiking club took me to a rocky little outcrop called Almscliff in Yorkshire to learn how to climb outdoors using traditional methods – placing gear into rock and tying in onto the end of the rope as the leader, whilst the person who follows once the leader has set up the anchor is the second. Almscliff is famed for its brutish, polished routes, and consequently a fall would be pretty severe – yet by the end of the afternoon I had led my first route. The combination of trad climbing and Alpine mountaineering has taken me across the UK and around the world. I've since climbed in the Dolomites, on the sea cliffs of Hong Kong, and some of the intimidating sharp ridges of the Alps. However, it's the local gritstone which is my favourite rock type to climb - it never ceases to amaze me how beautiful and challenging it can be to locate some exciting climbing routes in the UK. There can be so many different variations, from the length of climb to type of holds you find on the rock.
Trad climbing (that is climbing where there are no fixed rock climbing anchors/bolts) is a particularly important sport to me – it not only allows me to exercise my body and give it a test in endurance, power and agility, but also an exercise in my mental capacity to deal with exposure, trust in myself, risk management and decision making.
Did you have family influences?

My dad has been someone I've really connected with as an adult. I feel it's been important for me to inspire my parents, who have got into outdoor sports such as road cycling. It was a thrill for me to see him come out and support an adventure I undertook with another Weleda ambassador, cyclist
Laura Kennington
, and for him to be in awe at the level of endurance and stamina she demonstrated in her Park2Park Challenge.
Have you always been sporty? What other sports do you enjoy?

I'm a climber, but I also go swimming outdoors in spaces in Sheffield and in the surrounding Peak District. I also like to do a bit of road cycling, mountain biking, and even dabbled in ski touring - around a golf course - during last winter.
How do you combine your profession as a photographer with your passion for climbing? Have you worked on any exciting projects using both skills?
From photographing the three highest peaks in Morocco, photographing an endurance cyclist pedalling across the UK in torrential rain, to producing two award winning adventure films, photography and climbing have gone hand in hand for me. Telling a story is ultimately what interests me and being able to access those places and be part of the community that loves going climbing is what keeps drawing me back to those places. I'm currently working on a film about a woman focused on swimming an ice mile, and also a film about the
Pinnacle Club
, a UK based climbing club for women climbers.
What is the appeal of the outdoors and do you ever do indoor climbing? Why is it so important for you, for us all, to get outside?
The outdoors represents escapism, adventure and wellness. For me, outdoor climbing doesn't give me much space to bring along any of the 'baggage' that's going on in the rest of my life, as the act of climbing is incredibly absorbing. I find it a form of therapy to meet up with a climbing partner, set an objective for the day and have a little adventure. It doesn't always have to be further afield for it to make my soul dance, when I get to the top of the climb and have that shared sense of adventure.
Where do you climb regularly? Any favourite places?

I'm incredibly lucky to live so close to the Peak District – and one of the world class rock climbing venues is Stanage, an extensive crag with thousands of climbs along the cliff. Although it's not the highest, it's easily accessible on foot and has the most stunning views over Hope Valley. For my wild, adventurous side, I love climbing on sea cliffs, which have included Bosigran and Sennen in Cornwall, which can feel quit bizarre when you look across to a packed beach and enjoy solitude on the steep, imposing cliffs.
What do you consider to be one of your greatest climbing achievements or experiences?

There are many wonderful climbing experiences that range in technical difficulty to the feeling that was felt in that moment. For me, it was visiting a local crag during lockdown and focusing on the strength and mental commitment to tick (or complete successfully) the climb on lead. Named 'Altar Crack', it's a known tough route – and I needed all the breakfast, mental preparation and trust in my climbing partner that day to get to the top of the route.
How do you avoid injury when climbing, what are the common issues you encounter?

As part of injury avoidance, making sure my shoulders are properly foam-rollered and using a theraband massively help. I also use a wheat pillow which you heat and it gently soothes the muscles. Combining that with Weleda's Arnica Massage Oil and Balm, it really helps with any shoulder tightness.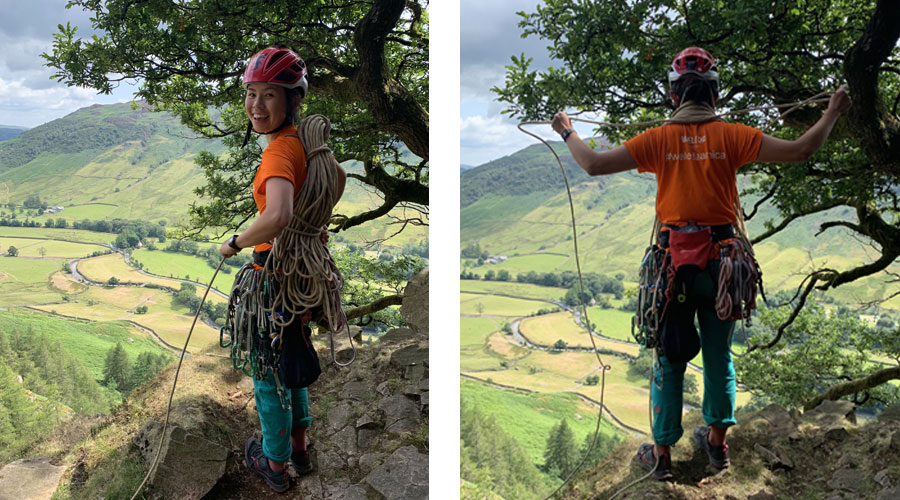 How do you look after your health generally?

Health is really important to me, and it can be as simple as knowing when it's time to switch off. For me, going for a cold water swim prior to climbing, or cooking food using anti-inflammatory, fresh ingredients such as ginger and garlic, all help me take care of myself. I also like eating oily fish, which is a wonder ingredient for my hair and skin.
Tell us about the Pinnacle 100 Club – it is inspiring to know that women have been climbing for 100 years!
The Pinnacle Club is a UK climbing club for women climbers that is celebrating its 100th birthday in 2021, like Weleda! I joined as a prospective member in 2016 and have been a full member since 2018. It's the joint sense of community and warmth that comes with climbing with other women that continues to draw me back in. I think there is something uniquely nurturing, ever evolving and dynamic about a club that was seen as pioneering when it was created in 1921 with its founding members at the Pen Y Gwyrd hotel – the news resonated far and wide and was even announced in the Manchester Guardian. 100 years on, the club has seen an evolving lifetime of members, who have had numerous achievements in rock climbing and mountaineering. Yet it is still the club's ethos and sense of community at its heart – whether you're 27 or 97 years old, the club is still an important space for women to access adventure with other women.
Do you have a favourite Weleda/Arnica go-to product?

Arnica Massage Balm
,
Gentle Cleansing Milk
,
Refining Toner
and
Skin Food Body Butter!
How does so much outdoor sport affect your skin? How do you protect it?

I also use Weleda Skin Food after long days climbing as my hands get dry from using climbing chalk and from jamming in gritty cracks, so Weleda's Skin Food helps provide a bit of restorative luxury as part of my skincare routine.
What draws you to natural/organic products?

Knowing the products have been carefully sourced using only organic ingredients is hugely important. It's not about buying cheap – or using something that has been grown unethically. Natural and organic products reflect a sense of self care that we owe ourselves, knowing how we can, as beauty consumers, support farming practices that are sustainable and use really good products that tend to last longer.
Do you have any little daily mantra you use or live by?

Every cloud has a bit of silver in it.
Quick Fire Quiz
Favourite colour?

Mustard yellow
Current book you're reading?

'Space Below My Feet' by Gwen Moffat, Britain's first female mountain guide. A must-read
Top tracks you listen to?

I'm loving listening to podcasts at the moment – 'Table Manners' by singer-songwriter Jessie Ware is my go-to long distance listening
Food craving?

Salmon, sushi, Kalamata olives, sparkling water
Spectator sport?

Indoor bouldering - it absolutely amazes me
Any hobbies?

Yoga, card making, swimming, very casual gardener
Birthday treat?

Climbing!
Best holiday ever?

Climbing Carrauntoohil followed by a decadent dinner in Ireland
Guilty pleasure?

A cup of tea with oat milk, in the bath with some Arnica Muscle Soak. Probably watching iPlayer…
Jessie Leong's Favourites