No Peak Rise Above Her
By Jessie Leong, Weleda Arnica Ambassador
The inspiration behind the expedition
'No Peak Rise Above Her' is a project which pays homage to the female alpinists, British climber Lucy Walker and American climber Meta Brevoort, that were the real trail blazers in the formidable Golden Age of Mountaineering. They were among the first female ascensionists of the most difficult 4000m peaks in the Alps in 1871. Walker, a British climber from Liverpool, was one of the foremost mountaineers of the 19th century. English climber Edward Whymper (best known for the first ascent of the Matterhorn in 1865) commented that "no candidate for election in the Alpine Club ever submitted a list of qualifications at all approaching the list of Miss Walker". Throughout her climbing career, she made the first female ascents of 16 mountains, including the Eiger, and took part in nearly 100 expeditions. On 26 July 1871, Punch Magazine printed the following verse celebrating Walker's achievement:
'No glacier can baffle, no precipice balk her,
No peak rise above her, however sublime,
Give three times three cheers for intrepid Miss Walker,
I say, my boys, doesn't she know how to climb!'
Following in her footsteps, 150 years later, a celebration meet was held by the Alpine Club titled 'Women Rise Up', to commemorate these early achievements by creating an opportunity for women to climb with other women in the Alps. This included the steep sided mountains of the Sass Valley and the snow-domed skyline: Breithorn, Traverse of the Breithorn, and the Matterhorn.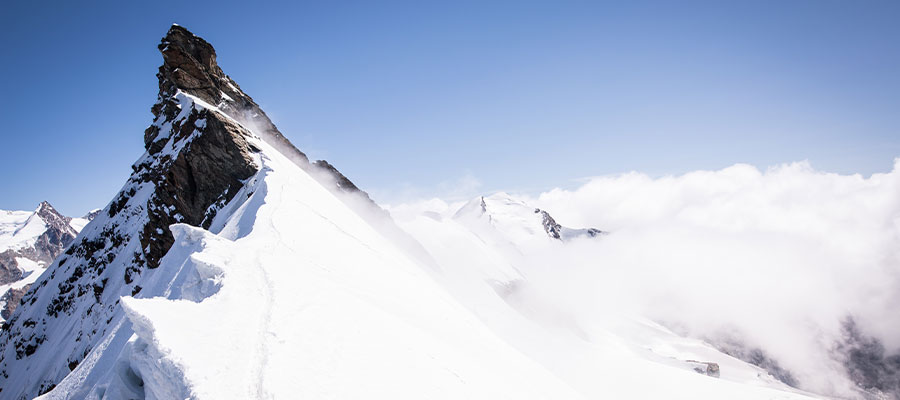 My trip was based on climbing with other women as part of teams of unguided, competent climbers, ascending Alpine peaks 3500m-4500m high on glaciated, snow, ice and rock, often in unstable and crevassed terrain. We were all aware of the high stakes at play - and thanks to global warming, the narrowed window of safety to complete our objectives within a given time. We knew the risks, and made the decision to choose 'gentler' snow topped peaks to first acclimatize ourselves, and then more technical routes that involved a combination of mixed climbing (rock and snow, climbing together quickly and at speed). The result was a formidable few weeks with lots of ascents, including climbing with some of the most brilliant female alpinists who all shared a passion and determination to make ascents in all female teams, 'en cordée feminine' - climbing as equals in an all women group.
Significant achievements
As a result of being a participant on the Alpine Club's 'Women Rise Up' meet, I managed to find the Meta Brevoort to my Lucy Walker in several of the amazing participants. Due to acclimatization being in Switzerland for a week beforehand, a subsequent lift pass granted by Swiss Tourism and a stable weather window, myself and an American-Swiss German climber, Moran Ludwig, decided to make the most of this opportunity and went straight into a three-day objective. I climbed along with two other British climbers, Claire Cummings and Sofia Cox. We climbed West Breithorn on the first day, then crossed crevassed glacier fields and stayed at Guide D'Ayas, then climbed as a four up the South West Ridge 4000m peak, Pollux 4092m (classified AD or 'Assez Difficile'), before Moran and I went onto complete the demi Traverse of the Breithorn, including summiting Central Breithorn 4159m , West Breithorn 4164m, given the technical grade AD. Moran was a super experienced glacial climber and I felt happy to tackle some of the steep technical climbing - a great partnership where we complimented each other's skills and we managed to complete the ridge with plenty of daylight to spare!
In between big mountain days, I was also able to climb at Rochtunubel, Brig, Eschebaum (a local crag in Zermatt) and Feechi, Sass Almugell.
The final jewel in the crown was following in Miss Lucy Walker's historic footsteps and ascending Zinal Rothorn 4221m as a team of three, with Agnes Wilkon and Ola Parcinska. Seeing first light break on the Matterhorn (which looked very fine indeed!), we completed the ridge as a three, managing over 2775m of ascent from valley floor to the summit with no uplift - according to our guide book it was rated 4th in the 'amount of sweat' with Dom, Weisshorn and Aiguille Blanche rated 1,2,3 respectively!
Packing Weleda in my kit
Being in Switzerland, home of the Weleda brand and where the female founder Dr Ita Wegman developed some of the brand's most iconic products such as Weleda
Skin Food
and the
Arnica Massage Oil
that is still used today, it felt very appropriate to pack Weleda for the trip. The herbal, soothing smells of Skin Food help nourish my dry skin and protect it against the very dry Alpine environment. In my dry bag that I packed for hut use, alongside a sleeping bag liner and my spare clothes, I made sure I carried
Skin Food Lip Balm
as well as
Skin Food Light
which was pleasant to use as both my face and hand cream. Both the lip balm and the cream were small enough to stow away in a pocket or be left at the hut so I could keep weight to a minimum.
On my rest days, I was applying the
24-hour Prickly Pear Cactus Facial Cream
to my face as it helped hydrate my skin back to normal levels due to the prolonged dehydration that was involved in long days at over 4000m high. I also used the
Gentle Cleansing Milk and Refining Toner
to purify my skin of sunscreen and unclog my pores at the end of each day. I also liked using the
Arnica Sports Shower Gel
to relieve tired aching limbs, from sore legs to aching shoulders. The
Arnica Cooling Gel
also helped with more 'intensive' periods of activity, from sport climbing up high to treating bruises that I gained as a result of climbing 'Alpine style' and using my knees!
As part of the trip, we also attended a special exhibition inspired by the 150th anniversary of Lucy Walker's first ascent of the Matterhorn. The exhibition, 'New Perspectives', was held in the Matterhorn Museum as a way of highlighting how women have been underrepresented not just in the history books but also across a number of (present) museum permanent exhibits, generating plenty of debate and enquiries on whether the exhibition ought to remain a permanent feature. One room highlighted the first ascents of the male alpinists and the curators of the exhibition highlighted the little information on the first female ascent which was very thought provoking and stimulated lots of discussion in our group. We were disheartened to find there was not a single postcard with a female alpinist available to buy in the whole of Zermatt - still an indication it will take a while to shift attitude towards women in the world of outdoor climbing.
Here's my list of ascents made as a result of my trip in Switzerland - all of these were climbed 100% with women as equals 'en cordée feminine'.
Alpine peaks:
Demi Traverse of the Breithorn - Central Breithorn 4159m, West Breithorn 4164m - AD
South West Ridge - Pollux 4,092m - AD
Zinal Rothorn 4,221m SE Ridge via Gable - AD
South Southwest flank West Breithorn 4164m F
West North West ridge Allalinhorn 4027m F
Dri Hornli 3209m Traverse - AD
Alpine climbing:
Multipitch
La Maya Normale - 4c - worth the 3 hour trip to get to the secluded Arolla Alps
Verdauungsweg - 4c - Dri Hornli - very pleasant, visible from the Sass Almugell hut
Alpen Durst - AD - it is possible to get the last lift in only 1 hour 15 from the summit!
Single Pitch - sport
Classic - 6a Eschebaum - onsight
The Fly - 6b+ Eschebaum - TR
Opernfan Antonio – onsight Woman Trouble - 5c - flash
Schlangenweg
Mis erscht Tanzji 5a
Gemsjager - 5a
Lichtguogo - 4a
Spinderella - 4a
Hinkebein - 4a