Image credit: British Swimming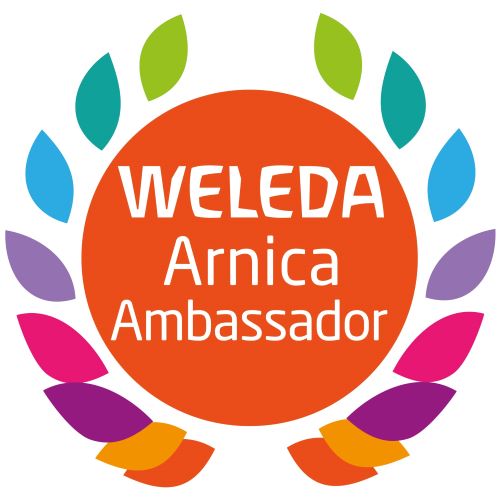 Introducing para-swimmer and Weleda Arnica Ambassador Suzanna Hext


World and European medallist Suzanna Hext was born in 1988. Although born hearing-impaired, Suzanna competed as an able-bodied equestrian eventer up until 2012 when she had a serious riding accident, leaving her paralysed. She underwent countless operations following her accident, but courageously got back on a horse in 2014 and has since enjoyed success as a triple European para-dressage gold medallist!
In 2017 she turned her attention to swimming, where her main event is the 50m freestyle. She burst onto the British Para-Swimming scene in 2019, claiming a pair of medals at her debut World Para Swimming Championships in both the 50m and 100m freestyle!
Suzanna is currently training hard for the Paralympic Games in Tokyo, but took the time to chat to Weleda about the challenges of her sport and how she stays healthy.
When did you start horse riding and become a competitive eventer?
I have been riding as long as I can remember! I had my first lesson when I was 6 and was hooked! I started competitive Eventing when I was 12 years old.
Can you tell us about your accident and what motivated you to get back on a horse? How long did it take to feel confident?
I had a life changing accident in July 2012, when a horse I was breaking in reared over and landed on top of me, crushing me twice from head to toe. I suffered spinal injury, head injury, shattered my pelvis and crushed my shoulder. I am very lucky to still be here today. I felt like my whole world had fallen apart. It was a split second that changed my life forever. I was stuck in a rut and couldn't see any way out. Watching the London 2012 Paralympics from my hospital bed helped me to realise anything's possible, and gave me a real boost to keep pushing the limits and get 'me' back again…
Can you tell us about the journey from competing as an able-bodied eventer to being in the GB Paralympic swimming team? When did you take up competitive swimming?
My journey after my accident started with competing at Para Dressage. However, before my accident, sports such as cross country running, athletics and triathlon had always been a huge part of my life.
Initially I was using swimming for physio/ fitness for riding, when I was asked if I had thought about getting classified for Para Swimming. Shortly after I had been classified, I was selected for the World Championship team competing in London in 2019. It certainly was a steep learning curve, and an incredible one!
What are the biggest challenges with your disability for your particular sports?
I wouldn't necessarily say there are any challenges, as swimming and riding give me a freedom like no other. It's as if my challenges in daily life just fade away. My biggest challenge is making sure I allow my body to have the rest it needs between training. I am someone who likes to be on the go all the time!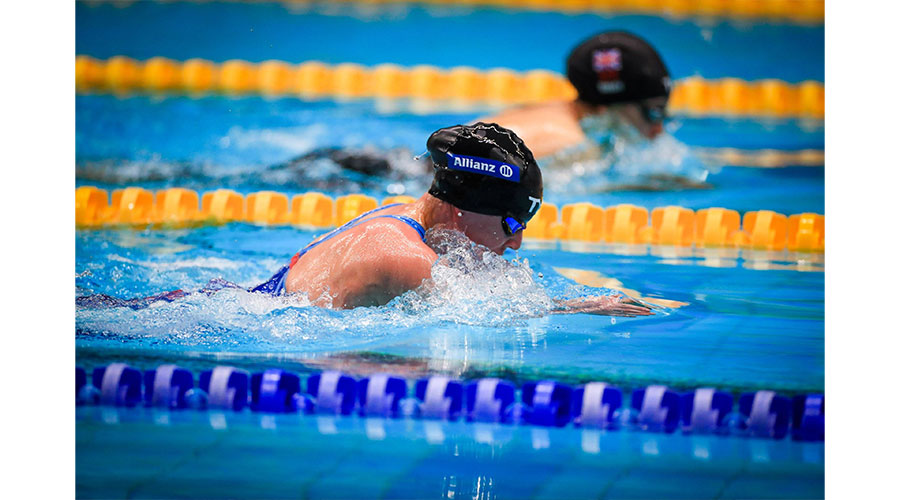 Image credit: British Swimming
How does your more recent hearing loss impact your sports life? How have you managed lip-reading during the pandemic, with everyone wearing masks?
I was born with a hearing impairment however unfortunately it's deteriorated a lot over the past few years, to the point where I now only can hear a tiny bit of sound out of my right ear, so I rely on lip reading to communicate. This has been hugely difficult over the past year, with people wearing masks during the pandemic. It feels like a huge barrier, and one that I never expected.

What was the appeal of dressage?
Horses have always been a huge part of my life. I love the partnership between horse and rider, and the bond is like nothing else. I now can't use my legs when I ride, so it almost makes that partnership even stronger, as the horses have to help me out that bit more.

What was your first big championship after your accident?
My first championship was the Para Dressage Europeans in Gothenburg. What a week it turned out to be on Pammy and Charlie Hutton's incredible horse Abira. I never would have dreamt of coming away with three Gold Medals. A week I'll truly never forget…
What do you consider to be your career highlights to date?
Probably the Para Dressage Europeans in Gothenburg in 2017, where I won three Gold medals, and the World Para Swimming Championships in 2019 - gaining a Silver and Bronze in the 50m and 100m Freestyle.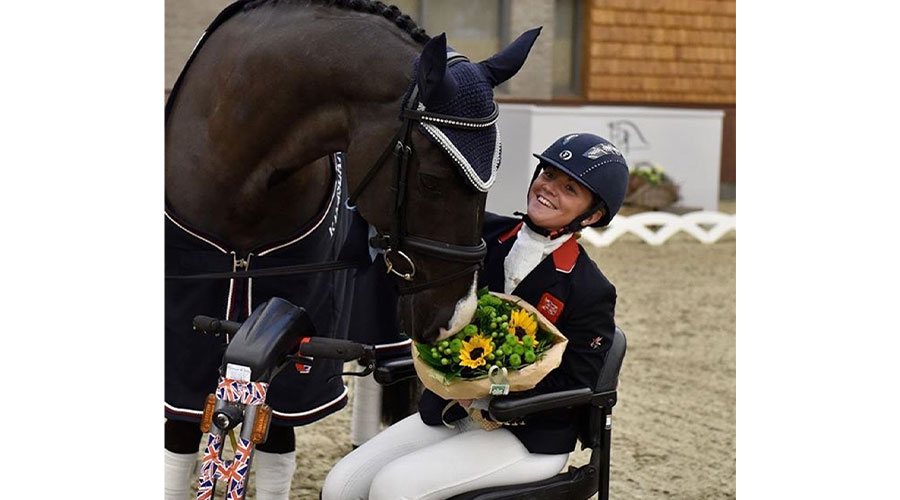 Where do you train and where do you consider to be home?
I live in Cirencester, and generally train at Bath University and in Swindon with my coach Dean.
How much training do you do in any day/week?
I train 6-9 sessions a week in the pool, depending on where I am at in my training cycle. I also have strength and conditioning sessions 3 or 4 times a week. I have physio/ soft tissue massage 2/3 times a week.
How did you continue your swimming during lockdown when pools were shut?

I initially moved home to my parents in Cornwall. My parents and brother run a sheep farm. We live right by the coast, so during lockdown I trained in the sea. My mum would take a book down and read while I was swimming up and down! My brother (Jamie) also adapted a rowing machine for me. In June I moved back to Cirencester, and continued to train in the 12m pool in the back yard of jockey AP McCoy and his wife Chanelle. I couldn't be more grateful for everyone helping make it possible for me to keep up my training.
What do you love about open water swimming/wild swimming?

The freedom and the wide open space.
When did you hear you'd been selected for Team GB for Tokyo?

The team was announced on the 30 June. What a day that was… I still have to pinch myself, it's been such a long journey to get to this point and so many people have been a part of it. I can't wait to get out there and give it everything I've got.
When and why did you decide to focus on swimming but not dressage for Tokyo?

I made this tough decision at the end of 2019 off the back of my results at the London World Championships. I would have loved to compete in both in Tokyo. However the scheduling overlapped, and I was at the point when I had a slight lull in horsepower, so I decided to see where the swimming would take me.
What are you most looking forward to about Tokyo?
I am looking forward to taking in the whole experience. If my accident has taught me anything, it's that life is precious, life's a gift and it's far too short. Making the most of every opportunity that comes my way, and treasuring every moment, is really important to me. I can't wait to get racing in that incredible pool, and giving it everything.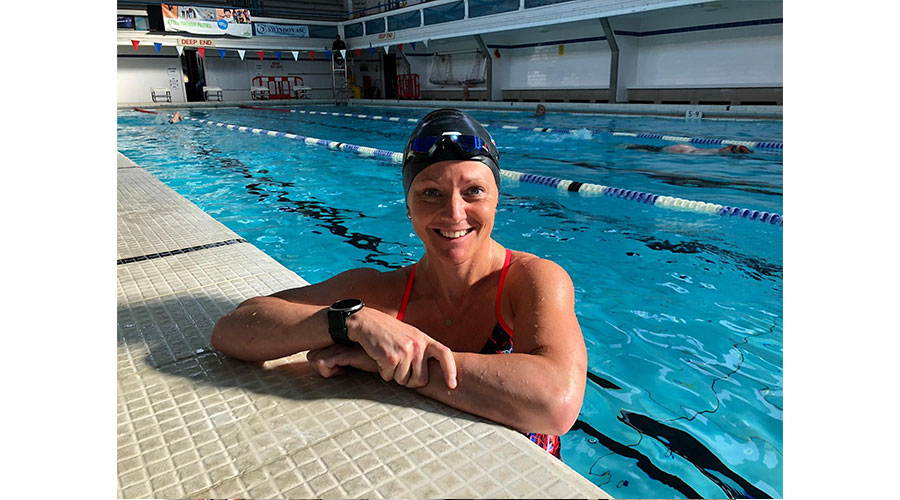 How do you look after your health generally? What will you be packing for Tokyo?

My daily routine at the moment is eat, sleep, train repeat! I will definitely be packing the
Arnica Cooling Gel
,
Arnica Sports Shower Gel
,
Arnica Bumps & Bruises Skin Salve
and
Arnica Massage Balm
. The
Weleda Arnica range
has hugely benefited my training and recovery. My favourite has to be the Arnica Sports Shower gel post gym/ swim sessions.
How does so much swimming affect your skin?

My skin gets particularly dry, however, Weleda
Skin Food
has massively helped in keeping my skin moisturised.
Do you have any little daily mantra you use or live by?

I absolutely love quotes, but I particularly like this quote:
'Let your smile change the world. But don't let the world change your smile'.
And quite simply 'Breathe, be present and live in the moment'.
Are you looking forward to returning to riding after Tokyo – do you have your sights on anything?

I am very excited to get back in the saddle once I return from Tokyo. I am very much looking forward to spending some time with my family and friends when I get back.
Quick Fire Quiz
Favourite colour?
Blue
Current book you're reading?
Ed Jackson's book 'Lucky'. Ed (a rugby union player who became a Paralympics presenter) had a life changing spinal cord injury and has gone on to achieve so much.
Food craving?
I love a good chicken burger and sweet potato fries!
Spectator sport?
I love watching literally ANY sport…
Any hobbies?
Any sport! I love trying new things. I would say one of my favourite hobbies is open water swimming, just to switch off.
Birthday treat?
Cake and a good swim or gym session.
Best holiday ever?
I'd have to say going to New Zealand and Fiji when I was 9 with my family
Image credit: British Swimming
Guilty pleasure?
Watching 'Home and Away'! I can't miss an episode!
Shop Suzanna's Favourites