Beauty and the beast - palm oil and the beauty industry
Why is palm oil considered such a beast of an ingredient?
Hardly any other plant-based raw material is as versatile or as controversial as palm oil. It's the most widely used vegetable oil in the world, according to the WWF, and found in an estimated 50% of supermarket products from detergents to ice cream.
It is also the highest-yielding vegetable oil crop, which makes it very efficient. It needs less than half the land required by other crops to produce the same amount of oil.
Much controversy surrounds the social as well as environmental complexities of the palm oil industry – reports from plantations in Indonesia for example reveal that palm oil production often involves violation of human rights in the form of poor working conditions, social injustice and conflicts over land. Indigenous peoples are often affected by its cultivation, evicted from their land and deprived of their livelihood.
Because oil palms only grow in tropical climates, large areas of rainforest are often felled to make way for palms – with greenhouse gases being released as a result of slash-and-burn practices. The problem is particularly acute in Indonesia and Malaysia, which produce around 87 per cent of the world's palm oil. NASA experts calculate that between August and October 2015 alone, 'slash and burn' fires in Indonesia released up to 600 million tonnes of greenhouse gases into the atmosphere – a quantity roughly equivalent to the annual emissions of Germany.
What exactly is palm oil?
Palm fruit are picked from palm trees on plantations, and sent to a mill where the fruit oil is extracted (chiefly for the processed food industry). Additionally, inside each little fruit is a palm kernel, and these are also crushed and palm kernel oil extracted from the kernels. The palm kernel oil is then refined and made into various fatty acid distillates that are used by manufacturers for beauty products and personal care products, for example to make surfactants such as Sodium Lauryl Sulphate (SLES) for shampoos and other cosmetics.
Why is palm oil so popular?
It is one of the highest yield plant oils, and extremely versatile. Other alternatives include soybean, rapeseed and sunflower, but the yields are lower, meaning even more land has to be used to produce equivalent quantities. Additionally, palm is the only crop that yields two different oils – both palm oil and palm kernel oil. Oil palms occupy the smallest proportion of all the land that is used for oil and fat production, whilst at the same time accounting for the largest proportion of worldwide oil production. Sunflower, coconut and soybean crops all have a yield per hectare that is on average about one third of palm oil.
Palm oil and the beauty industry
Just to put into context the use of palm oil for the cosmetics industry, compared to the use in the food industry or other sectors such as biofuels or industrial lubricants: according to the Round Table for Sustainable Palm Oil only about 2% of the world's palm oil and palm kernel oil production goes into cosmetics, and 3% is used for household cleaning products and personal care products, mainly in the form of palm oil derivatives such as detergents.
But before we dismiss the significance of the beauty industry's role in palm oil problems, looking at the statistics from a different perspective we discover that 70% of beauty or personal care products contain one or more palm oil derivatives - so palm oil is a very important part of the beauty industry, including the natural and organic cosmetics sector.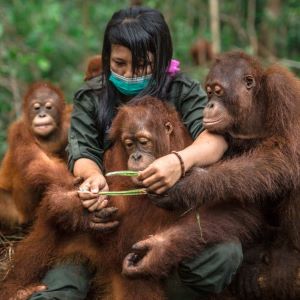 What makes palm oil such a great cosmetic ingredient? It acts as a natural emulsifier, can be used to produce plant-based tensides, has no particular smell (unlike animal fats), and it creates skin-friendly texture in creams and lotions.
It is estimated that globally we each consume about 8kg of palm oil a year, most of which comes from Malaysia and Indonesia where it's raising the incomes of farmers and plantation owners but equally raising greenhouse gas emissions and destroying the only habitat of endangered Sumatran tigers, rhinos, bats and orangutans – making this literally a tale of beauty and the beast.
Should we simply ban palm oil in beauty products?
Boycotting palm oil completely is not the best solution. Producers might then lower their prices to increase demand from markets that have less interest in sustainability, thereby reducing the incentive to produce environmentally sustainable palm oil. Or companies could buy alternative oils from other crops, which potentially use nine times as much farmland as palm oil, thereby adding to loss of biodiversity and likely deforestation. Palm accounts for 6.6% of cultivated land for oils and fats, while delivering 38.7% of the output, according to the European Palm Oil Alliance.
The best solution is moving to sustainable palm oil – this view is supported by WWF, IUCN and Greenpeace.
What is the RSPO standard?
The Roundtable for Sustainable Palm Oil was founded in 2004, with the backing of the WWF, as a non-profit international organisation to promote the growth and use of sustainable palm products through its standards. The principles and criteria behind the standard were finalised by RSPO members in 2013. The standard is regularly reviewed and updated.
The RSPO has developed a set of environmental and social criteria, which companies must comply with in order to produce Certified Sustainable Palm Oil (CSPO). When they are properly applied, these criteria can help to minimize the negative impact of palm oil cultivation on the environment and communities in palm oil-producing regions.
There are other similar standards such as the Rainforest Alliance, the International Sustainability & Carbon Certification (ISCC), and the Roundtable on Sustainable Biomaterials (RSB). The standards of the RSPO, currently the most widely used certification system for sustainable palm oil, don't go far enough for many members. So the Forum for Sustainable Palm Oil (FONAP) was born in 2013 and active as an association by the end of 2015, its aim to raise standards and significantly boost the proportion of certified palm oil, palm kernel oil and their derivatives on the market.
19% of palm oil is RSPO certified sustainable (2014), so there's still huge potential to improve the situation, and consumer pressure has a large part to play.
All organisations in the supply chain that use RSPO certified sustainable oil products are audited against the Supply Chain Certification Standard to prevent mixing palm oil with non-sustainable palm products. Producers have a main assessment for certification every 5 years and an annual assessment for continued compliance. But the RSPO has been criticised for not being strict enough regarding deforestation for example and for failing to identify violations, although in 2018 the RSPO terminated membership of 4 companies, and suspended 55 more during investigation for repeated failure to report, so they are taking action. On the other hand, the RSPO is also criticised for making the standard too complicated and hard to achieve. The standard is undoubtedly complex and far from perfect, but it's the best option we currently have.
Weleda supports conservation project in Borneo
Whilst Weleda's
organic palm oil
is sourced sustainably from one particular fair trade producer in Brazil, and is sourced at the highest RSPO certification level 'Identity Preserved' (IP), it was clear to Weleda that the most significant problems in the palm oil industry were impacting areas of Borneo many thousands of miles away.
In order to help primates suffering from palm oil production and to protect local biodiversity, Weleda recently joined forces with the non-profit organisation Borneo Orangutan Survival (BOS), to support their conservation work. BOS rescues and rehabilitates threatened orangutans and re-homes them in protected rainforest – but safe areas are becoming increasingly rare in Borneo. This makes reforestation and the protection of new rainforests all the more important. By supporting the work of BOS, Weleda will give future generations of orangutans a chance to live freely and safely.
The project will start by securing the land rights of the inhabitants of Mantangai Hulu so they can maintain their economic independence. 55 hectares of land will then be reforested in collaboration with the villagers.
When suitable areas have been identified and prepared, reforestation with over 55,000 trees will
begin. On five of the 55 hectares, timber will be planted so villagers can make a long-term living.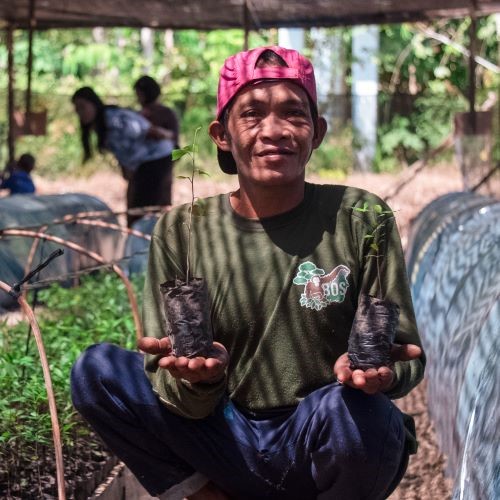 What action can we take?
Clearly we cannot solve the problem of palm oil in the food industry and other sectors overnight. Tellingly the retailer Iceland found it impossible to fulfil its 2018 pledge to remove palm oil from all of its branded products, and The Guardian reported that the company instead ended up removing its branding from foods containing palm oil rather than removing all those products from its shelves.
But retailers and indeed consumers can set the intention to clean up the beauty industry by opting to buy cosmetics made only with CSPO. Many natural and organic beauty brands are sourcing CSPO for their ranges, with sustainability champions such as Weleda also taking an active role in organisations like FONAP in order to have a louder voice and greater influence in tightening industry standards.
Encouragingly, we start 2020 with news that NATRUE is set to make purchasing decisions easier for the consumer, by updating their criteria for certification of natural and organic cosmetics to include sustainable palm oil. So beauty buyers around the world will know at a glance from the NATRUE seal on pack whether a beauty product is one they can choose with a clean conscience.
"Today sustainability is crucial for all industrial sectors. For cosmetics, consumers are demanding not only high-quality, efficient products but also products that are natural and organic, with verified ethical and sustainable sourcing and production. Consequently, companies operating within the cosmetic industry are increasingly implementing sustainable policies across all their supply chain and production processes."NATRUE members and label users are known contributors towards sustainable best practice, and have been for many years. NATRUE already encourages all label users to use certified sustainable palm oil and palm (kernel) oil derivatives wherever possible. There is now growing availability of RSPO/fair trade/organic certified palm oil and so, in order to further tighten sustainable best practices, NATRUE will introduce benchmarking label criteria by establishing strict quality requirements for sustainable sourcing of palm (kernel) oil and its derivatives in the new version of the NATRUE Standard for 2020."
Mark Smith, Director General,