Why do we use Palm Oil?
Palm oil is an important raw material, also in natural cosmetics. Since 2011, we have been sourcing palm oil from certified organic cultivation and are working to protect the rainforests.
The manufacture of palm oil has often relied on the destructive clearing of native rainforest in the regions where it grows best, but palm kernel oil is also a very useful ingredient in natural and organic cosmetics. It acts as a natural emulsifier and helps to create skin-friendly texture in creams and lotions. Weleda has been very aware of the difficulty this presents us, as product manufacturers who want to be good to the earth whilst creating natural products that really deliver.
We were among the first companies to switch suppliers so that the palm kernel oil we use is certified organic and comes entirely from cultivation that doesn't destroy native wilderness, and which is produced by people working under fair conditions. In line with the standards of our
UEBT 'Sourcing With Respect'
certification, we insist on guaranteed traceability so that we can tell where our palm oil originated and check these conditions. We don't pretend this is easy. Lack of transparency within the market for processed raw materials continues to make it difficult to achieve full traceability all the way along the supply chain.
Weleda helps orangutans in Borneo
The deforestation of the rainforest in pursuit of palm oil endangers the habitat of thousands of orangutans. Weleda is championing the protection of these magnificent creatures threatened with extinction, collaborating with the non-profit organisation Borneo Orangutan Survival. With this project, Weleda is setting another milestone in its longstanding commitment to sustainable palm oil.
The palm oil plantations found in Borneo destroy the rainforest and so also the habitat of many animals including orangutans. In order to help these primates and to protect local biodiversity, Weleda is joining forces with the non-profit organisation Borneo Orangutan Survival (BOS). The project will run for twenty months initially, supported by Weleda with a contribution of 100,000 euros. An important aspect both for BOS and Weleda is to take account of and to support all aspects of sustainability (ecological, social and economic) with this aid project in the Mawas area.
BOS looks after homeless animals in rescue stations, protects their habitat and, through reforestation, creates new areas in which animals can be reintroduced into the wild. To this end BOS works together with the Indonesian government and local authorities.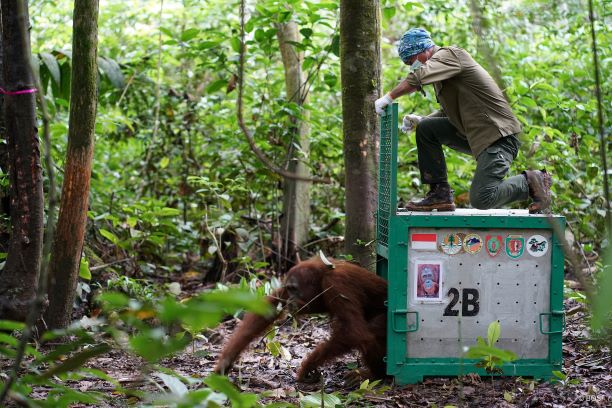 Creating harmony between nature conservation and human needs
The peat swamp rainforest lies at the heart of the almost 300,000-hectare Mawas conservation area. It is home to more than 2,500 orangutans – one of the largest remaining populations in the world. The peat swamps store the equivalent of many times the quantity of Germany's annual CO2 emissions. But some of the surrounding rainforest was largely cleared and the ecosystem destroyed for a rice cultivation project in the 1990s. Fires regularly break out on the dried out peat soil, releasing huge quantities of CO2 and posing a threat to both biodiversity and people.
The focal point for the BOS and Weleda project is the village of Mantangai Hulu, with around 2,000 inhabitants, south of Mawas. Plans are drawn up to enable the population to develop sustainable sources of income so that the local community can live and work in harmony with nature, in an economically and legally secure manner.



Reforestation of 55 hectares of rainforest
The project will start by securing the land rights of the inhabitants of Mantangai Hulu. This is the only way in which they can maintain their economic independence. Then 55 hectares of land will be reforested in collaboration with the villagers, and fire protection teams will be trained to minimise the constant threat of forest fires. Once suitable areas have been identified and prepared, then reforestation with over 55,000 trees will begin. On five of the 55 hectares, timber will be planted from which the villagers can make a long-term living. The villagers find work and income in the tree nurseries, in planting and caring for the trees, and in fire protection.
BOS rescues and rehabilitates the threatened orangutans and then rehomes them in protected rainforest areas. But safe areas are becoming increasingly rare on Borneo. This makes reforestation and the protection of new rainforests all the more important. By supporting the work of BOS, Weleda will give future generations of orangutans a chance to live freely and safely.


Weleda's position on palm oil
As well as being a member of the Roundtable for Sustainable Palm Oil (RSPO), Weleda is also a member of the Forum for Sustainable Palm Oil (FONAP) - an association established in 2013 working to raise certification standards for sustainable palm oil still further. As of 2015 Weleda has taken a very active role in the FONAP Steering Committee.

Weleda sources both palm kernel oil and derivatives, but relies on a strict certification system and transparent supply chains. The pure organic oil that Weleda processes comes from one particular fair trade producer in Brazil and is sourced at the highest RSPO certification level, namely 'Identity Preserved' or IP. This means that the organic palm oil comes from a single plantation and can be traced right back to its origin. The certification guarantees that no human or animal habitats are destroyed for the cultivation of the oil palm. Weleda switched to oil sourced from sustainable, controlled organic cultivation in 2011.

Weleda has also looked hard at replacing palm kernel oil with sustainable alternatives. The yield of an oil palm is substantially greater than soybean, sunflower and rapeseed – so buying more of these alternatives leads to more ground cleared. That makes it even more important to exert an influence on palm oil cultivation. Read more about the issues involved in cultivating palm oil and why this has become such a controversial ingredient.

For maximum impact on the producers of palm oil, there needs to be a strong market demand for the sustainably grown crop. But only when enough companies share our aims to build strong demand can the long-lasting change we want to see come about. Then, and only then, will we as a world society have protected the rainforests, the people who live near and work in the plantations, and the people who use our products and trust in our light footprint on the earth.