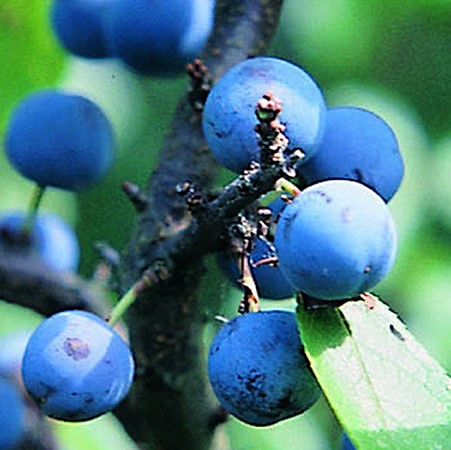 Blackthorn: Botanical Profile of a Plant
Blackthorn, or Prunus spinosa, has been a much-valued ingredient in Weleda's range for generations.
30 April 2020
You might be forgiven for thinking that for nature to provide the answer to our health and wellbeing, the deepest darkest jungles must be explored or highest mountains climbed to obtain rare species. It's a warming thought that our own British hedgerows contain plants with valuable health-giving properties used in medicine today.
PLANT
Blackthorn, or Prunus spinosa, has been a much-valued ingredient in Weleda's range for generations.
Blackthorn wood has been used for centuries for tent pegs, walking sticks, the traditional Irish shillelagh or cudgel, and for piercing holes in leather. It also makes excellent firewood. In witch-burning days it was often blackthorn pyres that proved so deadly, though its use was also symbolic. Legend tells us that blackthorn formed the crown of thorns placed on Jesus before cruxifixion. Early Christians vilified blackthorn for its association with practitioners of natural healing arts.
FLOWERS
Clouds of tiny white flowers on blackthorn trees and hedges are the first sign of the arrival of Spring. The blossom explosion on bare black branches often coincides with blasts of northeast winds, leading to the term 'Blackthorn winter'. About a month after blossoming, blackthorn's small pointed, dull-green leaves appear, disguising vicious thorns along the branches that make blackthorn such excellent hedgerow. It's more impenetrable to livestock and humans than barbed wire.
LEAVES
A member of the rose family, blackthorn is prized for its natural revitalising and refreshing properties, which not only make it extremely useful for
medicinal products
but also mean Prunus spinosa is an ideal skincare ingredient. Blackthorn is valued for its natural astringent properties, to tone the skin. For example at Weleda we make a
refreshing lotion
that contains blackthorn extract from the new leaves that appear on the thorny black branches in spring. It will revive weary limbs – ideal for aching legs and feet that been standing for hours - to put the spring back in your step quite literally!
FRUIT
Most of us are familiar with blackthorn berries giving that wonderfully purplish colour and fruity flavour to sloe gin. The juice from ripened sloes makes an invigorating,
fortifying elixir
: a natural health drink to supplement the diet during physically and emotionally demanding times. Doctors and naturopaths recommend blackthorn juice during convalescence, especially following a bout of winter colds or feverish 'flu like symptoms that can leave us feeling depleted. The juice was the original 'indelible marker' used by Culpeper when writing his 'Complete Herbal and English Physician' of 1826.