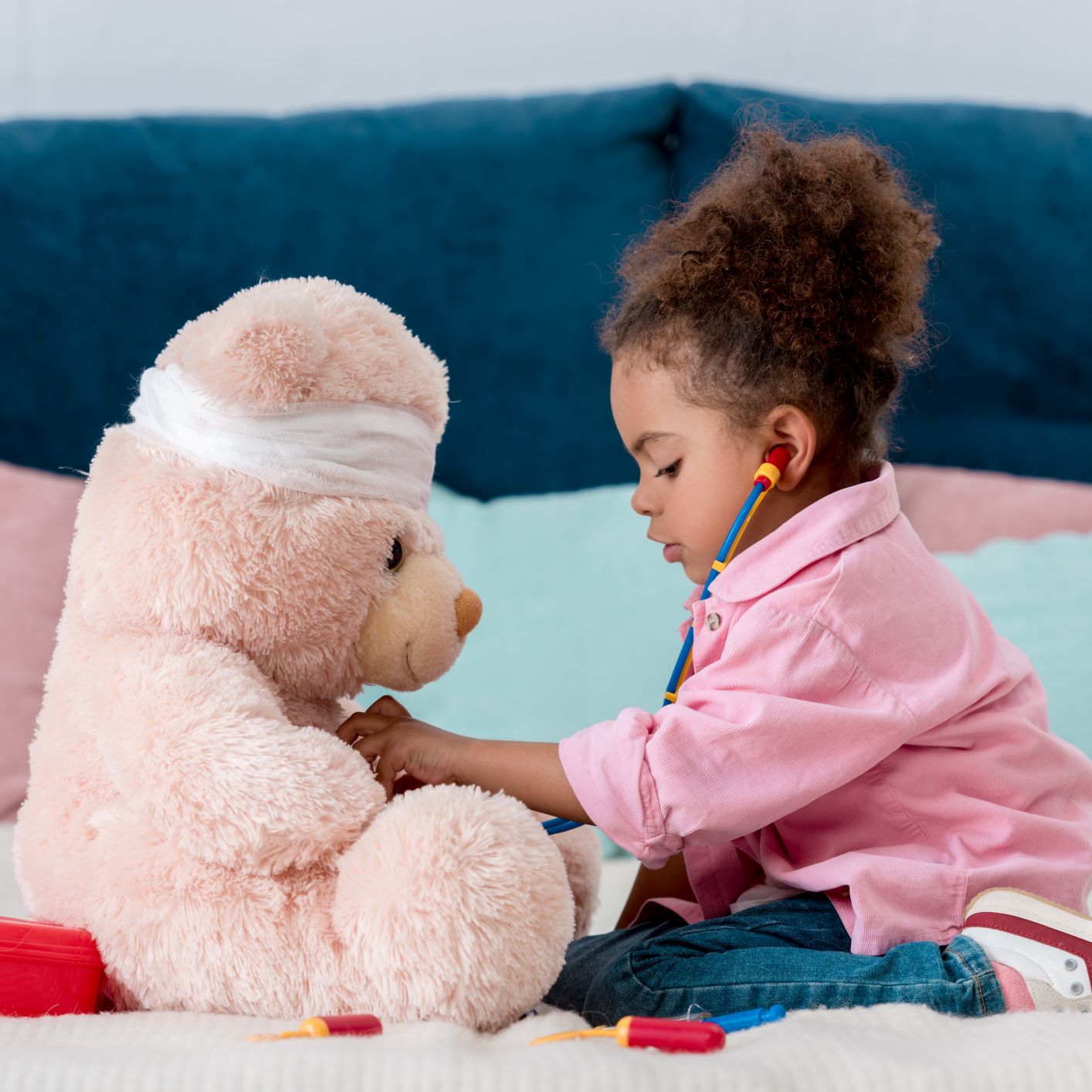 Natural Family First Aid
25 June 2020
Dr Rosy Daniel, Weleda's Integrative Health Consultant, shares ways to prepare for minor accidents and upsets at home
With access to GP surgeries and accident departments restricted due to Coronavirus, never has there been a more pressing need to prepare ourselves for greater self-sufficiency, so we are able to deal with the minor mishaps of everyday life at home. This includes the physical effects of bumps and bruises, cuts and grazes, insect bites, cramp, splinters, toothache, sprains, burns, sunburn, heartburn, as well as the shock and upset of minor injuries.
First, it is ideal to get set up with a practical first aid box that we check and replenish after use to ensure that we are always ready to leap into action. To this we can add the wonderful healing salves and remedies from Weleda's treasure chest to assist our home first aid skills! Many Weleda lotions and salves can be applied using a soothing compress or a dry dressing, so keep a stock of these items at the ready.
A good family first aid kit should be kept in a sealed plastic box so that all the contents remain dry and sterile. Find a container big enough to store the list of items below as well as a good selection of Weleda remedies so you have everything in one place should you need it.
For Cleaning and Dressings
Antibacterial/antiviral hand gel, spray or wipes to clean your own hands first
Antiseptic cleansing lotion to clean wounds
Gauze dressings of differing sizes for dry dressing
Non-stick oily dressings for burns
Waterproof plasters in a variety of shapes and sizes
Steri-strips to join the edges of cuts (almost as effective as stitches in many instances)
Micropore sticky tape (to tape gauze dressings in place)
Sterile eye dressings and eye patch
Triangular bandage to make a sling
Crepe rolled bandages for sprains, in medium and large width
Safety pins (always the first thing to disappear, so have a separate box for these)
Clean flannel or cloth dressing to make cold compresses or herbal compresses
Disposable sterile gloves
Tools
(all of which should be cleaned with antiseptic before use and washed/sterilised after use)
Scissors – one strong pair to cut through clothes and one delicate pair to cut dressings
Tweezers for splinters, and a needle in a plastic case
Tick remover – these have a groove to slide under the tick and when gently twisted, once in place, will remove the tick with nothing left behind. Then sterilise and apply bite cream. Watch out for a ring developing around the bite as this would need antibiotic treatment to avoid Lyme's disease developing.
Thermometer – preferable digital, and check battery regularly. A temperature of 39 degrees plus should be taken as a possible indicator of Coronavirus or other infection, prompting immediate action to get tested.
Eye bath
Torch and extra batteries
Gel cool patch/sheets to help manage a temperature
Reflective space blanket in case of severe cold
Medicaments, lotions and home remedies
Sterile distilled water for washing cuts
Antiseptic cream or lotion (or salty water if you have none)
Bite cream or spray
Soothing skin rash cream – such as Calendula Body Moisturiser or Calendula Nappy Change Cream
Preferred painkillers for adults and children
Cough medicine
Eyewash
Sunburn lotion or cream
Digestive remedy for tummy troubles
Soothing creams for bumps and sprains such as Arnica Cooling Gel
Cream for minor burns or scalds
Shock or emotional upset remedies
Re-balancing re-hydrating salts
Clove oil and Ratanhia Mouthwash for toothache or mouth ulcers
The big rules for first aid are:
Remember you are with someone who is in shock or suffering from emotional upset. Get them to lie or sit down and offer reassuring comfort. Homeopathic remedies such as Arnica are often recommended following the physical and emotional bruising of accident upset, as a first port of call.
Keep hydration going if there has been any sickness or diarrhoea, and replace lost salts.
Always ensure that wounds are really clean before dressing them. Calendula is one of nature's antiseptic, anti-inflammatory, antimicrobial wonders.
Remove all foreign objects such as grit or splinters. This may require an over the counter spray or cream to numb the area first.
Apply cold compresses as quickly as you can if there has been bruising or strains to stop any bleeding and swelling around the injury. Ice in a flannel or flannel mitten will really help, or a packet of frozen peas if there is no ice on hand.
With burns, if the skin is unbroken run the area under cold water for several minutes to take heat out of it. Exclude the air from burns and scalds with a burn cream and non-stick oily dressing. If the burn is serious and the skin is broken, then you will need to go to a burns unit for specialised care.
With sunburn apply soothing after sun lotion to all pink areas and treat sunstroke with fluids and re-hydrating salts. Skin Food is a useful solution to soothe minor sunburn.
With cramp, especially after exertion and sweating, treat with kitchen salt either neat dabbed on a finger or mixed in water to drink if severe. For night cramp, keep salt and a glass of water by the bed. A dab of salt and some water will usually stop a nasty cramp in seconds.
Most bites can be calmed down with topical bite remedies applied locally, but if more severe widespread swelling develops then suspect an allergic reaction. If breathing becomes affected this could mean anaphylactic shock, requiring emergency treatment. Watch out after tick bites for a large round red halo developing; this can indicate the start of Lyme's disease and to prevent this medical treatment needed. With bee stings, ensure that the sting itself has been removed and bicarbonate of soda paste (simply add a little water) applied to the skin will help greatly. For wasp stings a vinegar compress often helps.
For toothache, clove oil on a cotton bud or pad can help or simply placing a clove adjacent. Add to this multi-vitamins and the immune booster Beta-Glucan to treat underlying infection. Soothe further with Ratanhia Mouthwash and seek advice from your dentist if pain persists.
For a blister, keep it dry and avoid popping the bubble until it happens naturally. This will prevent infection entering and allow some healing of the underlying skin to start before the raw area is exposed.
For heartburn, use bicarbonate of soda – take half a teaspoon in warm water. If persistent, be sure to get a test for Helicobacter from your GP.
When those around you are traumatised, watch out for tendencies to isolate themselves or become volatile emotionally. Aim to provide safe space to give them focussed attention to talk about their feelings. Find ways to stay connected though walks, projects, games and meals. Use relaxation, meditation and yoga breathing tracks, and films to help relieve agitation and aid sleep with gentle sleep remedies and relaxing bath milks.

Calendula Cuts & Grazes Spray
A soothing spray made with tincture of organic Calendula in a ready-to-use diluted form that can be sprayed straight onto cuts and grazes or minor wounds to clean the area. Or spray onto a clean dressing and apply as a cooling compress. It's handy for the usual scuffs and scrapes when youngsters take a tumble off a bike or skateboard. Suitable for children over 6.
Calendula Cuts & Grazes Skin Salve
A soothing ointment to treat minor wounds, cuts and grazes, this salve is a great alternative where a liquid spray might sting, and can similarly be used on a dry dressing as a comforting compress immediately following injury to keep the graze protected and free from infection. Calendula is renowned for its natural antiseptic, antimicrobial and anti-inflammatory action, for soothing damaged or inflamed skin.
Hypercal Wound Salve
Traditionally used for the treatment of painful cuts and minor wounds, made with biodynamic Hypericum and Calendula from our own Derbyshire gardens. This is a soothing salve for common garden injuries such as scratches from thorns, and equally useful for painful paper cuts and other minor wounds where there is particular sensitivity. Suitable for 12 years and over, it can be applied directly to the skin or on a dry dressing two or three times daily.
Arnica Bumps & Bruises Skin Salve
A soothing ointment to help with sprains and bruises, this handy tube is easily stowed in a first aid kit to have to hand for the relief of muscular aches, pain, stiffness, sprains, bruises and minor sports injuries.
Arnica Bumps & Bruises Spray
A convenient spray to ease minor sports injuries, muscular pain, stiffness and sprains. Simply spray onto the painful area, up to four times a day, or onto a damp cloth to use as a soothing compress. Best applied immediately after injury, to prevent a bruise developing.
Insect Bites Spray
Made with organic extracts of Urtica urens and Arnica to tackle the itchy, painful swelling of insect bites. This handy spray is great to blitz insect bites if you are at the beach, out walking in the countryside or picnicking in the park. Keep some in your pocket for summer sports activities from golf to gardening, when those pesky insects find us irresistible. Suitable for adults and children.
Combudoron Ointment
Made with extract of Urtica urens to tackle the itchy painful swelling of minor burns and scalds whether it's from cooking, ironing or the summer barbeque. This comforting salve also contains extract of biodynamic Arnica, famous for its anti-inflammatory properties. Apply direct to the affected area or on a dry dressing to soothe and protect. Suitable for adults and children aged 6 and above.
Digestion Calming Drops
Formulated to help ease nausea, tummy ache and stomach upsets, these drops are made from natural plant extracts or distillates such as Lemon Balm, which is traditionally used for its calming properties. Very easy to take, even when you're feeling extremely fragile. Simply add 10-20 drops to a dash of hot or cold water, depending on how you feel. The drops are also suitable for children over 12 who have eaten too many treats!
Herb & Honey Cough Elixir
Made with Thyme, a centuries old remedy that is particularly useful for easing tickly coughs and croaky throats, together with Aniseed, a natural expectorant and carminative, traditionally used to calm down the inflamed mucous membranes and relieve congestion. Marshmallow root is a traditional demulcent with natural anti-inflammatory properties to soothe an irritated throat, and Elderflower for its anti-catarrhal action. All wrapped up in a comforting honey syrup that slips down sore throats a treat.
Stress Relief Oral Spray
Sometimes a healthy level of stress can suddenly become unhealthy. This homeopathic oral spray is handy for those moments when things may start to feel a bit overwhelming, or to ease feelings of irritability and tension, and is a combination of Pulsatilla together with calming Chamomile from our own Weleda gardens.
Ruta Ointment
A soothing, comforting ointment made with the herb Ruta Graveolens, or rue, for the symptomatic relief of sprains. Ideal if you fall and twist an ankle or other joint, tearing or stretching ligaments. Follow the usual RICE (rest, ice, compression and elevation) first aid steps, then gently massage in to the affected area once or twice a day.
Copper Ointment
Handy to have up your sleeve in the family medicine chest for when cramp strikes unexpectedly. Made with warming Copper in a soft ointment base, apply thinly and massage well into the affected area once or twice a day to relieve muscular pain and cramps.
Arnica 6X Tablets
A useful remedy to have to hand to ease the physical and emotional bruising of accident upset. Dissolve one tablet under the tongue as soon as possible after the accident/upset. Repeat hourly as required, up to 10 doses. A great little remedy for all the family, suitable from age 3, to help with everyday knocks.
Always read the label.