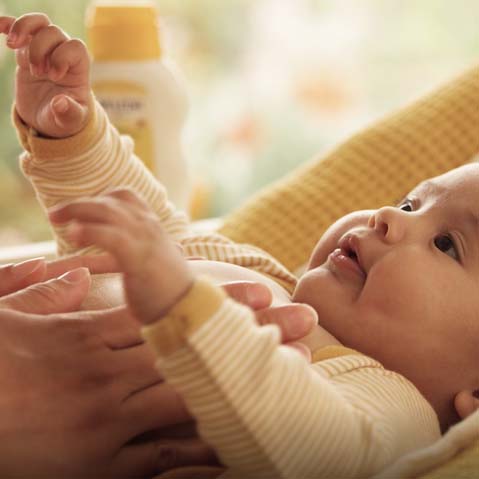 Everything you need to know about baby massage
Inspiring tips for mindful baby massage
23 June 2022
Strengthen your bond with your baby through massage

Babies explore the world through touch. Through their sense of touch, they get to know themselves and the world around them. A gentle massage helps them to become familiar with their own body. This mindful skin-to-skin contact also nurtures a loving relationship, trust and security.


Massage strengthens the precious bond between parent and child
Gentle massage strengthens the precious bond between parent and child, and can be relaxing for both. Weleda midwife, Carolina, offers inspiring advice on baby massage. It's important to remember that every baby is unique, and we should consider their particular likes and dislikes. If you sense intuitively that your baby doesn't like the massage on one part of the body, skip it and instead focus on the parts of the body where your baby enjoys it. In tuning in to their likes and dislikes, parents get to know their children even better and acknowledge that their children's wants and needs are respected.
Why are massages good for babies?
A newborn's skin is very sensitive. It connects the interior world of the young child with the outside world. After birth, babies are particularly sensitive to external stimuli, all of which are new and unfamiliar. They experience everything intensely through their skin: touch, temperature and different materials. Massage caresses and protects them while reinforcing their sense of physical self-awareness. Gentle touch stimulates their breathing and heart function, and can also help to relieve trapped wind. Massage as a ritual can enhance daily and evening routines, and can help settle a fractious baby.
Reading your baby's signals and reacting accordingly fosters communication and responsiveness. This has a positive influence on the developing parent-child bond. When experiencing positive emotions, for instance through skin-to-skin contact, massages or breastfeeding, the body releases oxytocin. This so-called bonding hormone creates a sense of emotional attachment between parents and child.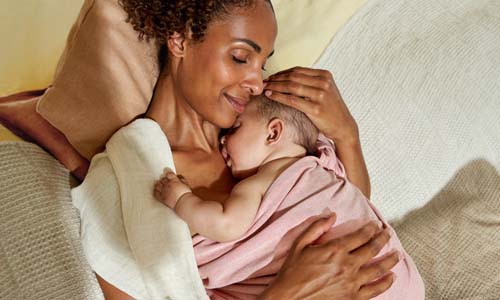 "Baby massage is a wonderful way to nurture warmth, trust and a sense of security and to intensify loving skin-to-skin contact."
Suitable oil for baby massage
A newborn's skin is not yet fully developed. It takes a while for the skin's acid mantle to develop and the sebaceous and sweat glands to adjust to their new function outside of the womb. Unlike synthetic oils, pure plant oils have a similar structure to human skin. A natural plant-based oil such as
Calendula Baby Oil
is ideal for baby massage. Made with extract of calendula flower, it gently protects and cares for sensitive skin. This enables the skin to gradually develop as a natural protective layer. Children with hyper sensitive skin prone to irritation can also be massaged with a gentle lotion, such as
Weleda Baby Derma White Mallow Body Lotion
.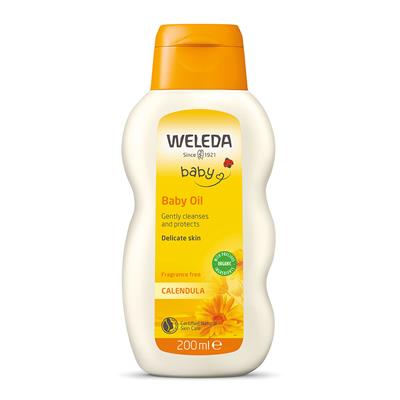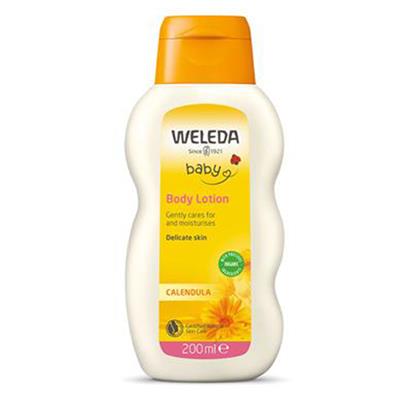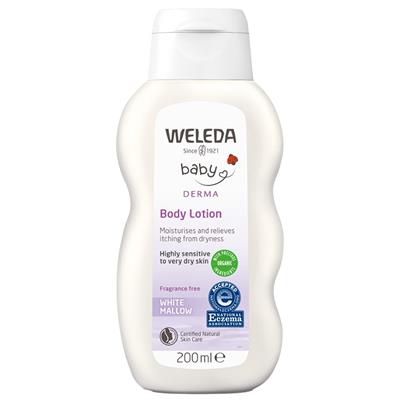 When is the right time for a massage?
Parents shouldn't worry about doing the wrong thing while massaging their baby. There's no need to follow precise instructions. What's important isn't the exact duration or sequence of movements, just that the baby and the person giving the massage both feel comfortable and enjoy the experience.
Gentle massage movements can easily be integrated into your baby's daily routine, for instance when changing nappies. It's best to warm the oil in the palm of your hands before each massage. Warm, intentional touch strengthens bonding and has a positive effect on the baby.
Regular massage can help babies adjust to this new experience and anticipate what will happen – this gives them a sense of safety and security. A massage using inward strokes (moving toward the middle of the body) is more stimulating and can be well integrated into the morning care routine. A massage with outward strokes has a more relaxing effect, and can be used as a gentle close to the day.
The ideal time for a massage should be decided by the baby's signals: if the baby already seems tired, it's not a good idea to launch into a stimulating massage.
Massage techniques for mindful baby massage
Massage for arms and legs
To massage your baby's legs, start at the hip and stroke down the leg to the foot. Little circular movements along each leg, down to the feet, can also be very enjoyable for children.
Many people (young and old) find a foot massage is very relaxing. Move your thumb from the heel up over the sole and then out along each of the toes. Hold your baby's feet a little longer at the end.
The hand and arm massage is similar to the leg massage. Start at the shoulder and stroke the arm from top to bottom. Your baby might also find it pleasant to be massaged using a clockwise circular movement along the arm. You can also gently move your thumb in circles in the centre of your baby's tiny palm. It's also nice to extend the massage down and out over the hand and fingers.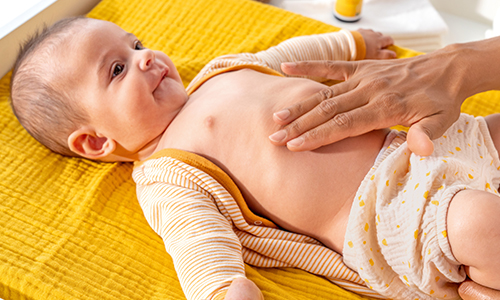 Massage for tummy and chest
A good time to give your baby a relaxing tummy massage is when changing nappies. Use one hand to massage your baby's tummy, making small circular movements. Intensify the contact by gently placing your other hand on one side of your baby's abdomen – this gives your baby a physical boundary and an added sense of security. It is important you keep in touch with your baby throughout the massage, from start to finish, at least with one hand. It's easy to extend this massage to the chest area. The massage can build intimate moments of togetherness.
Tip for trapped wind:
Massage the area around the navel/tummy button using gentle circular movements in a clockwise direction. End by moving the massage down over the left thigh. This is because the last section of the intestine runs from the right upper abdomen and ends at lower left. So this technique helps massage the trapped wind in the right direction, supporting the baby's digestive tract.
10 helpful tips for baby massage
With these tips from our Weleda midwives, parents can give their child a sense of security and easily integrate the baby massage into their daily routine:
Babies can be massaged from birth onwards.
During the first year of life, babies should only be fully undressed if in a very warm environment (around 24°C). Otherwise, only expose the area of skin that is being massaged. Areas of the body that have already been massaged can be covered with a muslin or baby blanket.
Avoid massages immediately after meals if your baby tends to bring up a little milk or regurgitate after feeding.
In the first few days after birth, gentle stroking movements are suitable; after a few days you can develop this into a real massage.
For a greater feeling of security for your baby, rest one hand on your baby while the other hand performs the massage movements.
Children particularly enjoy slow, rhythmic movements.
Babies don't need mobiles or other playthings that distract them during the massage. It's best to massage your baby in a calm, quiet room with soft lighting.
Towels placed under your baby's head and knees support the natural contours of the body, providing comfort and a sense of security. A rolled towel can be placed around the child in a semicircle to form a protective barrier or nest.
Some children like a quiet massage, others enjoy gentle musical accompaniment through songs or humming.
The massage should last as long as you and your child feel comfortable.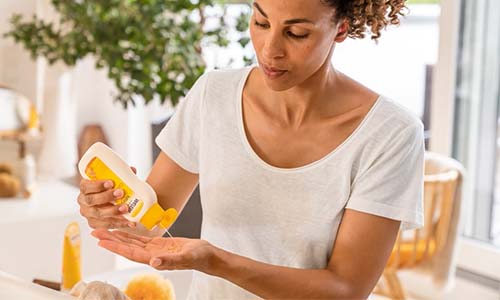 We hope you and your baby enjoy the relaxing baby massage. Cherish the quiet time and moment of togetherness. If you'd like to learn more about caring for your baby, why not read our articles on Cradle Cap, Teething and Breastfeeding?