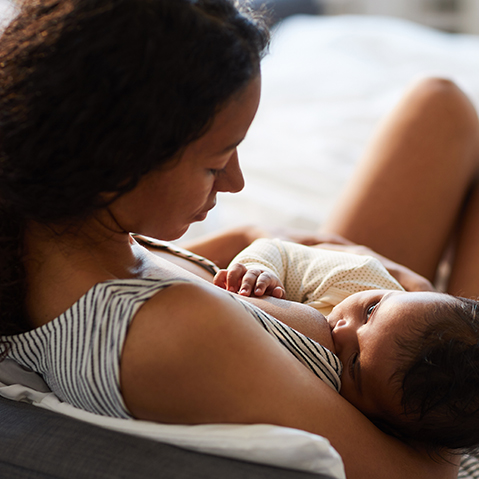 Go with the flow - Breast Feeding Tea
Weleda's breastfeeding tea
Weleda's Nursing Tea (20 tea bags 40g) is a herbal mixture, naturally caffeine free, with fennel and refreshing lemon verbena. When feeding their baby, breastfeeding mums are always encouraged to pour a drink for themselves at the same time, to ensure they stay hydrated. What better drink to choose than a certified organic herbal tea specially formulated by a brand with over 9 decades experience of holistic healthcare for mums and babies?
Nursing Tea is formulated to support a harmonious nursing relationship for breastfeeding mums and is made with organic Fennel, Aniseed and Caraway which contain aromatic essential oils. These herbs are particularly valued for promoting the metabolic processes of the milk ducts, and also contributing a relaxing effect which supports milk flow.
This is combined with the sweet spicy warmth of Fenugreek which is traditionally used to promote healthy lactation. Finally, the lemony freshness of Verbena is wonderfully calming and helps balance and harmonise, supporting a truly relaxing breastfeeding experience.
Mums can start drinking Nursing Tea at the end of their pregnancy and throughout the breastfeeding period. It's a thirst quenching drink that can be enjoyed hot or cold. Up to three cups daily are recommended.
This high-quality tea is packaged in individual sachets to prevent the loss of valuable essential oils, with unbleached tea bags, and contains no added sugar or synthetic flavourings.
Midwife and founder of the TIPS midwife-tested awards, Sharon Trotter recommends:
"Look after yourself by eating well and incorporating food and drinks that are known to boost your milk supply. Long before prescription drugs were available women used natural herbs (also known as herbal galactagogues) and changed the way they eat to help boost their own milk supply. Over 400 herbs are used by mums around the world to help with milk supply and breastfeeding problems. This includes common foods like garlic, oatmeal, nuts, chickpeas, fennel, ginger and herbal teas."
Weleda Nursing Tea was awarded a Highly Commended TIPS award, as Sharon explains:
"Parent Testers were pleasantly surprised at the increase in the amount of milk they were able to express when using Weleda Nursing Tea. 56 percent of Testers reported improved supply or flow. Another beneficial side-effect was the reduction of wind and colic which helped parents to settle their babies more easily."
This is what some of the Testers said:
I experienced a more even supply of milk in both breasts
I would certainly say his evening colic/wind has dramatically improved
It settled my daughter's tummy and she was calmer on the days I drank the tea
The smell of the aniseed was lovely!