Creative collaboration with Phoebe English for LFW SS20
Phoebe English is a recognised sustainable fashion designer who is included within the British Fashion Council's Positive Fashion collective. Weleda is excited to collaborate with the brand for London Fashion Week this September, sponsoring the make-up, skincare and hair with Weleda products, which will be integral to the look of the SS20 menswear and womenswear presentation.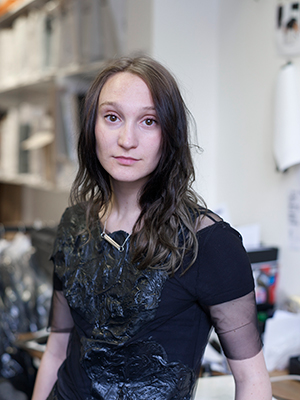 Phoebe English is a women's and menswear label founded in 2011. The brand is entirely made in England and pieces are created with close attention to detail and quality, in contrast to the more usual 'fast' fashion. Design and production both take place in London, meaning the journey from sketch to garment are minimised to a modest 10-15 mile radius and the entire business operates from one studio.
Since her debut graduate collection in 2011, Phoebe has consistently shown at London Fashion Week and has a dedicated, global following. The brand's dual roots of sustainability and craftsmanship are crucial to each collection, and Phoebe has actively pursued change within the fashion world, such as working alongside the UK Environmental Audit Committee to help push through new legislation to improve sustainability within the UK fashion industry.
Fabric sourcing is done in the UK or EU using Global Organic Textile Standard organic cotton and Oeko-Tex certified materials that are free from harmful chemicals. Waste offcuts are returned to the studio to be put back into future collections, and surplus and deadstock fabrics are repurposed in a similar way. To finish pieces, the team uses a variety of biodegradable natural finishings such as buttons made from palm nuts and milk protein to avoid unnecessary plastic use.
Even the fabric care labels inside the garments are made from cotton, embroidered or digitally printed in London. The packaging is recyclable, biodegradable or home compostable. Pieces are packed in entirely plastic-free paper and card packaging consisting of recycled tissue paper, protective glassine paper bags, recycled paper tape and cardboard boxes. Customers are encouraged to contact Phoebe English for any necessary repairs, to prolong the life of their purchase.
The Phoebe English approach is to avoid trend-led design and opt for longevity when developing pieces because good design should last forever. This is something shared with Weleda, with cosmetics from the 1920s still going strong today such as
Weleda Skin Food
which was introduced in 1926!
Weleda sponsored the hair and makeup team with a range of natural and organic cosmetics, principally the
Skin Food collection
which was used to create the fresh, dewy look for the presentation. Manicurist Ama Quashie replenished dry hands and feet with
Skin Food
and nourished cuticles with a little
Skin Food Lip Balm
. Hairstylist Cyndia Harvey tamed flyaway hair with a touch of Skin Food original. Makeup artist Jenny Coombs hydrated faces with
Skin Food Light
whilst limbs were given a lustrous sheen with
Skin Food Body Butter
.
Skin Food original
was used as a natural highlighter to illuminate cheekbones and brow bones and to add extra gloss to eyebrows. Finally,
Skin Food Lip Balm
provided the perfect natural finish for lips.
Guests left the event with a Weleda gift bag to keep them glowing through fashion week, containing Weleda
Skin Food
and
Skin Food Lip Balm
.
"There has never been a more urgent time in our history to evolve and change how we do things. It has been made startlingly obvious that the world's political systems are not designed for the climate emergency we face. As such, the changes needed rest with us, the individual. Fashion, at its very heart, is founded on a constant revolution and evolution of ideas and needs. The plan is simple. We must now look at design as a solution-based problem-solving strategy."
On the eve of her SS20 presentation, Weleda chatted to designer Phoebe English about the inspiration behind her new collection and her approach to sustainable fashion.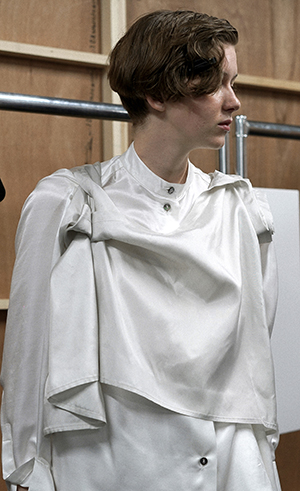 How did the Phoebe English label come about?
I graduated in 2011 from the MA at Central Saint Martin's. One of my first customers, Rose Easton, commissioned me to make a dress for her birthday party and then we started the label together. The first collection was very small and entirely made from handmade labour-intensive smocked textiles. We did a small show for SS12 and received an order from Dover Street Market London. Rose registered the company the very next day. Since then we have sold in international stores all around the world, had exhibitions, made installations and our archive work is now in the permanent Fashion Collection at the V&A. It's been an incredible journey, it has been extremely hard but it has also has given me the opportunity to learn so much and work alongside the most incredibly talented people, and that has been a daily pleasure.
What is the inspiration behind your SS20 collection?
The collection is based on a rebirth of practice. We have been working towards this collection for a very long time accumulating the research, knowledge, partners and suppliers in order for it to be our most sustainable collection to date. The idea is to be able to showcase and display as many solutions as we can in terms of sustainability. Fashion is a hugely damaging industry, contributing a massive 10% to global heating, destroying vast areas of natural habitat - intensive cotton farming to feed our obsession with fast fashion has destroyed the Aral Sea, for example, an inland sea the size of the whole of Ireland, which was entirely drained of water to grow huge cotton plantations. It is so large that this now dry desert can be seen from space. The UK sends mountains of barely worn fast fashion to landfill every day. Not to mention the ongoing practice of incinerating warehouse after warehouse of unsold 'dead' stock. Once you know these facts you cannot unknow them. If you are working in or buying fashion you are part of the problem, and if we are part of the problem we have a responsibility to be part of the solution. So that is the inspiration, to try and be part of the solution as much as we can.
How would you describe the look you're creating?
We do a collection the same size each season, to keep it a small edited selection and to not be overproducing needlessly. We do this for environmental reasons. There tends to be an obsession within the fashion industry that 'bigger is better' which often means designers are making and showing collections of huge sizes, and many garments won't get orders. To us this outlook has always seemed so wasteful, so we decided a couple of years ago to really edit down what we were presenting to a considered and concise selection in order to avoid this wastefulness of resources. The world seems like such a scary place at the moment, with environmental disasters and the loss of biodiversity that is occurring on a daily basis - that are set to only worsen. So the look we have been working on this season has been leaning towards clothing that feels kind to the body, sort of comforting clothes. I think we all need a safe place to be in, to recover from these daunting realities, and the kindest clothes I know of and the clothes I feel most happy in myself are pyjamas. So we have been working on quite a relaxed fit with drawstring waistbands and soft fabrics.
Who is the Phoebe English customer?
We have quite a broad range of clients so it's always hard to define this. We used to sell 'menswear' and 'womenswear' but there is such a crossover in the customers actually buying into those ranges that I now define it as just 'clothing.' We have a lot of customers who work in the arts, gallery owners, art reviewers, art historians and so on. We also have a growing market in both China and Japan, which is exciting as I think it is important to be able to start communicating with those markets about sustainable fashion in particular as they are so big. I like it when I have a 60-year-old wearing our pieces alongside her daughter in her 20s - for me, that's an indicator that we are going in the right direction.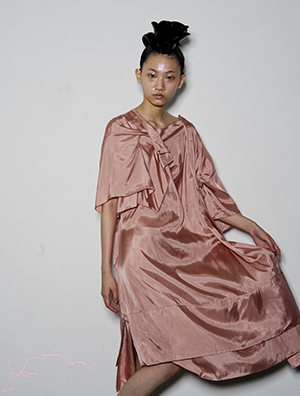 Does your sustainable ethos make it harder to be a successful designer in today's commercial landscape?
The landscape currently is shifting and I have found that our practices in sustainability have been received in different ways by different areas of fashion. For example, the press has been really interested and engaged with our developments. That also goes for our direct customers and clients who are tending to buy more into our designs because of a greater interest in where things are coming from and how they are being made. The buyers of our wholesale accounts, on the other hand, have been much slower in engaging in these areas and tend to be less interested in hearing about all our fabrics. I suppose this is because bricks and mortar stores tend to have an emphasis on making their shops look good on the rails and tend to have less time to speak to you and learn about the raw materials that have gone into those clothes. I'm sure there will be a shift in interest as the general public becomes more aware of the extremely damaging processes involved in making many clothes. We have seen a big revelation in the processes which go into the food we eat over the years, it's now really time that fashion had that as it is exactly the same in terms of the links it has to farming. The clothes that we wear on our bodies have all come from the earth at some point, it has either been grown on the land or drilled from underneath it. It all comes back to the planet. So our starting point as designers should be the planet when we are choosing and using those resources.
How important is it for you to partner with brands with a sustainable purpose in common?
It's very important to me. Through the whole process of re-educating myself and my team, I have found endless importance in conversation. Every single conversation I have had about changing and developing my practice has lead to at least one solution-based idea. It has been absolutely fascinating and really very exciting and has spurred me on and on to try and push further and be better. That's why it's so important to partner with companies and brands who hold the same values, there is just so much we can learn from one another. For example, hearing about how Weleda have been reducing their use of aluminium was so interesting and inspiring, I had no idea about the issues surrounding aluminium packaging and I'm sure I can share with you all piles of equally terrifying facts about the fashion industry in return. The only way we can evolve as businesses, consumers and as individuals is by communication and learning from one another so that we can all try and do better. Disinheriting the practices we have inherited and urgently designing new ones with frameworks and standards that fit the new times that we live in and correspond to the planetary boundaries we must remain inside.
What attracted you to Weleda for this collaboration?
I have been a fan and customer of Weleda for years, I remember walking around shops as a child and lusting after those beautiful glass bottles with their tantalizing description of heavenly scents. It felt the perfect time to partner with a company with such long-standing and admirable ecological bedrock as we launch this new collection alongside our statements of sustainability.
What are your 3 Weleda non-negotiables?
Well,
Skin Food
is absolutely my number one! And I am a huge fan of a bath, so
Lavender Bath Milk
is a must! I also really love the
Almond Facial Cream
as I have sensitive skin.
Photographs courtesy of Jean-Baptise Le Mercier, Julia Grassie and Asia Werbel.