Get Green Fingers
Weleda invites you to join its mission to connect with nature and support biodiversity
The pandemic has strengthened our connection with nature and gardening, with new research showing that many of us are reaping the benefits of growing our own for the very first time. Weleda has partnered with expert gardener and TV presenter Frances Tophill, to encourage everyone to continue their gardening efforts post-pandemic for their own health and wellbeing, and to increase biodiversity in their gardens.
"I'm so pleased to be teaming up with Weleda for its 'Get Green Fingers' campaign, to encourage everyone to reconnect with nature for their own health and wellbeing, and to support the biodiversity of the planet.
"The act of nurturing something and watching it grow is great for us on so many levels. Not only do we benefit from the nutrition of our fresh home-grown produce, but I have to say it definitely tastes better than anything you would find in a supermarket. In addition, getting outside in the fresh air is beneficial for our skin, our bodies and our mental health. There is so much that we, as human beings, can get from our connection with nature, by giving us a sense of community that makes us feel like part of the world we live in. I think that's what we need as human beings.

"In the last challenging year, as a nation we have realised how simple pleasures can sustain us. Many people were connecting with nature for the first time and we have all connected more deeply with nature through getting outdoors and engaging with the wildlife in our own gardens. But gardening is not only great for us, gardening can be really good for the planet too and I think connecting with nature during lockdown has got people thinking more about how we can protect it in the future." - Frances Tophill
New research from Weleda reveals that: 26.7 million people in UK grew their own fruit, veg and herbs in the last year, with twice as many 18–34-year-olds compared to the over 55s growing for the first time.
"It's really exciting to see many of us now reconnecting with nature through gardening. We can all make a real difference in supporting our local biodiversity by becoming more green-fingered. Biodiversity is the diversity of life in all its forms, and we are dependent on it to provide us with food, medicine, and raw materials. Since the 70s we've seen a decline of 68% in our wildlife, much of this due to habitat loss and since the 1930s we have lost a whopping 97% of our wildflower meadows resulting in one in five British wildflowers being at risk. Gardening and growing your own are great ways we can all support the diversity of life all around us, so we are encouraging everyone to care for nature through gardening." - Jayn Sterland, Managing Director, Weleda UK & Ireland
Over a third (37%) of Brits intend to continue gardening post pandemic and 19% didn't let their initial failures put them off. Almost two thirds (62%) say connecting with nature has had a positive impact on their mood, which is perhaps why having access to a garden or communal green space has become such a priority for so many (63%).
A fifth of Brits say doing their bit for the environment is their reason for growing their own produce and 18% say they noticed more 'life' in their garden since they started gardening. Brits are supporting the biodiversity of their green spaces by having a bird bath/feeder (38%), growing butterfly attracting flowers (37%), staying away from chemical pesticides (28%), and more than one in ten even leave areas of their lawn unmown to encourage more wildlife (12%).
"Making your garden more biodiverse means creating an environment that is not just about you and the plants you grow, but encouraging all the world's species into it too. That includes fungus, bacteria, insects, birds, even foxes. This can help support the whole ecosystem around us, which we are custodians of when we garden. I have five simple tips for beginners on how to make your garden more diverse" - Frances Tophill
1. Introduce water into your garden, if you have water then you will see different life cycles of all types of insects start to appear
2.Grow some pollen rich flowers in your garden such as sunflowers or lavender. This will give those insects something to feed on. Once you have insects in your garden, then all the other wildlife will follow
3. Include lots of hedging and planting corridors in and around the garden to allow small mammals and birds to safely move around. And cut little holes in the fences on either side of the garden so that hedgehogs can get in and out

4. Make sure you have flowers for as much of the year as possible and choose varieties that produce fruits and berries. Include white, scented flowers that are at their best at night as that's when pollinators like bats and moths are most active

5. If you're protecting your plants from pests, avoid using any chemicals that will poison lots of different species and work their way through the food chain, and always use netting that's wildlife friendly - easy for flying insects to spot, with gaps no wider than 5mm so that nothing can get stuck halfway through
Weleda is considered the original 'green' beauty brand because for 100 years it has been growing plants organically and pioneering in everything from biodynamic gardening to setting the standards for sustainable business practices, all while creating much-loved products which have stood the test of time. To celebrate the Centenary,
Weleda has created 10,000 Weleda special seed cards embedded with organic flower seeds
, which are simple to plant out in the garden or a patio container, to encourage us all to get green fingers.
For more information on biodiversity and Weleda, please
visit Weleda's new digital Open Garden
to take a virtual stroll in nature. The app offers 360° views of Weleda Gardens from around the world and expert advice on topics such as biodiversity, climate, soil and sourcing.
For some garden inspiration, you might also like to read
our interview with Frances
as she talks about her passion for gardening and what she's been growing.
We'd love to hear about what you're growing, and how you are making your own garden more biodiverse! Please get involved and tag us on social media using #getgreenfingers and tagging @weledauk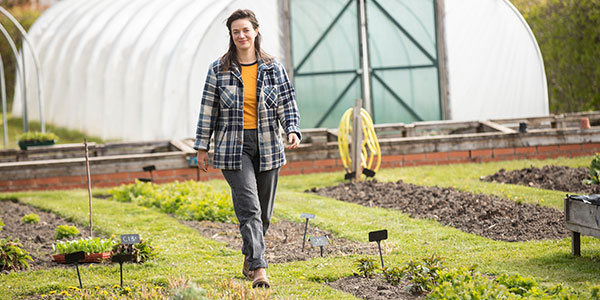 To celebrate our #getgreenfingers campaign, we have carefully selected a collection of Weleda products that are perfect for a moment of self-care after a long day in the garden.