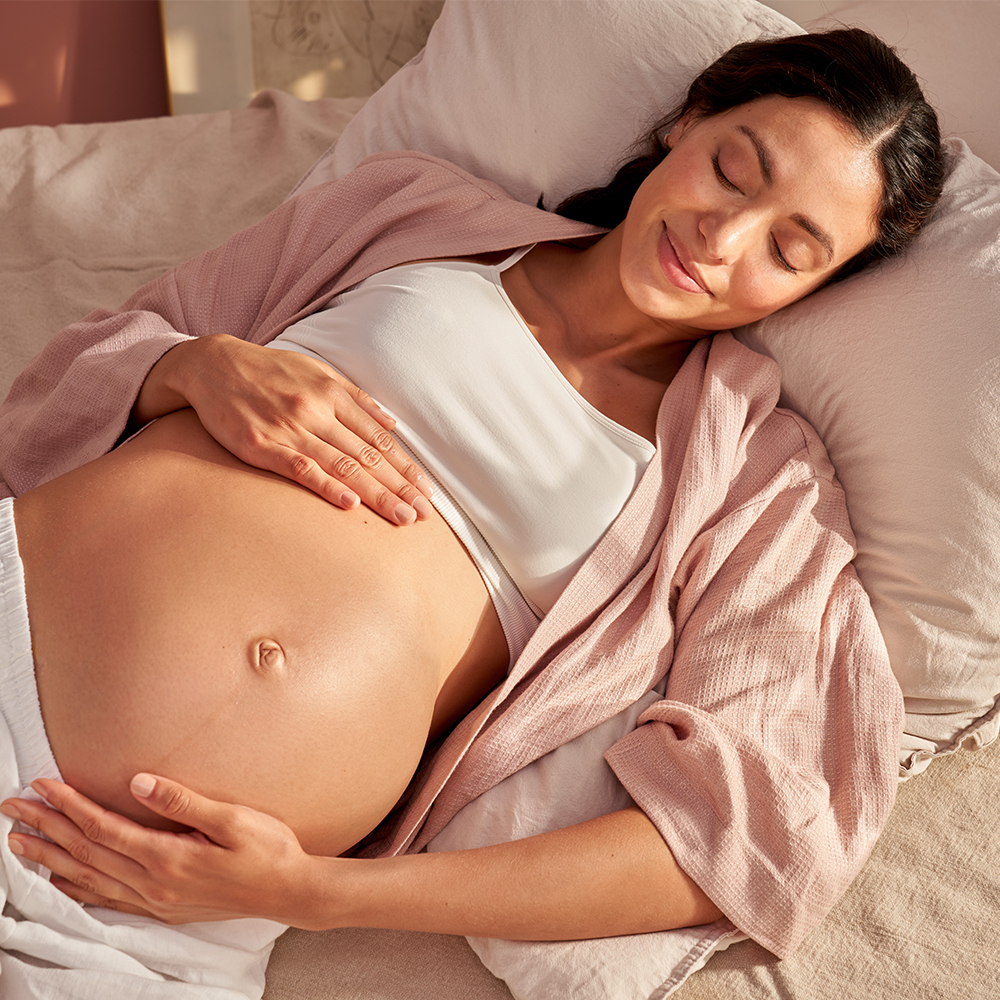 How to perform perineal massage and why
Everything you need to know about perineal massage
23 June 2022
What is Perineal Massage and how can I use it to prepare myself for birth?
If you're expecting a baby, this question may have already crossed your mind. Many mums understandably feel anxious about the possibility of tearing during birth or needing an episiotomy, and that fear can work against you during labour. Nurturing and getting to know your body through massage can feel empowering.
Massage supports both you and your baby throughout this special time. As pregnancy massage expert Suzanne Yates explains:
"Massage is not just a luxury in pregnancy; it's a necessity. There is so much change happening both physically and emotionally at this time."
Through massage, a mother can quite literally get in touch with her changing shape and understand her body's capabilities, so the prospect of labour becomes a little less daunting. This article provides some easy to follow instructions on how to do perineal massage and everything else you need to know.
Try our
Perineum Massage Oil
to help the process along, and why not have a look at our other products for expectant mums?
What and where is the perineum?
The perineum is the small area of firm skin and muscular tissue between the vagina and the anus. The perineum plays a significant role in women's health. This muscular tissue connects with pelvic floor muscles, offering support to the pelvic organs. It works extra hard in pregnancy due to the extra weight it bears. Tearing of the perineum during childbirth can weaken this support, making later pelvic floor problems or prolapse of the uterus more likely.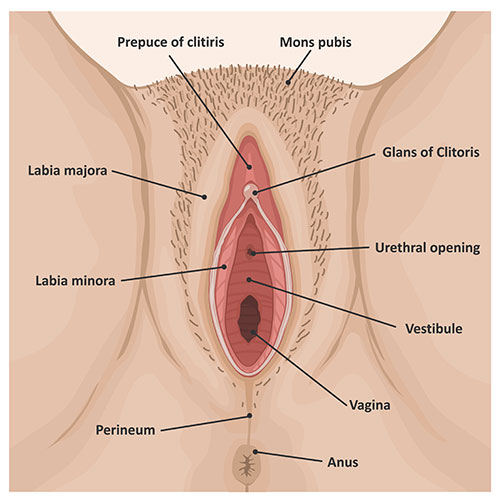 What is perineal massage?
During pregnancy the hormones progesterone and relaxin are released by your body, naturally softening and relaxing connective tissues such as ligaments to encourage stretching, including in the pelvic area. Perineal massage is a technique which helps increase the elasticity of the perineum for birth, supporting the body with its natural processes.
By encouraging blood flow to the area, perineal massage increases the elasticity of the perineum for birth. Some women prefer to massage their perineum themselves but others find it useful to ask their partner to help. Massage helps increase the perineum's capacity to stretch more easily and less painfully during birth.
Why should I massage my perineum?
This area is naturally stretchy – otherwise, we wouldn't be able to birth our babies – but it can also tear during childbirth, especially if the birth is quick. Massaging the perineum helps relax the cellular matrix and keep the connective tissues supple and elastic - our best defence against tearing.
Massage also increases the perineum's capacity to stretch more easily and less painfully during birth. Regular perineal massage has been shown to improve the skin's elasticity and reduce perineal trauma. Studies (see footnote) examining the effects of perineal massage during pregnancy confirm that "
timely and regular perineal massages reduce the likelihood of perineal tearing or cutting during childbirth
". Many women also report that the area gets back to normal more quickly afterwards, too.
What are the benefits of perineal massage?
While your midwife may massage the perineum during labour, doing perineal massage yourself during the last few weeks of your pregnancy has a number of potential benefits:
Easing pain during birth crowning
For many women planning a natural birth, the thing they are most afraid of is the discomfort associated with crowning, which is when your baby's head starts to emerge bit by bit during each contraction, sometimes giving a stinging sensation. Gently stretching the perineum during the last few weeks of pregnancy will encourage the perineum to stretch more easily when the baby is crowning.
Avoid focusing on fear during birth
If you worry that you're going to tear, you could end up tense and stressed, which can hinder the labour process and your experience of it. Perineal massage can help prepare you for the familiar feeling of pressure or tingling as your perineum relaxes and stretches. If you have a better understanding of your body's capabilities, it will give you the confidence to keep calm and relaxed during labour.
Avoiding tearing
Up to 85% of women suffer some amount of perineal trauma during childbirth (Albers et al. 2005). Regular perineal massage has been shown to improve the skin's elasticity and reduce perineal trauma. Studies examining the effects of perineal massage during pregnancy confirm that "timely and regular perineal massages reduce the likelihood of perineal tearing or cutting during childbirth". Many women also report that the area gets back to normal more quickly afterwards, too.
Reducing the likelihood of an episiotomy
A Cochrane review (Beckman and Garrett 2006) comparing perineal massage during pregnancy with usual care found an association with an overall reduction in the incidence of perineal trauma, and women that practised perineal massage during pregnancy were less likely to have an episiotomy.
Reducing pain three months after birth
As well as finding that perineal massage reduced the need for stitches, the Cochrane review also found that there was a reduction in the number of women reporting pain three months after the birth.
When should I start doing perineal massage, and how often?
You can apply
perineum oil
and gently massage your perineum at any time during your pregnancy to familiarise yourself with this part of your body, but it's best to start active perineal massage (following the exercises below) from around 34 weeks of pregnancy. If you haven't started yet and are nearer your due date, don't worry, you can start now. Try to start with a few minutes at a time, then build up to doing it for ten minutes, three to four times a week.
Perineal massage can also help tone the muscles after birth. Start gentle massage as soon as you feel comfortable, once any stitches or tears have healed.
What do I need to get started?
A good time is after a relaxing bath or warm shower because blood vessels in the area are dilated and this makes the perineum softer and more comfortable to touch. It's a good idea to empty your bowel and bladder before starting and wash your hands.
Find a quiet, relaxing place and sit or lean back in a comfortable position. Some women lie on their side. Use cushions to support your legs.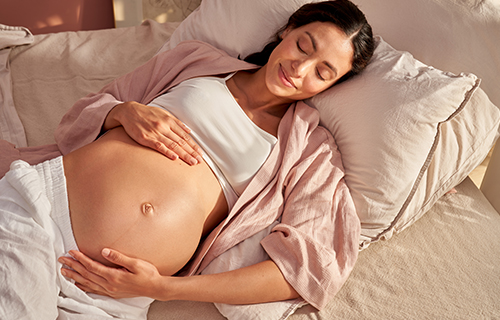 Which oil is best to use for perineal massage?
Nourishing plant oils would be the number one choice, free from potentially irritating artificial additives. The
Weleda Perineum Massage Oil
is specially developed for perineal massage. It is free from mineral oils or petrochemical derivatives and contains no synthetic ingredients or artificial additives of any kind.
This top quality oil has been dermatologically-tested for skin tolerance for this sensitive area and contains 100% natural ingredients and pure plant oils carefully selected for suitability for the perineum. The oil is NATRUE-certified natural.
Nourishing Sweet Almond oil is prized for its mildness, and makes the skin supple and flexible. This fine oil is renowned for being well tolerated by all skin types, and Weleda source theirs from organic orchards that stretch over 100,000 acres of the Valencian countryside in Spain.
Almond is combined with precious Wheat Germ Oil, which again has a softening effect on the skin, and is rich in Vitamin E and unsaturated fatty acids to increase skin elasticity.
The finishing touch is a mix of carefully selected essential oils suitable for the final few weeks of pregnancy. Clary Sage (Caliva Sclarea) adds a gentle aroma and contains the natural component Sclareol which relaxes the tissues of the perineum.
Together with the marzipan-mellowness of the almond oil, the delicate fragrance remains subtle and is ideal for pregnancy when our sense of smell is often heightened and we tend to steer away from overpowering or synthetic fragrances. Developed with doctors and midwives, this relaxing oil is a great way for mums to nurture themselves, and prepare for birth.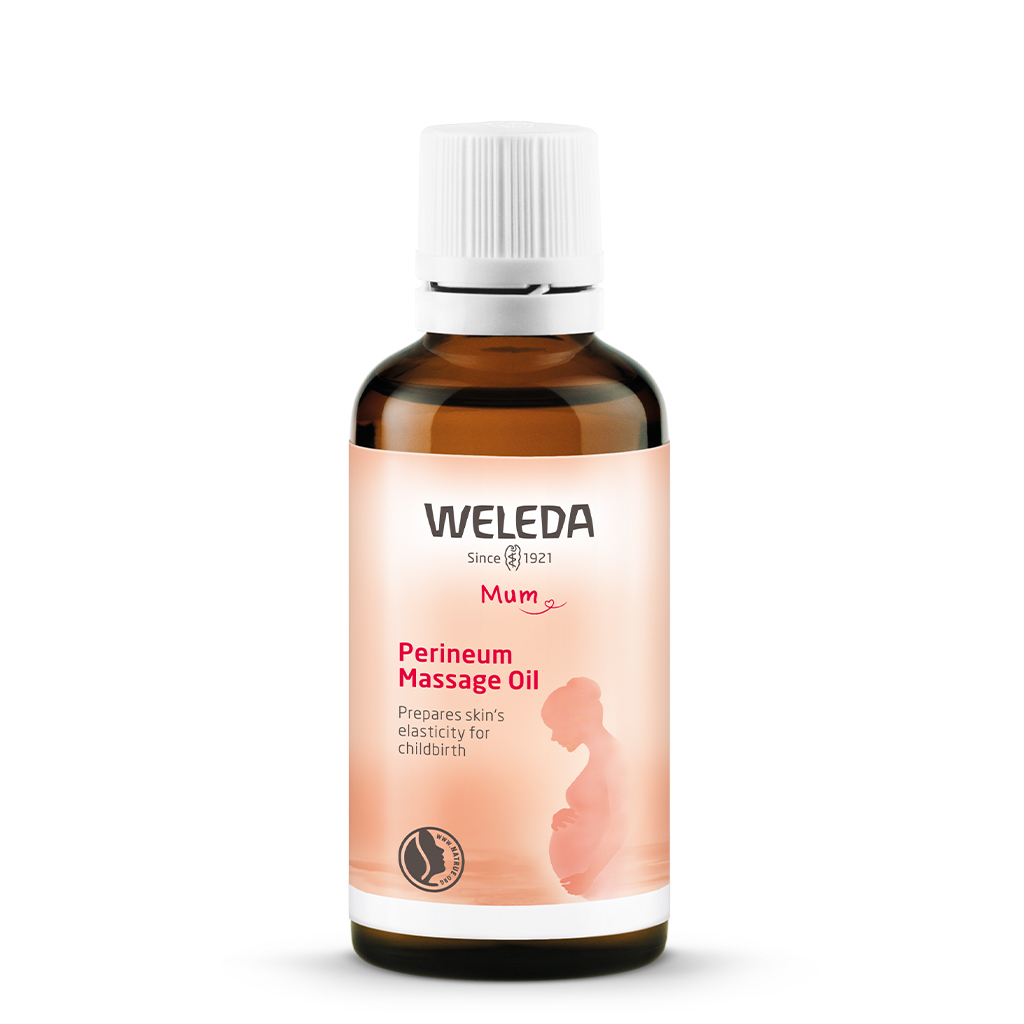 How to do perineal massage
Having washed your hands, find a comfortable, relaxing space. You can do the massage yourself or it can be a way of involving your partner in your pregnancy.
Begin by placing both hands on your perineum and just relax about touching this part of your body. We can hold a lot of tension around the perineum, and releasing any tension here is good preparation for birth.
Pour a little oil into one hand and rub your hands together to warm them. Then gently smooth a little oil over the whole of your perineum. Stroke in whatever way feels comfortable for you. Get to know the different areas of skin - some soft and delicate, and some firm and more muscular which will stretch out in labour. Massage this a little more firmly. You could apply a little pressure here as you breathe out.
Try doing your pelvic floor exercises. As you breathe out draw up your pelvic floor and as you breathe in, relax. Make sure that your buttocks are not tightening. Make the exercises harder by tightening the muscles gradually on your out-breath, imagining that you are going up floors in a lift. Go down the floors with the in-breath. Don't clench your jaw: relaxing your jaw in labour can help relax your perineum.
You can also do some gentle pulsing, tightening and releasing, as you breathe out. If you feel comfortable, you can try doing these exercises with a finger or thumb inside your vagina.
In the last few weeks of pregnancy you can try stretching out the perineum to prepare for birth. To do this, place your finger or thumb inside your vagina up to the second knuckle, and gently massage in a rhythmic U shaped movement the lower part of the vaginal opening nearest to the anus (if you imagine a clock face, it's the section from 3 o'clock to 9 o'clock). This will gently stretch the vaginal tissues and muscles.
As you feel comfortable you can try increasing the pressure and adding in a stretch back towards the anus. This may sting slightly; this stinging sensation occurs when the baby's head is born.
Perineal massage - step by step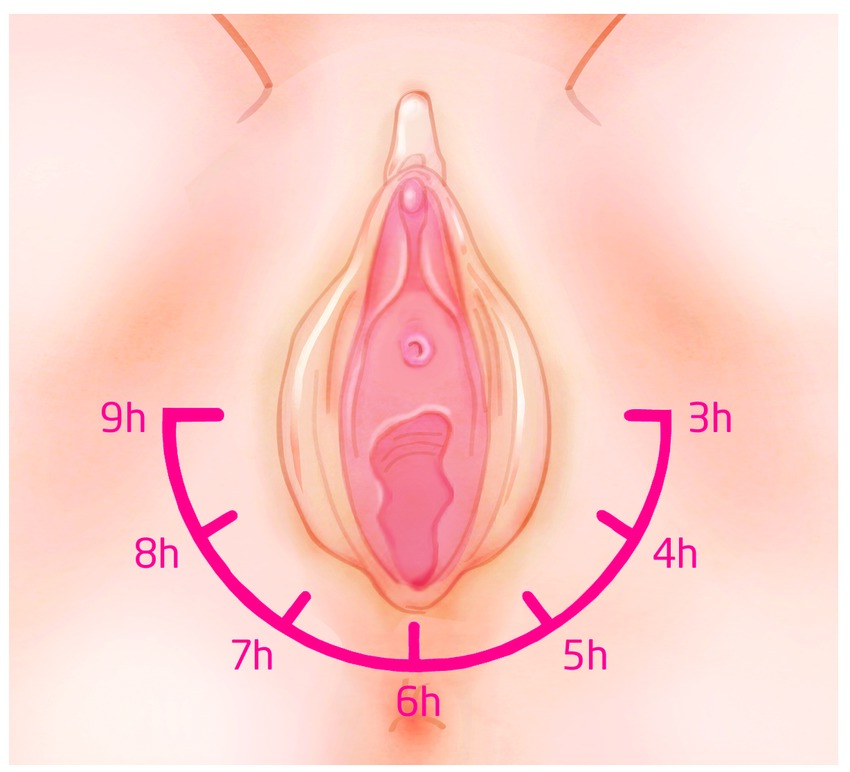 Apply the oil with the fingertips circling the external labia and over the area between vulva and anus. Insert the tip of the thumb into the vulva and massage the internal and external perineal region for about one minute, imagine a clock face between 3 o'clock and 9 o'clock.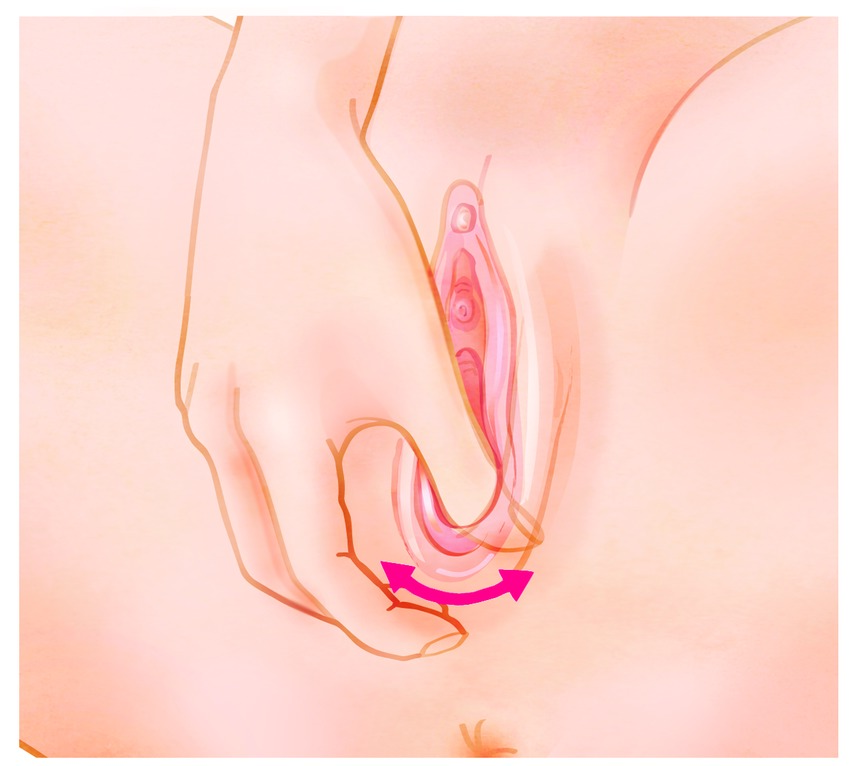 Start with circling motions, then use more pressure, for one to two minutes in rocking motions. Then use a little pressure to stretch the perineum in rocking motions from the inside out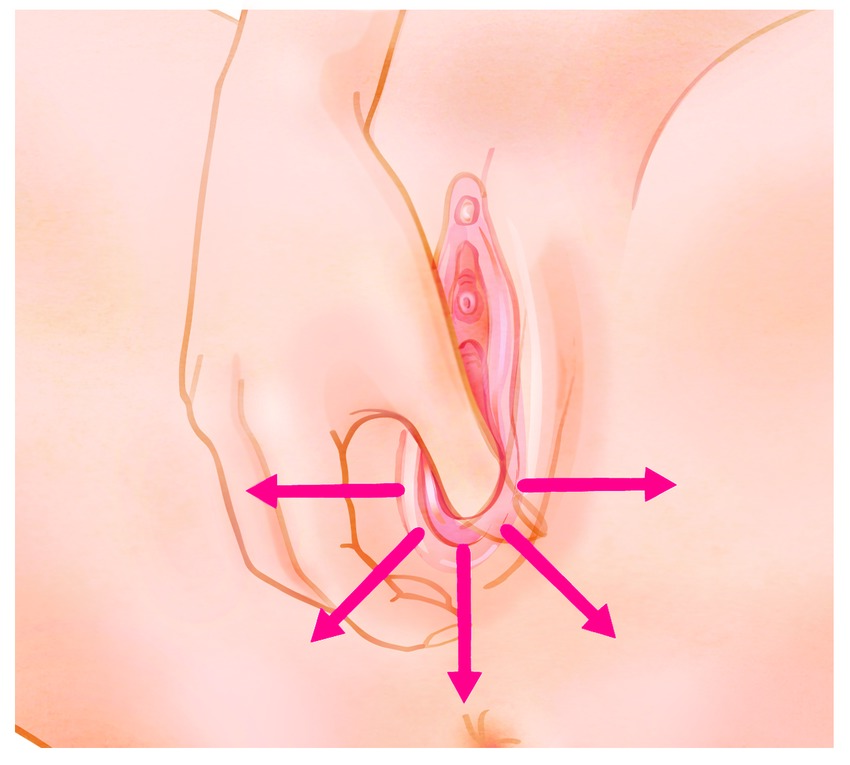 While breathing out, stretch the tissues radially towards the anus.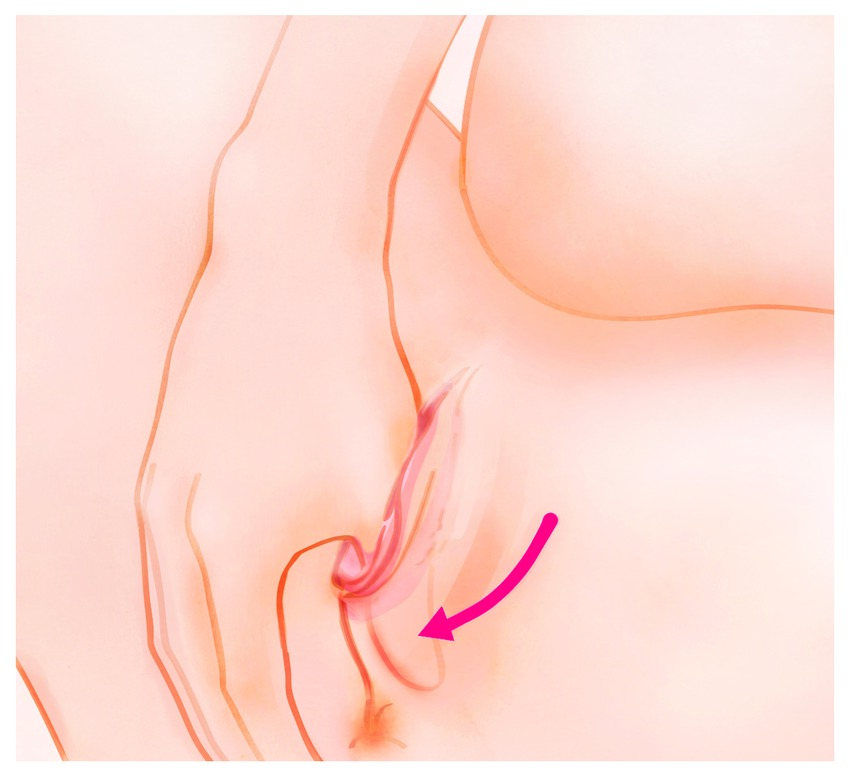 Then arch the thumb across the perineum from below and down. Repeat the stretching across an imaginary clock face between 3 o'clock and 9 o'clock. You should feel pulling and a resistance to the stretching which should not, however, be painful
How to do perineal massage for a partner
Perineal massage can also be given by a partner, especially as you near your due date and may become less agile. They can follow all of the instructions above, but use their index finger rather than their thumb.


When should you NOT do perineal massage?
Don't try perineal massage if you think you may have a vaginal infection and avoid it if your waters may have broken.

Gentle perineal massage (without the stretching) can also help tone the muscles postnatally. If you have any stitches or tears following the birth, wait until they have healed before beginning the massage.

The most important thing is to listen to your body to decide what feels right. Every pregnancy and every mother and baby are different. If anything feels uncomfortable then don't continue, and seek further advice from your midwife or a qualified therapist.


What if I have any questions or concerns?
If you have any questions or concerns about perineal massage or how to do perineal massage, then please consult your midwife or doctor.


What awards has Weleda's perineum massage oil won?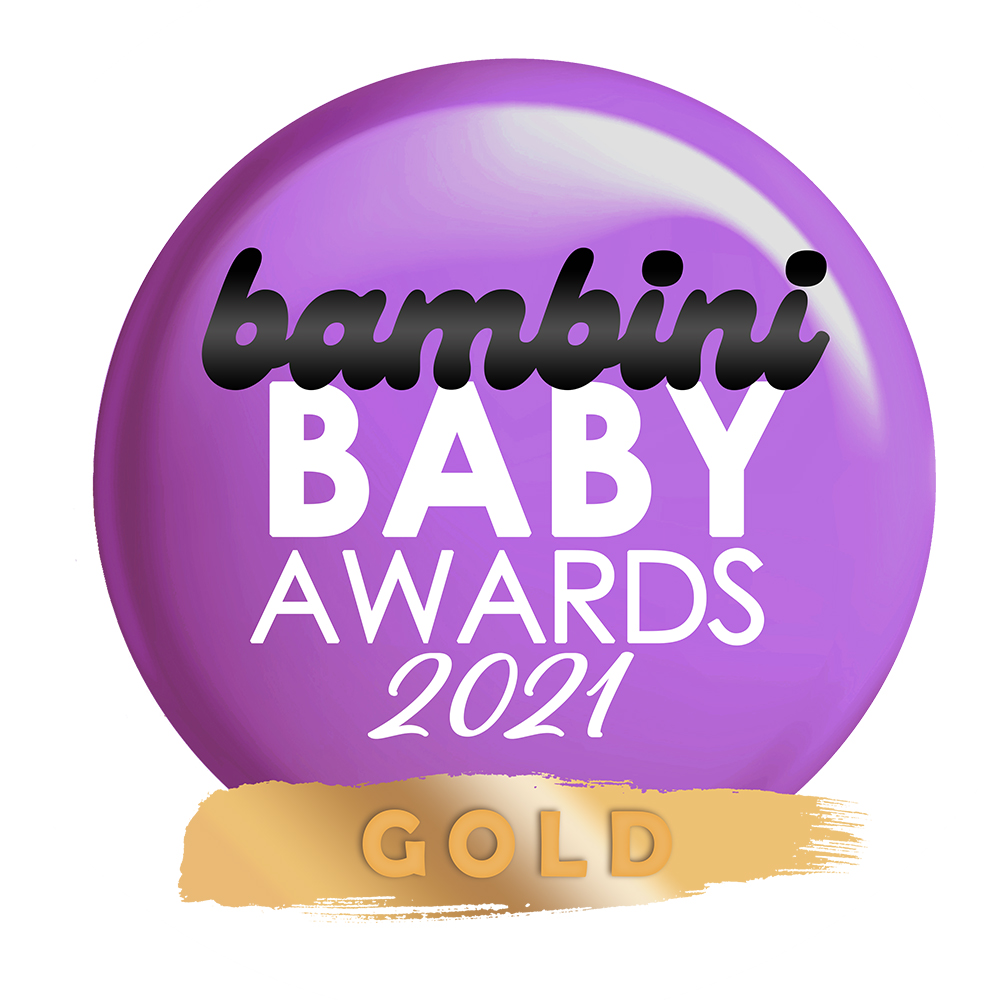 Bambini Baby Awards 2021
Best Perineal Massage Product
GOLD Weleda Perineum Massage Oil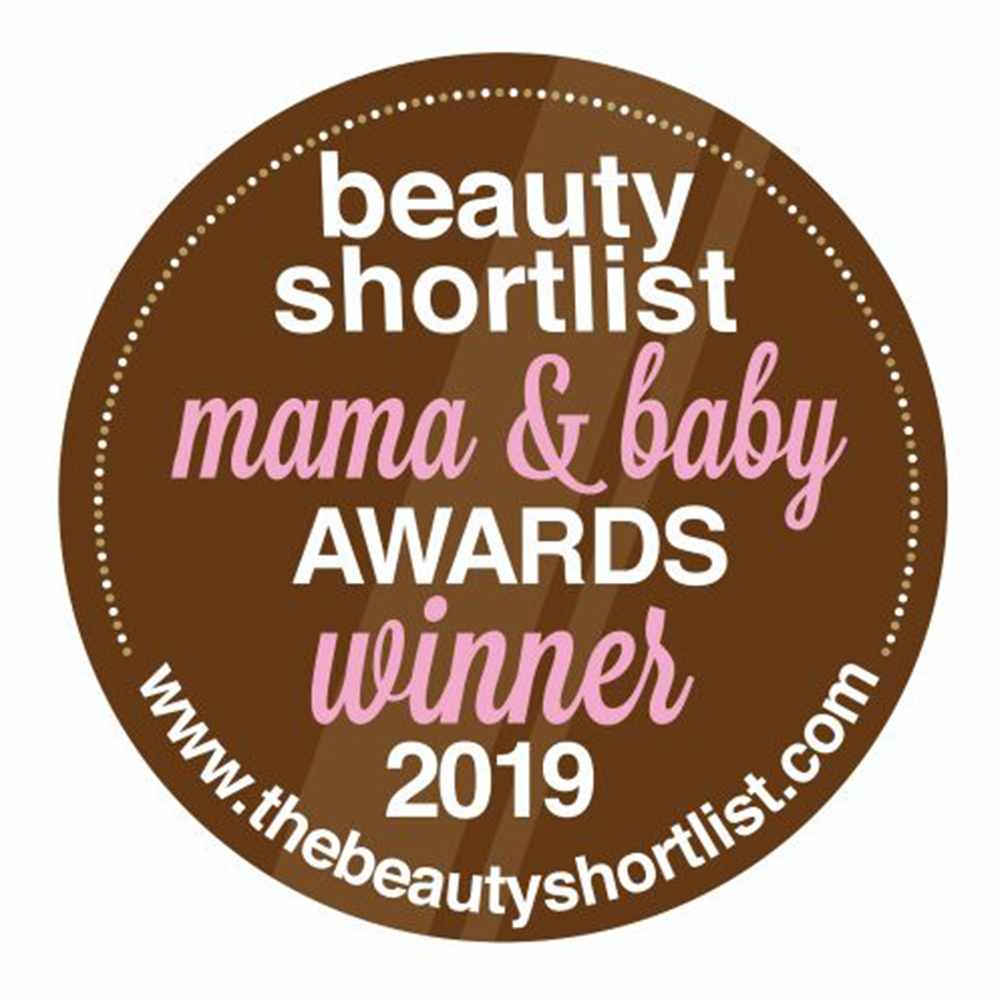 Mama & Baby Awards 2019
Best Perineum Massage Oil
WINNER Weleda Perineum Massage Oil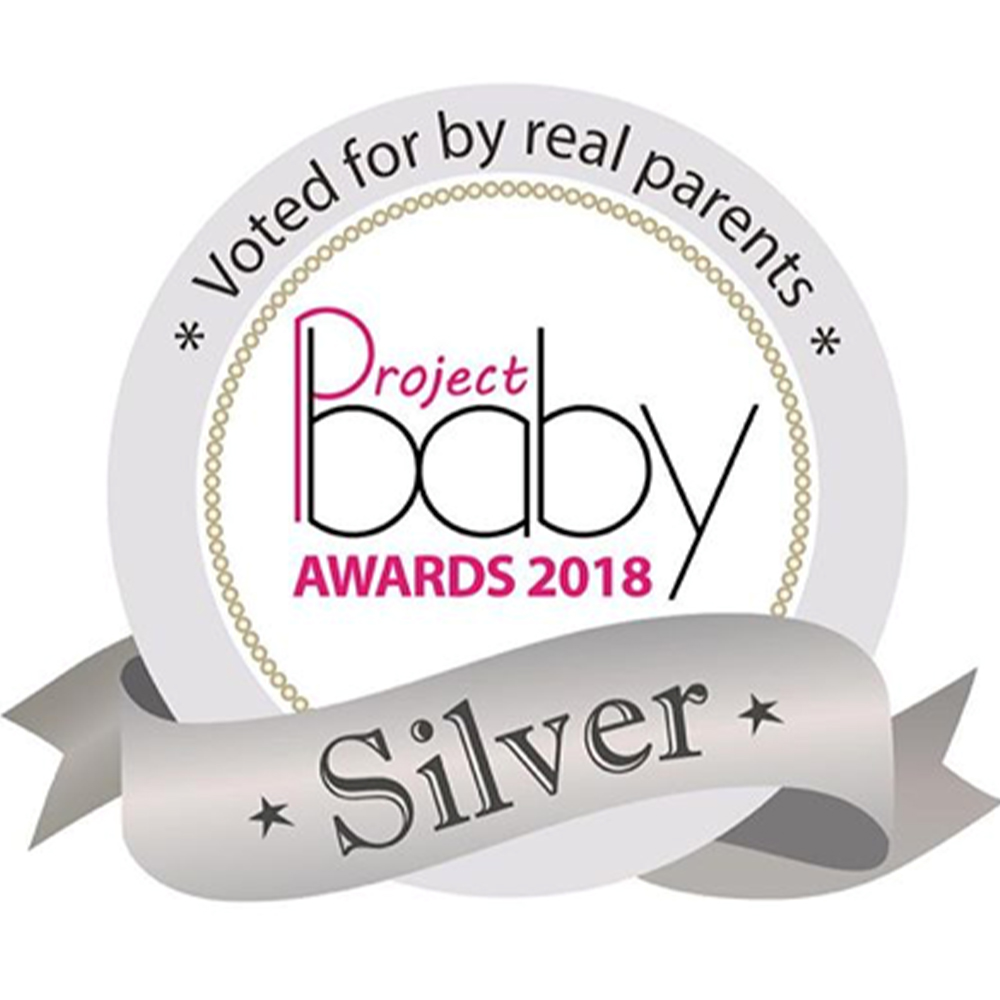 Project Baby Awards 2018
Hero Pregnancy Product
SILVER Weleda Perineum Massage Oil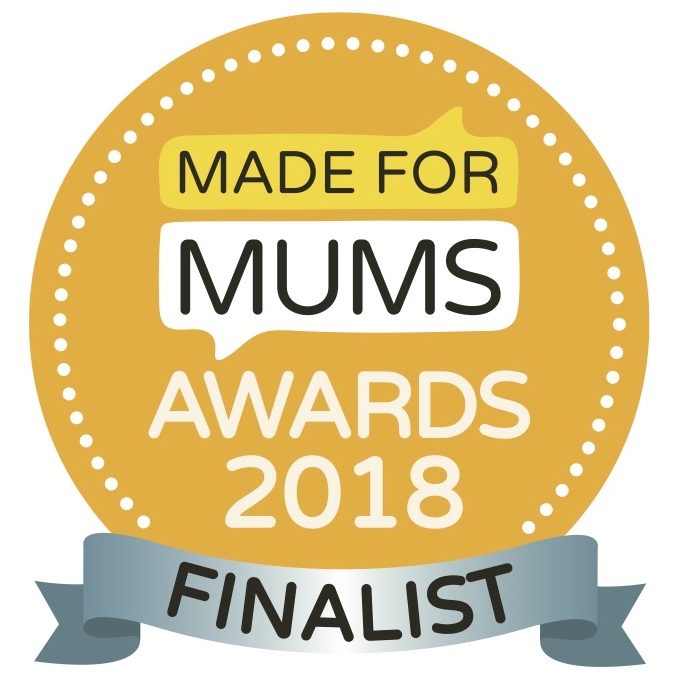 Made For Mums 2018
Hero Pregnancy Product
FINALIST Weleda Perineum Massage Oil
Where can I buy Weleda's perineum massage oil?
You can buy online from our website
right here
How can other kinds of massage help me in pregnancy?
Massage supports both you and your baby throughout pregnancy. It offers care for your body, easing overworked muscles and strengthening weakened ones. Massage supports your basic posture, easing common physical niggles. It supports your blood and lymph flow, helping swollen ankles, wrists, breasts and helping legs feel lighter. And it helps breathing and relaxation. Good quality oils can help minimise stretch marks and nourish your skin. But perhaps most importantly of all it offers a quiet space to be more aware of the changes going on inside your body and time to be with your growing baby. Touch is the first sense a baby develops. Both you and your baby can benefit from gentle nurturing touch.
Tummy
Touch helps connect you with your baby
Helps you get to know your new shape
Supports deep breathing and relaxation
Breasts
Great for relieving tightness or heaviness
Prepares for breastfeeding
Helps prevent mastitis (inflamed milk ducts)
Overall Benefits
Nourishes skin, tones muscles and connective tissues
Supports an overall sense of wellbeing
Helps with posture and to soothe minor niggles
Read our articles on
Pregnancy Massage
and
Baby Massage
to learn more about the power of touch.
Above all, enjoy this precious time and have confidence in your changing shape and your body's capabilities. Whatever your plans, it's the most natural way to relax and prepare for birth and parenthood.
---
Suzanne Yates:
BA(Hons), PGCE(PCET), MRSS(T), DipHSEC, DipAPNT, CNHC registered, AOBTA(Honorary)
As a pregnancy massage specialist and shiatsu practitioner, Suzanne has been developing a holistic approach to maternity since 1989. She established 'Well Mother' (www.wellmother.org) in 1990 and today teaches worldwide and has published three books.
References
Labrecoue, Eason, Marcoux et al 1999 American Journal of Obstetrics and Gynaecology 1999
Shipman, Boniface, Tefft et al 1997, British Journal of Obstetrics and Gynaecology, 1997
Beckmann MM, Garrett AJ (2006) Antenatal perineal massage for reducing perineal trauma. Cochrane Database of Systematic Reviews 2006, Issue 1. Chichester: John Wiley & Sons
Eason E, Labrecque M, Wells G, et al. (2000) Preventing perineal trauma during childbirth: a systematic review. American Journal of Obstetrics and Gynecology
Stamp G, Kruzins G, Crowther C (2001) Perineal massage in labour and prevention of perineal trauma: a randomised controlled trial. British Medical Journal 2001
Albers LL, Sedler KD, Bedrick EJ, et al. (2005) Midwifery care measures in the second stage of labor and reduction of genital tract trauma at birth: a randomized trial. Journal of Midwifery & Women's Health. 2005