A creative collaboration with Phoebe English for London Fashion Week
Phoebe English is a recognised sustainable fashion designer who is included within the British Fashion Council's Positive Fashion collective. Weleda is excited to collaborate with the brand for London Fashion Week this September, sponsoring the skincare with Weleda products, which will be integral to the look of the next collection.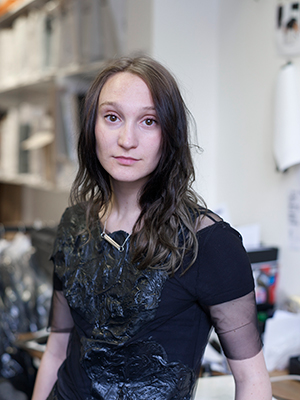 Phoebe English is a women's and menswear label founded in 2011. The brand is entirely made in England and pieces are created with close attention to detail and quality. Design and production both take place in London, meaning the journey from sketch to garment is minimised.
Since her debut graduate collection in 2011, Phoebe has consistently shown at London Fashion Week and has a dedicated, global following. The brand's dual roots of sustainability and craftsmanship are crucial to each collection. Phoebe has actively pursued change within the fashion world, such as implementing new approaches to making clothes and working alongside the UK Environmental Audit Committee to help push through new legislation to improve sustainability within the UK fashion industry.


"There has never been a more urgent time in our history to evolve and change how we do things. It has been made startlingly obvious that the world's political systems are not designed for the climate emergency we face. As such, the changes needed rest with us, the individual. Fashion, at its very heart, is founded on a constant revolution and evolution of ideas and needs. The plan is simple. We must now look at design as a solution-based problem-solving strategy."
The studio approach is to avoid trend-led design and opt for longevity when developing pieces because good design should last forever. This is something shared with Weleda, with cosmetics from the 1920s still going strong today such as
Weleda Skin Food
which was introduced in 1926!
Weleda chatted to designer Phoebe English about the inspiration behind her upcoming collection and her approach to sustainable fashion.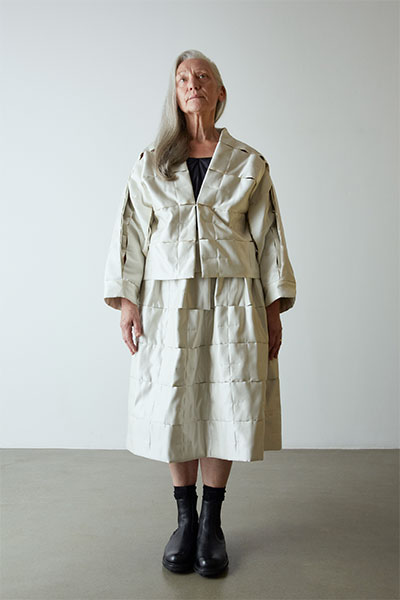 How did the Phoebe English label come about?
I graduated in 2011 from the MA at Central Saint Martin's. One of my first customers, Rose Easton, commissioned me to make a dress for her birthday party and then we started the label together. The first collection was very small and entirely made from handmade labour-intensive smocked textiles for SS12 and received an order from Dover Street Market London. We registered the company the very next day. Since then we have sold in international stores all around the world, had exhibitions, made installations and our archive work is now in the permanent Fashion Collections of the V&A and National Museum of Scotland. I started out with a joy of making things, and as time has progressed over these past 10 years I am now interested in investigating how the processes involved have the potential to have a positive impact.


What is the inspiration behind your latest collection?
This upcoming collection builds upon the less damaging and extractive aims and pathways we have been researching and developing during the past few years. Since February 2020, we have further moved our focus towards less damaging fashion practice and aim to not just mitigate but to have an active positive impact upon our planet and environment: how to put more back in than we take out of our natural systems. We have been doing this by looking at how we can engage with regenerative agricultural practices as a business, how (as a business in an urban setting) our activities can support the preservation of our rural spaces, sequester carbon and preserve biodiversity and soil health. We have been using deadstock fabric and offcuts from other textile businesses in order to offer our activities as a new recycling stream for waste fabrics. We have been considering the end of life of garments, reducing the chemical content of our clothing through the use of natural plant-based colours - involving foraging for dyeing components such as buddleja, indigo, mugwort and the ancient dye plant weld - sourcing everything from as short a distance as possible to keep our footprint to a minimum.
The new collection intended to identify new ways of making clothes, to better fit the realities and the truth of our environmental crisis.
Season on season we are building on what sustainable and regenerative design can mean to us on a practical level and it was important for us to collaborate and explore sourcing our materials from our direct vicinity and the region closest to us at the studio in London, rather than solely relying on importing materials from afar - what can we use that's already here and potentially being wasted or overlooked? Where and how can the land and the designer meet? We are looking for an alternative and closer route to our clothing.
We usually work towards a trans-seasonal or seasonless approach. Each collection we are drifting further away from the traditional sense of Spring/Summer and Autumn/Winter seasons, which traditionally have a short time frame to sell within and then go on sale. We design clothing that can be bought/worn all year round and ordered again and again, rather than only being relevant within that specific season or time period. Clothing should be able to stand the test of time and be collected as a precious or useful item rather than bought due to a trend or specific season only to become obsolete a few months after. Good design should last forever.
Who is the Phoebe English customer?
We have quite a broad range of clients so it's always hard to define this. We used to sell 'menswear' and 'womenswear' but we now define it as 'clothing'. We have a lot of customers who work in the arts, gallery owners, art reviewers, art historians and so on. We also have a growing market in both China and Japan, which is exciting as I think it is important to be able to start communicating with larger markets about sustainable fashion in particular. I like it when I have a 60-year-old wearing our pieces alongside her daughter in her 20s - for me, that's an indicator that we are going in the right direction.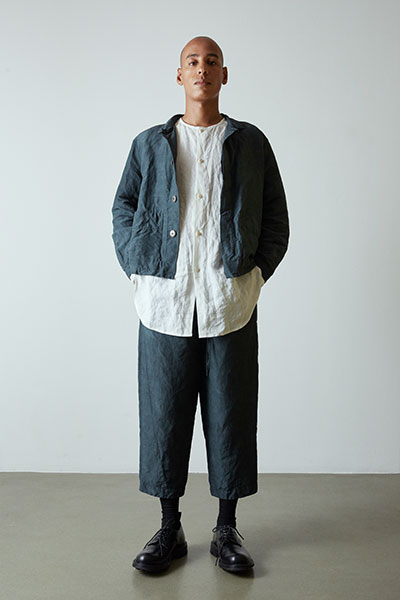 For many of us, the Covid pandemic has been a moment to pause and rethink our relationship with fashion. How has the pandemic impacted your business?
The pandemic has impacted the business in many ways: from the point of the initial lockdown in England where we responded by co-founding the Emergency Designer Network to provide scrubs for NHS workers and carers, to having prolonged development time for our upcoming collection. The pandemic has allowed us the time to take a further step back from the seasons of fashion and to consider how, as a studio, we want to make and present our work, allowing us the time to commit to further research into regenerative and sustainable practices. How can the clothes we make better serve us, our land and communities in a post-pandemic and increasingly fragile and volatile environment? With this in mind, our upcoming collection will be exhibited at the British Library - a centre of knowledge sharing - where we will share and explore our work in progress along with our research. We want to allow the knowledge that we have gained during this period to be accessible as replicable systems for the fashion industry as a whole - in the hope that some of our practices can be adopted by the wider industry, students, or simply help people consider their clothing choices within our planetary context more deeply.
It's common for fashion designers to start with a big concept and work down to the small details such as buttons or finishings. Does working sustainably turn this approach on its head?
When we are working in this way, we are working backwards to the normal process, starting with a problem and looking for a solution - for example a "waste" fabric and then looking for design potentials for that, rather than starting with a sketch and imposing a specific fabric choice on it. It's a much more responsive way to develop designs and you have to be much more flexible. This is why we have approached our way of working as 'solution-based practice'. We find a problem and we are looking to solve it and provide practical answers. As we are a small studio, our response to this has been quite agile. We can pivot our practice and working methods quite quickly which has allowed us to experiment in ways that perhaps larger businesses would be unable to. We have had to redefine the way that we work, the way that we consider fashion and clothing.

Does your sustainable ethos make it harder to be a successful designer in today's commercial landscape?
The landscape currently is shifting, and I have found that our practices in sustainability have been received in different ways by different areas of fashion. For example, the press has been really interested and engaged with our developments. That also goes for our direct customers and clients who are tending to buy more into our designs because of a greater interest in where things are coming from and how they are being made. The majority of the buyers of our wholesale accounts, on the other hand, have been much slower in engaging in these areas and tend to be less interested in hearing about all our fabrics. I'm sure there will be a shift in interest as the general public becomes more aware of the extremely damaging and extractive processes involved in making many clothes which is positive. We have seen a big revelation in general understanding of the processes which go into the food we eat over the years, it's now really time that fashion had that moment as it is exactly the same in terms of the links to farming and the soil that our fibres come from. The clothes that we wear on our bodies have all come from the earth, it has either been grown on the land or drilled from underneath it. Our starting point as designers should be the soil when we are choosing and using those resources, it forms both the source and the destination of all clothing.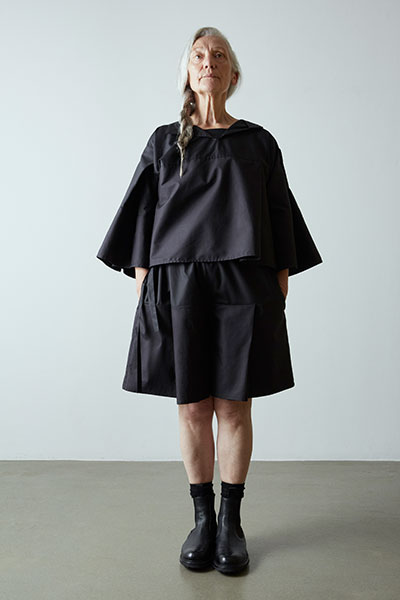 How important is it for you to partner with brands with a sustainable purpose in common?
It's very important to me. Through the whole process of re-educating myself and my team, I have found endless importance in conversation. Every single conversation I have had about changing and developing my practice has led to at least one solution-based idea. It has been absolutely fascinating and really very exciting, and has spurred me on and on to try and push further. That's why it's so important to partner with companies and brands who hold the same values, there is just so much we can learn from one another. The only way we can evolve as businesses, consumers and as individuals is by communication and learning from one another so that we can all try developing better systems. Disinheriting the practices we have inherited and urgently designing new ones with frameworks and standards that fit the times that we live in and correspond to the planetary boundaries we must remain inside.
What attracted you to Weleda for this collaboration?
I have been a customer of Weleda for years, I remember walking around shops as a child and lusting after those beautiful glass bottles with their tantalizing description of heavenly scents. It felt the perfect time to partner with a company with such long-standing and admirable ecological bedrock as we launch this new collection alongside our practice intentions of regeneration and sustainability.
What are your 3 Weleda non-negotiables?
Skin Food
is a must and I use both the Almond Soothing Facial Oil and One-Step Cleanser & Toner every day – I can't be without them!
Makeup artist Crystabel Riley has designed the fresh and natural look for Phoebe's show:
"Phoebe and I share an on-going passion for the 'rebirth of practice' in our industries, so for this season we will be continuing to work towards the idea of practice-based skincare and multi-functional sensory products, and operating with a low-waste backstage approach. With a model-focused approach to skincare we will be doing a lot of layering using the Prickly Pear Facial Mist to wake up the skin at the beginning of the makeup and to revitalize at the final check. I'll be using a splash of Lavender Bath Milk on a hot facial cloth compress, and Skin Food as a face mask and light reflector, and also to contour the skin on the body for extra highlights. We will use the mattifying Prickly Pear Facial Lotion on the face rather than using so much powder. I really wanted to show that these luxury yet pragmatic skincare rituals work in tandem with the low-waste and considered approach of Phoebe's collection."
Photographs courtesy of Julia Grassie and Asia Werbel.
Shop Phoebe's Favourites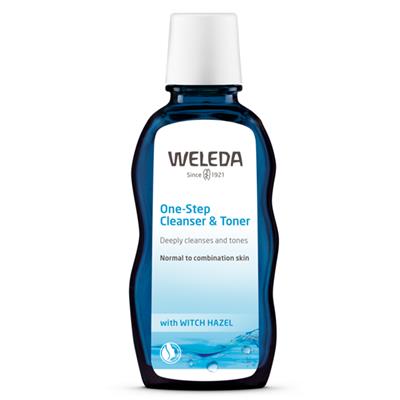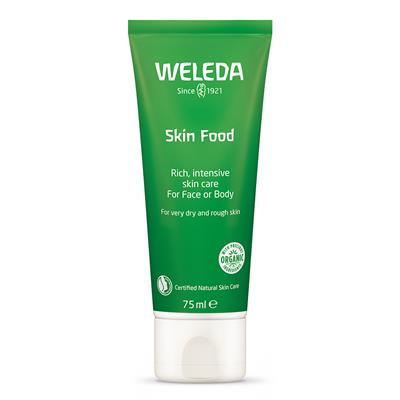 Crystabel's Favourites to Create the Look