Lavender Relaxing Body Oil 100ml
The ultimate relaxation body oil for normal to dry skin.
A natural Lavender gift – aromatherapy oil with holistic benefits for skin, senses and spirit. The classic scent of calm and peace.
Description
If you're looking for a lavender gift for people who love nature, then Lavender Relaxing Body Oil surely has everything. With a scent which immediately dispels stress and creates a sense of peace and well-being, it's infused here into a gossamer-light blend of sweet almond and organic sesame oils, to absorb quickly. Perfect after a stressful day, to help induce truly restful sleep, or to recuperate after testing times. Massage in, breathe deeply and relax.
Elevate your bathroom routine with our Lavender Indulgent Bathing Ritual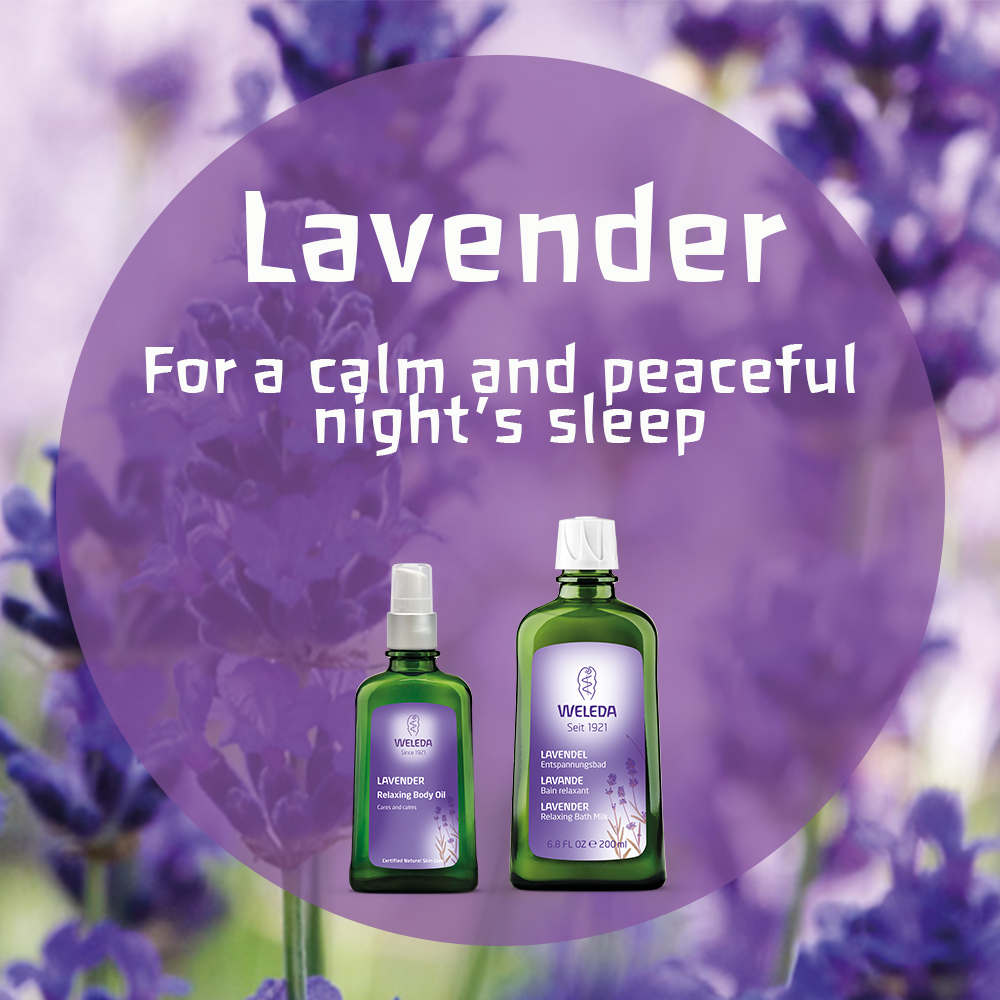 View the Lavender Ritual
Suitable for vegans.
Ingredients:
Prunus Amygdalus Dulcis (Sweet Almond) Oil, Sesamum Indicum (Sesame) Seed Oil, Lavandula Angustifolia (Lavender) Oil, Fragrance (Parfum)*. Limonene*, Linalool*, Geranoil*, Coumarin*. * from natural essential oils.
How to use:
Apply a few drops and massage into slightly damp, clean skin after bath or shower. For even greater benefit, soak in Weleda's Lavender Relaxing Bath Milk before use, or clean skin with Lavender Soap or Lavender Creamy Body Wash.
Reviews (3)
Absorbs well

This oil absorbs really well into the skin when used right before bed, but i would have preferred a stronger scent as i'm used to using undiluted lavender essential oil

Perfect for night time

I rub this oil in my chest every night before I go to bed. The oil absorbs really quickly and your left with a light scent that you can drift off to sleep with. Highly recommend! 5 stars!

Very relaxing

I love this product, I use it after using the lavender bath milk as my 'go to' routine when I need to relax. It's a great alternative to moisturiser, as it soaks into the skin easily without feeling greasy. I also use it as a massage oil for my legs, shoulders and neck when they're feeling a bit sore.