The Skin Food Facial
A 30-minute miracle worker
Skin Food contains plant actives calendula, chamomile, rosemary and lavender, enveloped in a soothing base of natural waxes and nourishing plant oils. This facial skincare routine is designed to restore radiance, using Weleda products that complement the action and fragrance of Weleda Skin Food.
Step 1 Compress
Soak a face flannel in hot water with a little Rosemary Bath Milk and apply to the face to open up the pores and wake up the circulation. For a more calming/soothing experience, rather than stimulating, use a little Lavender Bath Milk. Skin prone to eczema, could benefit from using a little Calendula Baby Cream Bath, which is less aromatic.
Step 2 Cleanse
Using the Almond Soothing Cleansing Lotion on two damp cotton wool pads removes dirt and make-up. Use both hands simultaneously, mirror image, for a lovely balanced feeling. Around the eyes, gently cleanse with Almond Soothing Facial Oil to remove eye make-up. Warm or lukewarm cotton wool pads are preferable to very cold water on the eyes.
Optional Puffiness Remedy
If time allows, organic unbleached chamomile tea bags can be used as an eye compress. Lightly soak tea bags in a little hot water to gently infuse, allow to cool slightly in a bowl or saucer before applying whilst the facial massage is being done or the mask is on. The calming chamomile fragrance can also have a relaxing effect.
Step 3 Massage
Using the fragrance-free Almond Soothing Facial Oil, gently massage the face to stimulate the circulation and relax the soft tissues.
Step 4 Mask
Apply a generous layer of Skin Food, melting it between your hands to make it easier to work with, and leave on the face as an intensive treatment for five minutes (or longer if time allows). If you have combination skin with an oily T-zone, just use Skin Food on the cheeks and drier areas, to avoid overloading the skin. Optional: whilst the mask is on the face, use pressure points (see diagram below) with light pressure, working around the face.
Step 5 Compress
Soak a face flannel in hot water with a little Lavender Bath Milk and apply to the face to release and melt the mask. Gently wipe away excess Skin Food with the flannel. Tidy any remaining thick areas of cream using a damp cotton pad (this may not be necessary).
Step 6 Moisturise
Depending on the skin, finish with a light application of Almond Soothing Facial Lotion to moisturise. For younger and/or oilier skin, this may not be necessary if Skin Food has worked its magic.
Gentle treatment for Acupressure Points of the Face
Start by lightly holding and covering the ears, and then return to the ears in between most of the points. Breathe deeply - hold most points for one or two full breaths with the same fingers on each hand being used together, or one on top of the other for single points (1,2,14).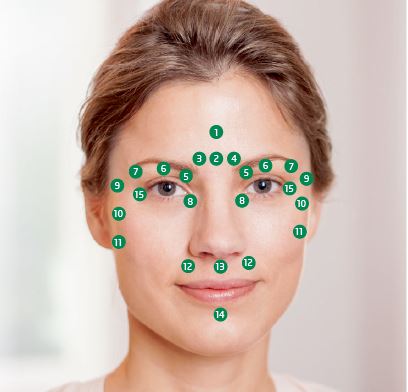 1 Third Eye – Ajna chakra
2 Lower sinuses – headaches, insomnia, dizziness
3 & 4 Headaches, calms nerves and energy – working bilaterally
5 Headaches, eye problems
6 Facial nerves
7 Insomnia – use soft pressure over temples
8 Headaches, eyestrain, facial nerves
9, 10 & 11 Calming, ear pain, toothache – done in sequence without ear holding in between
12 Lower sinuses – facial nerves. Useful to release tension
13 'Unconscious' point – good for shock, severe pain, faintness
14 Facial nerves
15 Migraine
16 Finish by returning to hold ears