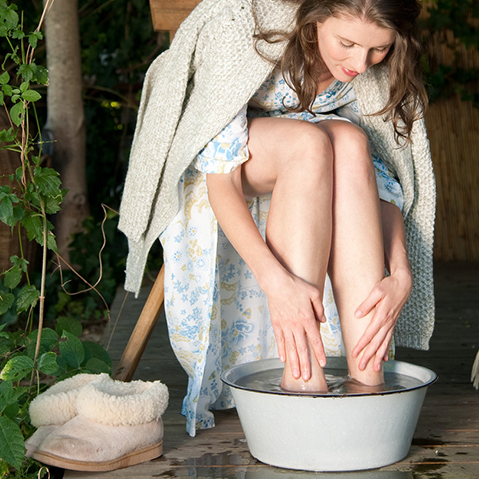 Winter Warmers... a time for indulgence?
Most of us know how difficult it is to focus if we are shivering with cold or to sleep soundly if we have chilly feet. There is no need to worry, Weleda has many comforting options to help you feel snug, warm and well.
The Weleda bath milks are the 'dark horses' within our range,facing mighty competition amongst many luxurious body oils and aromatic bath essences. Weleda bath milks offer an opportunity for sheer indulgence for your senses, and to pamper body and soul.
If you rarely seem to find enough time for a bath and could not possibly squeeze in a short break for a foot soak, then you are exactly the type of person who would most benefit from taking time to indulge with a Weleda Bath Milk!
You really will be impressed with the lasting result. When you take time out, create space, bring yourself into the present and really bathe with intent, the effects are profound...
The forgotten practice of bathing is an excellent therapeutic tool we can use to keep ourselves in balance. Bathing supports the processing of sensory input and can enable us to feel grounded, focused and calm, drawing 'busyness' away from our heads, enabling a feeling of security and support.
Which scent is for you?

Rosemary brings warmth, strength, consciousness, mental stimulation and enlivenment. Traditionally rosemary supports healthy circulation (so a popular choice for diabetics and those suffering from Raynaud's or poor circulation). The perfect WAKE-UP call!
Lavender is gentle, soothing and restful. It calms the senses and enables peaceful relaxation. In moments where 'there is a rush of blood to the head', opt for lavender.
Lemon is energising, centring, grounding and very refreshing. Ideal when there are many mental and physical demands.
Rose is ideal for times when you need a hug, a little love, some TLC. Nurturing, harmonising and caring, soothing and comforting, promoting love for yourself and those around you.
Pine - imagine taking a walk in a pine forest. Feel the revitalizing aroma invigorate body and soul as you inhale, clearing the head and refreshing your senses. An ideal option when there is mental or physical exhaustion, and clearing the airways.
Arnica Muscle Soak, for soothing the mind whilst offering time out and a moments relaxation during periods of over-exertion and weariness. The restorative properties of Arnica together with purifying Birch are delicately balanced by Lavender and Rosemary. A winning combination to restore you to fitness.
Try these self-help tips
Simply add one-two capfuls of bath milk to a footbath or basin containing perfectly warm water, dispersing the milk in a lemniscate (a figure 8 movement) and breathe in the aromas as you place your feet in the warmth. Place a towel over your legs to retain the heat and feel your mind empty itself of busy thoughts. 15-20 minutes should be long enough, dry each foot and pop on toasty pre-warmed socks.
Winter is the time for recharging and nurturing. Try warming a little Skin Food, between your hands to melt the ingredients, then roll it lavishly onto the soles of your feet. Seconds later you will feel rewarded with a wonderfully warming and nourishing experience.
Invest in your immune system and treat it with the goodness of rich sloe berries in the form of Blackthorn Elixir. Mix a tablespoonful with warm water for a long lasting inner glow.
Should you succumb to a cold, respond quickly with Cold Relief Oral Spray*, offering symptomatic relief of the common cold, cough and flu-like symptoms, whilst Herb & Honey Cough Elixir* will help soothe dry and irritating coughs. Sniffles can be eased with a fine isotonic solution with moisturising aloe vera, as Rhinodoron Nasal Spray and Calendula Weather Protection Cream will protect delicate skin against constant nose blowing and the elements, reducing the aggravation caused by harsh weather to vulnerable patches of exposed skin.
*Always read the label.